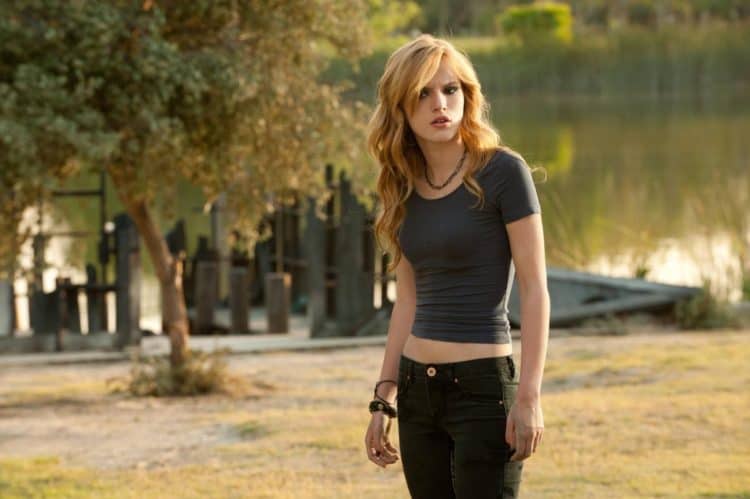 It would be very easy to classify Bella Thorne as a 'girly girl' since she does seem to strike one as not vapid but very into fashion and the kind of things that women seem to be more knowledgeable about when it comes to clothing, style, design, and even personal hygiene and makeup tips. The thing is that these are the parts of her life that she tends to embrace, as well as many others, and what she has chosen to make a part of her lifestyle. Aside from that she's proven to be a very talented actress and singer and is the kind of woman that has the ability to take on the two different roles without much trouble and with a great amount of determination. How a person is viewed depends on the perspective and desire of the person doing the looking, but at this point no matter what is said about her, Bella is without a doubt a strong and ambitious woman.
Here are a few things you might not have known about her.
10. She started gracing the covers of magazines at just six weeks old.
As you can see she's been in the business in some way or another for a very long time, and has no doubt become quite used to being looked at, ogled over, and even approached now and then by those that recognize her. It might seem a bit stressful but she's learned to live with it.
9. A lot of people might not know this but Bella is dyslexic.
In case you need a refresher on what dyslexia is all about it causes a disconnect in a person's brain when it comes reading words and putting the sounds and meanings into context for the individual. For this a lot of people didn't think she would be a successful actor, but thankfully through lessons and with a lot of patience she's proved a lot of people wrong.
8. She is a natural blonde, she dyes her hair red.
If you had to guess the natural hair color of a lot of women in show business the idea seems to be that there would be a lot of folks you might not recognize simply because they dye their hair so often. Red is a color that people have become accustomed to seeing on Bella though.
7. Throughout her career she's appeared in roughly 40 commercials.
She's been the spokeswoman of Texas Instruments in the past and has been featured in a lot of different TV spots that have continued to increase her fame just a little bit each time as she's been a prominent name with many people throughout the years.
6. To this day she's never learned how to drive a car and she has no desire to learn.
That's an odd choice to many of us that learned how to drive when we were teenagers or younger, but seeing how she's worth so much she might never have to let her feet touch the pedals as she'll always have someone to drive her around.
5. She's been bullied throughout her life.
More and more it's starting to seem that some of those that are insanely famous at this time had to go through the whole bullying trend that has been ongoing since, well, always. It's not a perfect or preferred part of life, but it does happen.
4. Bella doesn't worry about impressing other people, she worries more about keeping herself happy.
This is a good philosophy even though it can be taken to the extreme and allow a person to think about only themselves. Thankfully Bella is a rather giving person and doesn't focus on herself all of the time. It's great to take care of yourself and be aware of your own mental health, but it's also great to care for others as well.
3. She used to get extremely nervous during auditions.
Cold reads in particular used to fill her with dread since her dyslexia was still a problem back then. The great thing is that she had a lot of support from her family and was able to take lessons and practice constantly so that she could get over the fear of what might happen if her dyslexia made an appearance during an audition.
2. Bella spends a lot of time on Instagram.
She is a child of the modern era no doubt and loves to be on Instagram as much as possible checking things out and updating her account so fans can see what she's up to. One has to wonder what we ever did without technology back in the day, even just in the 80s.
1. She definitely has her own sense of fashion pegged.
From perfumes to dresses to shoes Bella has her own style laid out and isn't ashamed to talk about it since she's rather proud of her style and taste.
She's an interesting woman, no doubts about it.
Tell us what's wrong with this post? How could we improve it? :)
Let us improve this post!