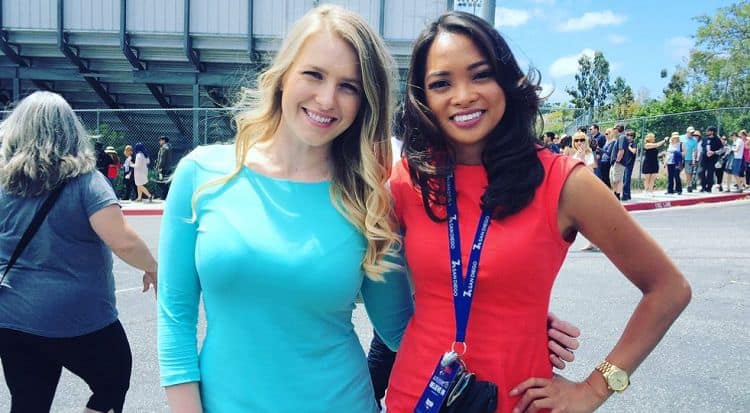 Anyone who watches FOX News with regularity knows precisely who Peter Doocy is. He's well-known for asking hard-hitting questions of press secretary Jen Psaki at the White House. His father is "Fox & Friends," co-host Steve Doocy. Peter Doocy is in the news this week not only for his work as a journalist but also because he recently married his new wife. Her name is Hillary Vaughn and she, too, is a journalist with Fox. Fans are curious to learn more about Doocy's new wife and who she is. We have everything you need to know about one-half of the happy new couple right here.
1. She's Worked Everywhere
From her professional profile online, we can see that Hillary Vaughn has worked in numerous cities around the country throughout the course of her career in journalism. She was once employed by WTVT-TV in Tampa, Florida. She worked for KTBC-TV in Austin, Texas. She's worked for WJBK-TV in Detroit, Michigan. She's also worked for outfits in Chicago, California, Pennsylvania, and Washington, DC.
2. She is Based in California
Her FOX News information suggests that she is not based anywhere near her new husband, however. It appears Hillary Vaughn is based in Los Angeles, California, and that she lives and works there on a regular basis. We can infer from this that their marriage might be a bi-coastal marriage for the time being.
3. She Has One Instagram Post
It seems that the brand-new Mrs. Doocy is a woman new to Instagram. Her account has only one post, and it happens to be a photo of their wedding day. She follows 199 people, and she has a follower count of just over 2,800 thus far.
4. They Wed at the Montage
The Montage is one of the most beloved hotel brands in the world (it's our go-to when we make our way across the country to Laguna Beach). Hillary Vaughn and her new husband appear to have wed in Palmetto Bluff, South Carolina, and the lovely Montage resort.
5. They've Been Dating A While
While she manages to keep her life relatively private, we did some digging. According to a post on Peter Doocy's Instagram page, we've been able to ascertain that the couple has been together for at least four years – if not more. He shared a photo of them together (with two other people between) back in March 2017 watching a Villanova March Madness game.
6. Their Wedding Was Small
It seems this happy couple was able to keep their wedding day small and intimate. They had only 18 people in attendance, according to Doocy's father. They invited their immediate families and close friends, and they spent their day celebrating with those most important to them.
7. Their Wedding Date Was Postponed
It seems that Hillary and Peter wanted to wed sooner, but the pandemic situation pushed their wedding back a few months. Their original wedding date was rumored to have occurred in January of 2021, but things changed, the date was pushed, and it all worked out exactly as it was meant to work out for this lovely couple.
8. She's Close to His Family
Hillary Vaughn is loved by the Doocy family. They embrace their new daughter/sister, and they are happy to have her as part of their family. Doocy's father, Steve, even stood as his best man during their wedding ceremony, which really is such a lovely thing. They are exceptionally close, and this is beautiful.
9. She's Very Private
Hillary Vaughn is inherently private. She doesn't feel the need to share her personal life on the internet. She doesn't discuss her personal life with anyone. In fact, it's not been easy to ascertain anything about her life at this point. She and Doocy remain very low-key and private in their lives, and we imagine this is a good thing for their relationship. They don't need to share everything in their lives with the public, even if their fans would love to have them do it.
10. She Might Be Worth More than Her Husband
According to an article published on Distractify, it seems Hillary Vaughn has an estimated net worth of approximately $1 million. The same report classifies her new husband's net worth at somewhere around $500,000. Either way, they both work hard, they are both successful, and they are both excited about their new life together. Let's all wish the newly married couple a very happy marriage, a successful future, and many years of beautiful memories made together.