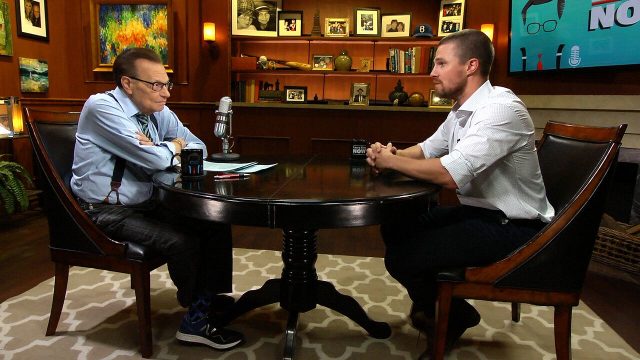 Arrow may be on hiatus at the moment, but its leading man Stephen Amell is keeping busy during his break from production of the show. Amell is currently in the middle of an international press tour for his upcoming role as the hockey stick-wielding vigilante Casey Jones in Teenage Mutant Ninja Turtles: Out of the Shadows. He stopped by "Larry King Now" to talk to the news anchor about his experience making his first feature film, the positive and negative passion of the Arrow fandom, his thoughts on Olicity's journey, as well as his viewpoints from the perspective of a Canadian.
Stephen Amell discussed the challenges of filming a feature film for the first time. The biggest differences from his experience on television are the CGI elements and the amount of time to film, which to Amell felt more akin to filming the Arrow pilot. Amell is primarily on his press tour for Turtles, but that doesn't mean he isn't getting just as many, if not more, questions about Arrow. "I don't know why I keep playing vigilantes…It does on paper sound like a very similar character to Oliver Queen, but having played both of them, I don't think there's alot of one in the other" responded Amell about the comparison of his two roles.
In regards to the fan favorite romance between Oliver Queen and Felicity Smoak, also known as 'Olicity', Amell discussed how far the couple has come since his last appearance on "Larry King Now", especially considering he "never in a million years" could have imagined Olicity becoming such a popular television couple. He talked about where they've been, but refused to discuss where the couple is headed in Season 5. He did however voice his "hope that if I get a chance to come back three years from now I get to hear you say 'Olicity' again." The clip below sheds some light on the reason behind Amell's response.
If you've been paying attention on social media, you know there has been much criticism from fans and critics alike who have been dissatisfied with the show's direction in the last couple of years. "We could get back to the roots of the show… (but) Now we are three, maybe four shows, within the DC Television Universe and It's been Arrow's responsibility in large part… to shepherd these shows into existence. We have had to deviate a little bit from the basic elements of our formula". Though Amell has accounts on almost all social media platforms to connect with fans, there is one medium he is not particularly fond of. "Twitter is largely overblown…there's no accountability. There's no requirement for anything but anonymity," says Amell. To that end, he much more enjoys talking one-on-one with passionate, respectful fans at conventions.
Amell also had some things to say from the viewpoint of a proud Canadian. Though mega musical artist Drake may love calling Toronto "The Six", Amell refuses. He doesn't much care for Drake's interpretation of their mutual hometown, though he has nothing but respect for the singer. He did however, take the opportunity to correct the myths that Canada is always cold and has completely free health care (it's called taxes people). All in all the man behind the masks is proud of his work and proud of where he came from to get to where he is.
See Stephen Amell's full interview online at Larry King Now. Teenage Mutant Ninja Turtles: Out of the Shadows premieres Friday, June 3.