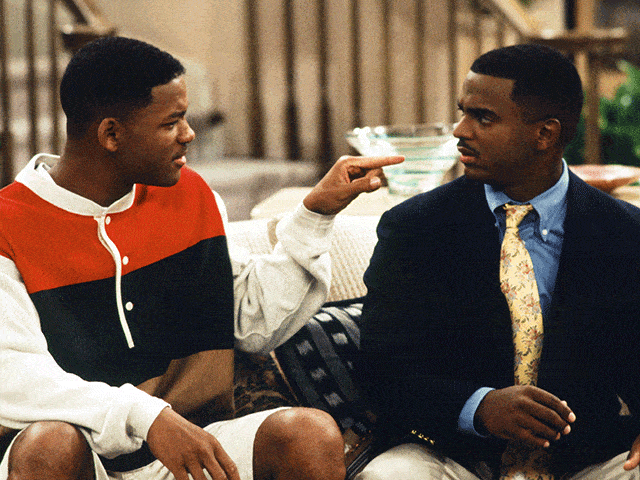 "The Fresh Prince of Bel-Air" is one of the best sitcoms of the 1990's and is still popular in syndication today. Fans of the show that ran from 1990 through 1996 on NBC and new fans of the reruns love the way Will Smith and family created a family show that could be as touching as it was funny. "The Fresh Prince of Bel-Air" hasn't lost its essence over the decades since it originally aired.
We all know that Will Smith went on to become a movie star, but other cast members from the "Fresh Prince" ensemble helped make the show what it was. Before "Fresh Prince", Will Smith was a rapper from Philadelphia. "Fresh Prince" took his persona and planted Smith with his aunt, uncle and cousins in Bel-Air, California. His uncle was a judge and the family lived a lavish lifestyle in Southern California. Will brought his street smarts into their lives and that created a fresh take on the typical family sitcom of the day.
Will and Carlton
The best juxtaposition of characters is streetwise Will and his wealthy cousin Carlton, played expertly by Alfonso Ribero. Carlton was raised with a silver spoon in his mouth and is a nerdy, preppy young man used to having things handed to him. Despite their differences, Will and Carlton became best friends as they navigated High School, College and dating together.
Carlton's interference
Season 5 saw the development of Will's romance with Lisa (played by Nia Long) much to Carlton's disappointment. Carlton is jealous of Will and Lisa's relationship because it takes Will's time away from his relationship with his cousin. The season shows Carlton throwing fits over Will spending time with Lisa and not him. In episode 13, Carlton finally gets to enjoy a ski weekend with Will alone when Lisa turns up because she didn't have to work.
One of the best episodes of the season is when Lisa is pledging a sorority at her university. Will goes to visit her. Part of Lisa's pledging means tying up Will to teach him a lesson because he is disrespectful to women. When Will finds out about the plan, he's livid with Lisa and her sorority sisters. Lisa reveals the idea was actually hatched by Carlton. Because it is so important to Lisa to be a part of the sorority and because she admits that the time they spent together with Will in "captivity" was actually a great date, Will relents. He agrees for Lisa to tie him up and let her sorority sisters see him and hear him apologize for his disrespect of women. Lisa and her sorority sisters are very pleased.
Will's revenge
Knowing that Carlton was behind the whole pledging scheme, Will decides to seek revenge against his cousin. When he returns home to Bel-Air, Will is seemingly distraught. He explains to Carlton that Lisa went crazy and tied him up. Carlton laughs. Then Will tells Carlton how he was able to get free which caused Lisa to become more hysterical so Will ended up grabbing a rock and…"Oh My God. She's still up there".
The best ending ever
One of the best "Fresh Prince of Bel-Air" endings ever is from Season 5. Carlton's reaction to Will's explanation of the "practical joke gone wrong" is truly Alfonso Ribero's best performance. Carlton goes crazy and runs around the set of "Fresh Prince" screaming in hysterics and even pulling himself across the kitchen floor. He doesn't stop there. Alfonso Ribera runs around the entire set and even into the studio audience. Sometimes we forget how much Ribera brought to the role of Carlton.
Tell us what's wrong with this post? How could we improve it? :)
Let us improve this post!