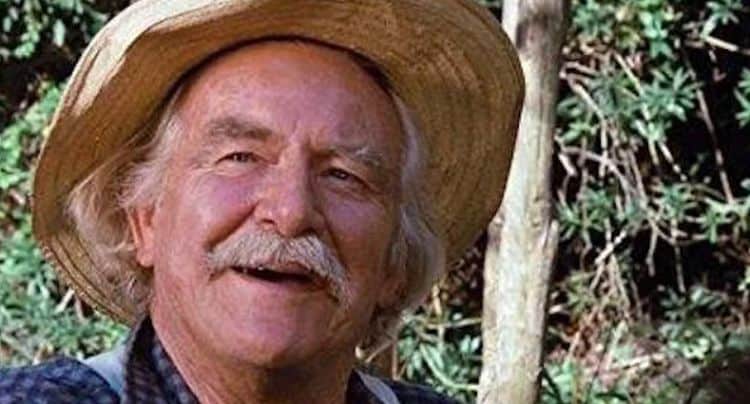 Anyone who was around during the 1970s and 80s probably has fond memories of the long-running TV series, The Waltons. The show centered around a family living in a small mountain town in Virginia between The Great Depression and World War II. Even though the Walton family was very large, they had a very close relationship and the series became well-liked by millions of people. While some of the show's stars have continued to be thriving careers since the show ended in 1981, there are also many cast members who have faded from the spotlight. Sadly, some have even passed away. Keep reading to find out what happened to the cast of The Waltons.
Richard Thomas
In The Waltons, Richard Thomas played an aspiring writer named John-Boy who was also one of the show's most memorable characters. Although John-Boy continues to be one of Richard Thomas' most famous roles, he has had a very strong on-screen presence in the years since The Waltons ended. From movies to shows, Richard has been working consistently. Most recently, he was in the Netflix movie The Unforgivable which starred Sandra Bullock. Richard has also stepped behind the camera and done some production work over the years. Even though he doesn't have any upcoming projects at the moment, we know we haven't seen the last of him. Outside of his career, Richard is a proud husband and father.
Ralph Waite
In his role as John Sr. Ralph Waite was one of the most famous on-screen dads of the 70s. The way Ralph brought the character to life was authentic and entertaining, and people really loved watching him. When the show ended, Ralph continued to work and he reprised his role for several Walton TV movies. During the 2000s, he appeared in shows such as NCIS and Days of our Lives. Sadly, Ralph passed away in 2014 when he was 85 years old.
Michael Learned
Award-winning actress Michael Learned had already been in the entertainment industry for several years before she was cast in The Waltons. However, her role in the show helped turn her into a household name. As the matriarch of the family, Michael was smart, nurturing, and dedicated to her family. Thanks to the success of the show, Michael didn't seem to have any issue landing new roles when the show ended. She has been a fixture on our screens ever since. Even though she is now in her early 80s, Michael's career is still going strong. She will be in an upcoming TV series called Monster: The Jeffrey Dahmer Story which is set to be released in 2022.
Ellen Corby
In her role as Esther Walton (AKA Grandma), Ellen Corby was the perfect woman for the job. As someone who had had a long and successful career long before The Waltons came along, Ellen knew exactly how to put on a good show. Unfortunately, Ellen suffered a stroke in the late 1970s (this was actually written into the show) and her health began to decline. However, as someone who really loved what she did, Ellen continued to work. Ellen passed away in 1999 when she was 87 years old. Her final role was in the 1997 movie A Walton Easter. At the time of her death, she had more than 260 acting credits.
Will Geer
Will Geer was a Hollywood legend whose career spanned the course of six decades. He made more than 100 on-screen appearances over the years and he showed that he was capable of playing a wide variety of roles. During the 1950s, however, he was blacklisted by Hollywood when he refused to testify before the House Committee on Un-American Activities that he had knowledge of people who had allegedly joined the communist party. Fortunately, however, his career got a second wind by the 1970s. In his role as Zebulon (AKA Grandpa) Walton, Will was loved by countless people. Sadly, he passed away in 1978 several years before the show ended.
Judy Norton
To this day, Judy Norton is best known for her role as Mary-Ellen Walton. As the oldest daughter in the family, Mary-Ellen was smart, ambitious, and talented. Her portrayal of the character allowed Judy to show just how dynamic her acting skills are. Although Judy's post-Waltons career hasn't been as active as some of her co-stars, that doesn't mean she hasn't been busy. She has been in several movies and shows since The Waltons ended. She didn't make any on-screen appearances in 2021, but her fans can feel confident that they haven't seen the last of her.
Jon Walmsley
Jon Walmsley began his acting career in the mid-1960s. However, his career didn't really begin to take off until he was cast as Jason Walton. Although being a part of The Waltons franchise opened up lots of doors for him, Jon ultimately decided that he didn't want to focus on acting for the rest of his life. After the show ended, he reprised his role as Jason for several Waltons movies but hasn't done much acting outside of that. These days, Jon is more focused on his career as a musician.
Mary Elizabeth McDonough
Mary Elizabeth McDonough was just a child when she began her acting career, but most being cast in The Waltons was her big break. In her role as Erin Walton, Mary Elizabeth became well known and well-loved by people all over the world. In the years since the show ended, she has continued to act. Although most of her roles after The Waltons were relatively small, she had a recurring role in The New Adventures of Old Christine from 2006 to 2009. Her most recent role was in the 2021 movie The Contested Plains.
Eric Scott
For some actors, it can be difficult to be cast in other projects once they've been playing the same role for so long. That appears to have been the case for Eric Scott who played Ben Walton. Outside of reprising the role for The Waltons TV movies, things really slowed down for Eric when the show ended. However, it doesn't look like he's too bent out of shape about it. These days, he is living the life of an entrepreneur and he owns a delivery service in California called Chase Messengers.
David W. Harper
Unlike many of his co-stars, David W. Harper's career actually started with The Waltons. In fact, Jim-Bob Walton is one of the only roles he's ever played. He hasn't made an on-screen appearance since the last Waltons TV movie in 1997, and it doesn't appear that he has any plans to ever get back into acting. According to Do You Remember, he plans to write a book about his time on The Waltons.
Kami Cotler
Kami Colter is another actress whose career started with The Waltons and doesn't consist of much outside of that. After taking a more than 20-year break after 1997, she returned to the screen in 2018 for an uncredited role in a TV movie called Christmas on Honeysuckle Lane. She hasn't made an on-screen appearance since then. However, this shouldn't be considered a bad thing. Life has been going well for Kami and she is simply enjoying being out of the spotlight. She is a proud wife and mother and she is also an entrepreneur.
Peggy Rea
Peggy Rea became a main cast member in The Waltons in 1979. As Olivia Walton's cousin, Peggy played an important role in the family after Grandpa Walton's death. She remained on the show until it ended in 1991. After The Waltons, Peggy was in Grace Under Fire from 1993 to 1998. She passed away in 2011 when she was 89 years old.
Joe Conley
In his role as store owner Ike Godsey, Joe Conley was one of the only people to play a significant role in the show who wasn't part of the Walton family. He was known for being incredibly friendly and having a good relationship with everyone in town. When the show ended, Joe didn't do much acting other than reprising his role for the TV films. He passed away in 2013 when he was 85 years old. He had been suffering from dementia for quite some time before his death. His last on-screen appearance was in the 2001 movie Blind Obsession.
Ronnie Claire Edwards
In The Waltons, Ronnie Claire Edwards played Ike Godsey's wife, Corabeth. Unlike her husband, Corabeth was known for being a little stuck-up and someone who loves to gossip. Despite that, she still has a fairly good relationship with the people in town who have come to accept her somewhat annoying ways. When The Waltons ended, Ronnie continued to work pretty consistently until the late 2000s. She passed away in 2016 when she was 83 years old.
Leslie Winston
Leslie Winston was one of the last cast members to join The Waltons. Her character, Cindy, married Ben towards the end of the show. Despite not being on the show for very long, she still left a lasting impression. However, she didn't do much acting since the show ended. She retired from the entertainment industry in the early 1990s after an elbow injury and decided to start a family.
Tell us what's wrong with this post? How could we improve it? :)
Let us improve this post!