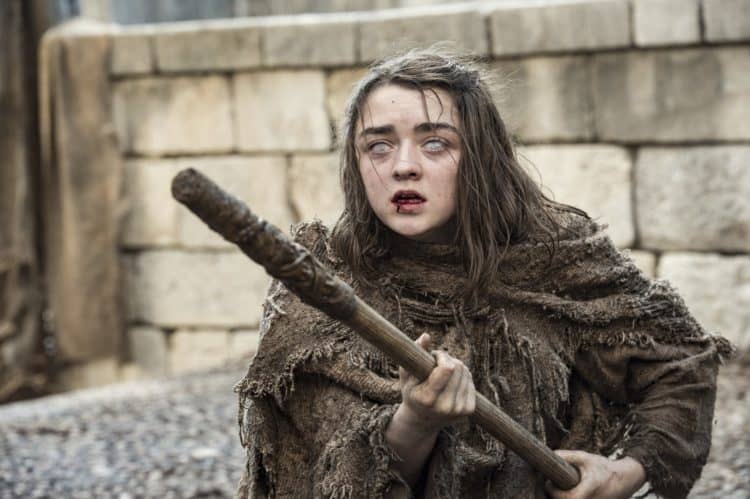 When most people are 12 years old, they're still about a decade away from starting their careers. However, when Maisie Williams was 12, she was already building a very strong foundation for a long-lasting career in the entertainment industry. At just 12, Maisie was cast as Arya Stark in the HBO series Game of Thrones which became one of the most popular shows on TV during its time on the air. In her role, Maisie became known to people all over the world and it was obvious that she had all of the necessary ingredients to be a star. However, since the show's end in 2019, some people have wondered what Maisie has been up to. Keep reading to find out whatever happened to Maisie Williams.
Maisie's Acting Journey
Maisie was born and raised in England. Despite not coming from a family with a background in acting, Maisie became interested in performing at an early age. Interestingly, however, it was dance that was Maisie's first love. She trained at the Bath Dance College to study Performing Arts with hopes of becoming a professional dancer. However, the acting bug eventually came around and Maisie found it hard to resist. As mentioned earlier, she started her professional acting journey when she was just 12 years old. In fact, being cast in Game of Thrones was her first on-screen appearance. During her time on the show, she also appeared in several other projects including several episodes of Doctor Who and a TV movie called Cyberbully. She was also in several music videos for artists such as Pentatonix and The Vamps. Although being on Game of Thrones certainly gave Maisie's acting career a boost, it wasn't always easy for her on a personal level. During an interview with Independent, Maisie said, "Even when I was 12, people were like: 'Ooh, are you gonna get a drug habit and ruin your life?' That is the problem, I guess: the fact that you're doing interviews when you're 12 and no one's ever addressing why that's a really difficult and dangerous thing for you to do. Everybody wants you to have an opinion on something when you don't know who you are yet". By the time Game of Thrones ended, however, Maisie had gone from a 12-year-old girl to a young adult with a very bright future ahead of her.
What Is Maisie Doing Now?
Some people may think that things started to slow down for Maisie once Game of Thrones ended, but that isn't true. Although it may seem like you've seen less of her, the reality is that she has been working very hard. In 2020, she was in a TV series called Two Weeks to Live. That year, she also had a voice role in another show called Gen: Lock. In addition to the work she's been doing, Maisie has also been exploring other interests. Fashion has become one of her favorite ways to express herself, and she has gotten lots of attention for her sense of style. She has even gotten more involved with the fashion industry through fashion brands. On top of that, Maisie has made it a point to use her platform to bring awareness to the things that are important to her. She has shown her support for several causes including LGBTQ+ rights, the Black Lives Matter movement, and protecting the environment. Not only does Maisie post about these things on social media, but she is also very involved in real life. Outside of her work, things also seem to be going well in Maisie's personal life. She is in a relationship with Rueben Selby. The couple has already been together for several years and has expressed plans to get married.
What's Next for Maisie?
Not only has Maisie been very busy for the last few years, but things aren't going to be slowing down for her any time soon. 2020 is already shaping up to be a big year for the young star. She will have a main role in an upcoming TV series called Pistol. An official release date for the series has not yet been announced. She will also be reprising her role as Arya Stark for the video game MultiVersus which will be released in 2022. At this point in her career, playing Arya Stark is still what Maisie is best known for, but I have a strong feeling that won't always be the case. She still has lots of other great things to accomplish and it'll be interesting to see how her career continues to unfold in the coming years.
Tell us what's wrong with this post? How could we improve it? :)
Let us improve this post!