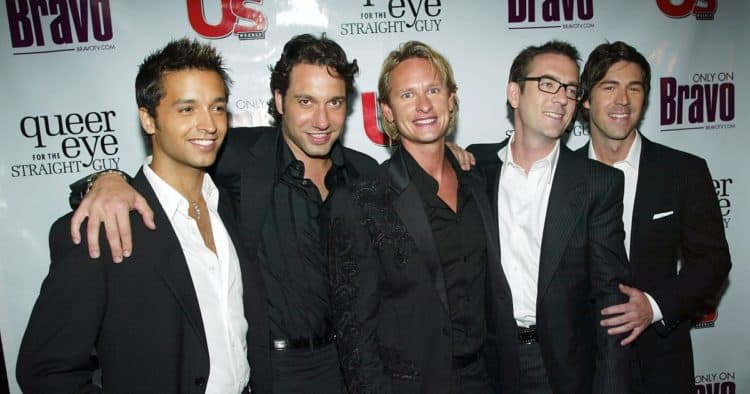 Netflix's spin-off of Queer Eye for the Straight Guy, titled Queer Eye, has released their latest season and features local heroes, with each episode providing us inspiration and helpful lifestyle advice. Queer Eye has earned widespread praise and even won the Primetime Emmy Award for "Outstanding Casting for a Reality Program" two years in a row. The new Fab Five features Jonathan Vas Ness as grooming expert, Tan France the fashion expert, Antoni Porowski as the food and wine expert, Karamo Brown the culture expert, and Bobby Berk as the interior design expert. The original series Queer Eye for the Straight Guy premiered in 2003 and earned several awards and nominations including the People's Choice Award for Favorite Reality Show. The show features the Fab Five as they travel around New York to help heterosexual men improve their lifestyle and prepare them for their important life events by giving them advice on grooming, fashion, cooking, housekeeping, and social skills. The original Fab Five comprised Ted Allen as the food and wine connoisseur, Carson Kressley as the fashion expert, Kyan Douglas the grooming expert, Thom Filicia as the resident interior design expert, and Jai Rodriguez as the culture expert. If you've watched Queer Eye for the Straight Guy and are wondering what the original Fab Five has been up to, keep reading and find out more.
Ted Allen
Ted Allen was Queer Eye's food and wine connoisseur. In the show, he helped the men select and prepare dishes for their important event. After the series, Ted Allen served as a judge on Iron Chef America and hosted several cooking shows. He is the host of Food Network's Chopped, which started in 2009, and Chopped Junior in 2015. He also hosted another Food Network series, America's Best Cook, which was later on retitled as All-Star Academy, and appeared on The Best Thing I Ever Ate. He was featured in an episode of Amazon Prime's Modern Love in 2020. Ted Allen is also a contributing writer to Esquire magazine, Bon Appétit, and Food Network Magazine, and has authored two cookbooks. His latest project is Where Chefs Eat which premiered on Cooking Channel last December 29 and can be streamed on fuboTV. In the show, he is joined by Chef Mike Solomonov as they venture into chefs' favorite food spots in the city of Philadelphia.
Carson Kressley
Carson Kressley was Queer Eye's fashion expert and he has continued to work in the fashion industry after the series ended. He created the clothing lines Perfect and Love, Carson and served as host and judge to several reality shows such as How to Look Good Naked, Carson Nation, and RuPaul's Drag Race. Kressley also appeared on Dancing with the Stars Season 13 as a contestant. Aside from hosting and judging, he started appearing in film and TV. He appeared on The Perfect Man alongside Hilary Duff and was a guest star in The Bold Type. In 2018, Carson also reunited with OG FabFive member Thom Filicia in the TV series Get a Room with Carson and Thom as they help homeowners transform their spaces.
Kyan Douglas
Kyan Douglas was the grooming guru of the Fab Five. He has continued to work in the field as a recurring stylist on Rachael Ray Show. After Queer Eye, he published his book Beautified on grooming for women and became a product advisor and spokesperson for L'Oréal in 2004. He also hosted TLC's Ten Years Younger in 2009. In an episode of Oprah: Where Are They Now? Kyan Douglas shared his sentiments after the series ended. "What I learned from Queer Eye is that no amount of fame or money was ever going to sort of, you know, fill a part of me that was sort of empty or missing." Before going back to television in 2009, Douglas took a break from his career to travel around the world. He traveled to Egypt, India, and South America, studied yoga, and eventually became a certified yoga instructor.
Thom Filicia
Thom Filicia was the resident interior design expert for Queer Eye. In the show, he redecorated the houses in a short amount of time. After the series ended, he stepped out of television for a while and founded his own interior design company based in New York, Thom Filicia, Inc. He published a few books, Thom Felicia Style: Inspired Ideas For Creating Rooms You'll Love in 2008 and American Beauty: Renovating And Redecorating A Beloved Retreat, published in 2012. In 2007, Filicia went back to television, creating and starring in his show Dress My Nest which focused on interior design makeovers, and was a guest on shows Million Dollar Contractor, Tacky House, and Radio City Holiday. According to a 2017 interview with The Real Deal, Filicia has several projects designing luxury condos for Biscayne beach. In 2018, he reunited with Carson Kressley for the TV series Get a Room with Carson and Thom to help people transform their homes into fabulous spaces.
Jai Rodriguez
Jai Rodriguez was the culture expert for Queer Eye. When the show wrapped up, he continued to work on his acting career. He has appeared on several shows such as Grace and Frankie, Grey's Anatomy, How I Met Your Mother, The Bold and the Beautiful, and Wisdom of the Crowd. He also appeared on Sharknado 5: Global Swarming and in Lady Gaga and Beyoncé's music video for the song "Telephone." In an interview with E! News' Daily Pop Rodriguez shared his thoughts about the reboot to new Fab Five cast member Bobby Berk. The OG Queer Eye member told Berk how he was initially shocked when he was told "We're bringing Queer Eye back." The actor shared his response, "My Puerto Rican butt threw myself on the line and was like, 'Oh my gosh, this is so amazing because honestly now in my 30s, I have, like, so much more to offer…'" In the same article, Rodriguez also opened up about his struggles after the show ended and how he feels about the new Fab Five. "As I really thought about it, after Queer Eye, it was really hard to get back to my profession as an entertainer and an actor because it had a reality show stigma on my name. I had to fight so hard. Once I got meet the new Fab Five, they were so incredibly gracious."
Tell us what's wrong with this post? How could we improve it? :)
Let us improve this post!