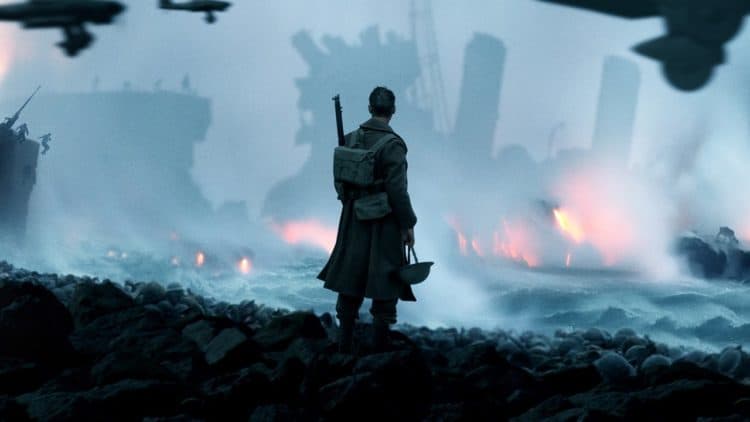 War films have a way of telling epic battle stories that most of us have only read in books. This uniqueness has set them apart as one of the most exciting genres in film. So it's no surprise that large studios like Netflix are releasing more and more war movies. The streaming giant has recently been adding several original and classic war films to its platform. Since the site has countless movies, it can be hard to find the best war film for you. That is why we have come up with a list of the ten best War films you can watch right now on Netflix.
Outlaw King (2018)
The first war movie on our list is the Netflix original Outlaw King. It's a historical drama that tells the story of Scottish King Robert the Bruce, played by actor Chris Pine. He led a revolution against King Edward for Scotland's independence that lasted between 1304 to 1306. The movie is written and directed by David Mackenzie and stars Florence Pugh, Aaron Taylor Johnson, and Billy Howle. Netflix had a budget of $120 million for the 13th-century film, featuring epic battle scenes and great costumes. If you are into medieval movies and war, then this is an excellent pick for you.
War Machine (2017)
War Machine is unlike the other war movies on this list. It's a satirical take on a war story based on the book by Michael Hastings called The Operators: The Wild and Terrifying Inside Story of America's War on Afghanistan. It focuses on an accomplished US Army General, Glen McMahon, played by Brad Pitt. Glen McMahon is sent to Afghanistan to lead a conflict resolution mission. Glen, with his staff, tries to end the war, but it proves to be more challenging than he thought.
First, They Killed My Father (2017)
Directed and written by Angelina Jolie, the war film follows the life of seven-year-old Ung in Cambodia during the four-year reign of the Khmer Rouge regime. Ung is taken out of her home, separated from her siblings, and forced to become a child soldier. The film, set in 1975, tells a devastating tale of war and genocide through the eyes of a child. It stars Sareum Srey Moch, Phoeung Kompheak, Mun Kimhak, and Sveng Socheata.
Dunkirk (2017)
One more Netflix movie you can add to your watch list is Dunkirk. It's a war movie set in 1940 in Dunkirk, where French, British, and Belgium soldiers retreated to escape German troops. The film documents their efforts to run as their enemies destroy every route they get. It's a tense yet exciting film that will keep you glued to the screen. The famous actors featured in the movie include; Harry Styles, Mark Rylance, Tom Hardy, Fionn Whitehead, Cillian Murphy, and Jack Lowden.
The Outpost (2020)
The Outpost is a war film about the battle of Kamdesh in Afghanistan. It's a bloody, action-packed movie that depicts a small team of US soldiers fighting against a group of Taliban fighters during the Afghanistan War in 2009. It's based on the 2012 book by Jake Tapper called, The Outpost: An Untold Story of American Valor. The thrilling film features a great cast, including; Scott Eastwood, Orlando Bloom, Caleb Landry, James Cory Hardrict, and Jack Kesy.
Sand Castle (2017)
Sand Castle is a war drama that follows a US army unit assigned to fix a water supply system in a village in Iraq in 2003. It says a lot about the US invasion of Iraq during that time. Chris Roesner wrote the movie, which is inspired by his own terrifying experiences during the Iraq War. The captivating film stars Nicholas Hoult as Private Matt Ocre, Henry Cavill as Corporal Syverson, Glen Powell as Sergeant Flavy Beau Knap as Barties, Logan Marshall-Green as Sergeant Joel Baker, and Neil Brown Jr. as Enzo.
Da 5 Bloods (2020)
A Netflix film that many war film enthusiasts would enjoy watching is Da 5 Bloods. It follows the lives of four black US Army veterans in their sixties who decided to go back to Vietnam. Why? To uncover a treasure of gold, they buried alongside their leader years ago during the war. The exciting Spike Lee-directed film stars Chadwick Boseman(now deceased), Johnathan Majors, Delroy Lindos, and Melanie Thierry.
The Siege of Jadotville (2016)
The Siege of Jadotville stars Jamie Dornan as Pat Quinlan, an Irish army commandant who arrives in the small mining town of Jadotville on a UN peacekeeping mission. His inexperienced army ends up battling with the Katangese forces, who in 1961 wanted the UN to leave their country. The film focuses on the aftermath of the Second World War and proves to be both engaging and educative to watch.
The Death of Stalin (2017)
The Death of Stalin is a satire war film about the power struggle in 1953 that ensued after the Soviet dictator Joseph Vissarionovich Stalin died. Stalin's council of ministers plot, steal and fight against each other to gain power. The award-winning comedic film stars Steve Buscemi, Simon Russell, Jeffrey Tambor, Olga Kurylenko, and Andrea Riseborough.
Defiance (2009)
Defiance is a 2009 war film set in Europe in 1945 when the Nazi army rounded up and killed Jews. It focuses on the heroic efforts of two Polish brothers, Tuvia Bielski played by Daniel Craig, and Tuz Bielski, played by Liev Schreiber, as they try to save persecuted Jews during the Second World War. The film is a genuinely emotional story of two brothers in Belarus who risked their lives to save and protect the lives of about 1200 Jews while hiding out in the forest. This war movie will have you on the edge of your seat, hoping they don't get caught. Now when you log in to your Netflix, you have an idea of what to watch. The movies in our list are not only entertaining but go all out on the action scenes.Dunkirk