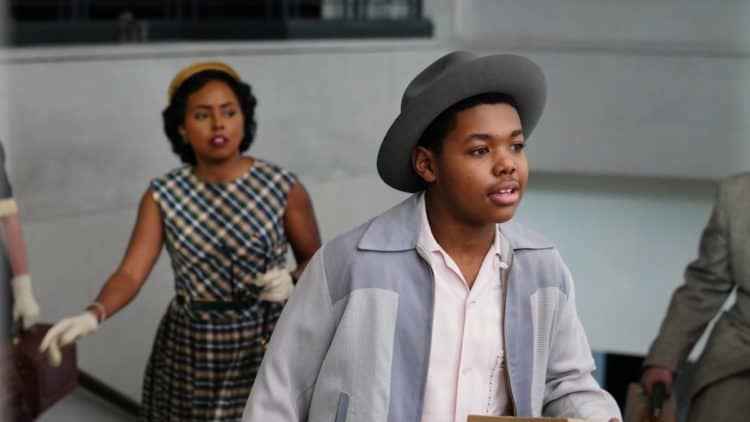 It's been almost 70 years since Emmett Till was brutally murdered in Mississippi for allegedly whistling at a white woman in a local store. In the years since he was killed, it has since been revealed that Till's accuser, Carolyn Bryant, lied about what happened in the store today. Although Till's death initially served as a cautionary tale about racism in the south during the Jim Crow Era, it is now seen as evidence of the brutal hatred that, sadly, still exists. Recently, Emmett Till's story has been brought back into the spotlight thanks to a new miniseries on ABC called Women of the Movement. While his murder is at the center of the story, the miniseries focuses on his mother, Mamie, and how she fought to make sure that her son's story wasn't forgotten or ignored. Not only does Women of the Movement handle Till's story with the kind of compassion it deserves, but it also features an awesome cast who has brought each of the characters to life in beautiful and authentic ways. Some of the cast members may not be people you're familiar with yet, but I have a feeling we're going to be seeing a lot more of them in the near future. Keep reading to learn more about the cast of Women of the Movement.
Adrienne Warren as Mamie Till-Mobley
Adrienne Warren is a Virginia native who fell in love with performing at an early age. She got her start in church and her passion grew from there. By the time she was a teenager, her love for acting had gotten serious and she attended Governor's School for the Art. After graduating, she enrolled in Marymount Manhattan College in New York City and graduated from the school's theater arts program in 2009. Adrienne began her professional acting journey in the early 2000s. Like many other actors, her career began on the stage. In 2013, Adrienne was cast in the Broadway production of Bring It On. Her journey on the small screen started with an appearance in the show Blue Bloods. Over the years, she has played a variety of small roles in TV shows, but being cast in Women of the Movement is her biggest opportunity to date. Not only has playing Mamie Till-Mobley been a great boost for her career, but it has also impacted her on a personal level. Through the role, she was able to learn more about one of the most tragic moments in American history. There's no doubt that this is a job that is going to stay with her for the rest of her life.
Tonya Pinkins as Alma Carthan
With a career that has spanned the course of more than 40 years, Tonya Pinkins has earned the status of a legend in the entertainment industry. Tonya was born in Chicago which is a city known for its rich history in arts and entertainment. She started performing at an early age and participated in local theater programs. After high school, Tonya decided that she wanted to take her theater studies to the next level and she enrolled in the musical theater program at Carnegie Mellon University. However, she decided to leave school early when she was cast in a production of Merrily We Roll Along. Throughout the years, Tonya has spent a good portion of her career on stage and she has been a part of several Broadway productions. She even won a Tony Award for her role in Jelly's Last Jam. Tonya has also found a good deal of success on the small screen. Interestingly enough, however, Tonya almost wasn't part of Women of the Movement. Niecy Nash was originally cast as Alma, but chose not to move forward with the project. But anyone who has seen the series so far would agree that Tonya has done a great job with the part.
Gary Basaraba as Sheriff Clarence Strider
Gary Basaraba has been part of the American entertainment industry for so long that most people have probably assumed that he was born in the United States. In reality, however, Gary is originally from Alberta, Canada. There isn't much information on what inspired Gary to get into acting, but we do know that it was something he was taking seriously by the time he was a young adult. At 20 years old, he began studying acting at Yale University's school of drama where he graduated in 1982. His on-screen career started in 1985 and it didn't take him long to find his footing. Over the years, Gary has been part of lots of well-known projects including movies like Mrs. Parker and the Vicious Circle and Fried Green Tomatoes.
Cedric Joe as Emmett Till
The last couple of years have been massive for Cedric Joe. He went from being a relatively unknown young actor to being one of the brightest stars in the making. Cedric got his first major break when he was cast with a starring role in the 2021 movie Space Jam: A New Legacy. Being cast as Emmett Till has been another huge opportunity for him. When discussing what it was like to play Till, Cedric told Pop Sugar, "Everyone who I was with and who helped me prepare for the role made it very comfortable and I'm glad I got to portray Emmett. It was definitely a different role portraying someone who was real, portraying a story that really happened." Cedric went on to say, "I hope that they take away that Mamie and Emmett were real people that this happened to . . . I want viewers to know that stories like this happened back then, happened before, and are still happening now". As Cedric's career continues to grow, it'll be great to see what other kinds of roles he decides to take on. So far, he has already proven that he has the versatility to do just about anything.
Glynn Turman as Mose Wright
Glynn Turman was born and raised in New York City. His career started when he was just 12 years old after being cast in the Broadway production of A Raisin in the Sun. In that role, he got the chance to work with some of the most legendary Black actors in American history including the late Sidney Poitier and Ruby Dee. Even back then, it was clear that Turman was working with a special level of talent. His on-screen career began in the early 1960s and he has been a fixture on the big and small screens ever since. Although Turman is most well-known for the work he's done in front of the camera, he also has plenty of talent when it comes to telling stories from the other side. He has produced and directed several projects and he will likely be working on even more in the future.
Ray Fisher as Gene Mobley
Unlike lots of other actors, Ray Fisher isn't someone who has wanted to act since he was a child. Instead, Ray didn't start acting until he was a teenager after some of his high school teachers inspired him to focus on the arts. After high school, Ray enrolled at the American Musical and Dramatic Academy in New York City. He started his career in theater and it's clear that the stage will always have a very special place in his heart. He made his first on-screen appearance in 2008, but it took a while for things to take off for him in front of the camera. However, being cast as Cyborg in the 2016 movie Batman v Superman: Dawn of Justice changed the trajectory of his entire career. It led to a leading role in Justice League which has opened other doors for Ray. His role in Women of the Movement is a departure from what we're used to seeing him do, but that isn't a bad thing at all. When discussing his role in the mini-series, Ray told The Wrap, "When I sat down with [creator/showrunner] Marissa [Jo Cerar] 'MJ,' and [director/executive producer] Gina [Prince-Bythewood], I told them, 'It means a lot to me, right now, in this moment.' Everything that was 2020, and I think I can speak for us all when I say, this project is bigger than any issue that I've ever had. This piece is bigger than any specific issue that anybody I've known personally has ever had."
Chris Coy as J.W. Milam
Chris Coy is a Kentucky native who has been working consistently since the 2000s. He has been in several well-known shows including True Blood and Banshee. His versatility has allowed him to move effortlessly between genres and his role as J.W. Milam is yet another example of his range.
Julia McDermott as Carolyn Bryant
Unlike the rest of the cast, Women of the Movement is Julia McDermott's first on-screen role. Since she is still new to the industry, there isn't much information available on her at the moment. From what we know, however, she studied acting at Juilliard.
Carter Jenkins as Roy Bryant
Born and raised in the Tampa, Florida area, Carter Jenkins got his start by participating in local theater projects. He eventually moved on to commercial opportunities that allowed him to transition into TV. Carter has played a variety of characters during his career, but a role like Roy Bryant is something new for him. If anyone doubted his range, he has officially put those feelings to rest.
Tell us what's wrong with this post? How could we improve it? :)
Let us improve this post!