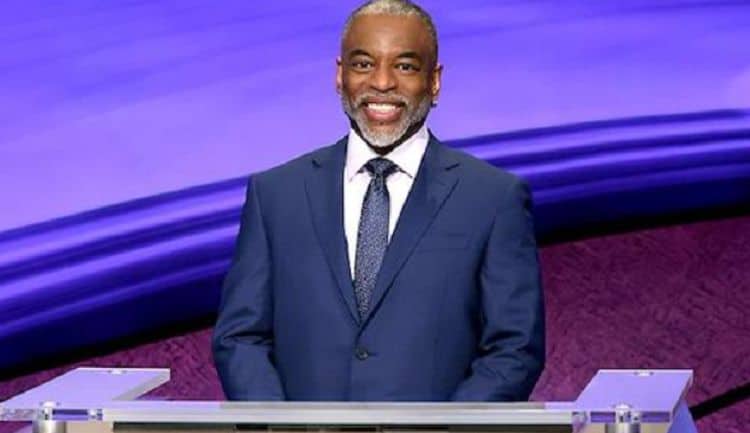 When longtime Jeopardy! host Alex Trebek passed away in 2020, people all over the world were saddened by the loss. After hosting the show for more than 30 years, it had become nearly impossible to even imagine Jeopardy! without him. However, as the old saying goes "the show must go on" and producers had to work quickly to find someone who could take over the job. Since Alex's shoes are nearly impossible to fill, a decision was made to have 37 guest hosts rotate on the show. Although the list included some pretty impressive names, LeVar Burton was one that stood out to a lot of people.
As a longtime fixture in the entertainment industry, Burton has been a fan favorite for decades and people were excited to see what he could do as the host of Jeopardy! When Burton got his chance to host from July 26 through the 30th, he didn't disappoint. Keep reading to get the scoop on how much fans love seeing LeVar Burton host Jeopardy!
How LeVar Felt About His Time As A Guest Host
LeVar Burton has done a lot of great things during his career, but being the guest host on Jeopardy! was his first time doing a game show. As you can imagine, he was filled with lots of nerves. According to the Associated Press, Burton said, " I had, like all of the hosts, one day of rehearsal and the following day I shot five episodes of 'Jeopardy!' I came backstage after taping the first episode and I said to Stephanie, 'Well, how did I do?' She said, 'ehhh.' Now, this is a woman who loves me enough to tell me the truth. She said it wasn't me."
Fortunately, LeVar didn't let a rough start get the best of him. He told the AP, "I made it my business for the next four chances at bat to just be myself, to forget about the procedure, to forget about the process, stop trying, stop focusing on the wrong thing. You're not going to be smooth as Alex, let go of that. But what you can bring to the table is you. So that became my point of focus. And when it did, I started having fun."
How Did Levar Burton Compare To The Other Guest Hosts?
Being a guest host on Jeopardy! may not have been a competition on the surface, but it goes without saying that viewers were going to be comparing all of the hosts. So far, it appears that LeVar Burton is the one viewers love the most. According to a poll from TV Line, 23.37% of people voted that they'd like LeVar to become the next full-time host of the show. This puts him in first place with Mayim Bialik at number two with 20.64% of the votes. Despite the high number of votes Burton has received, there are still plenty of people who don't think he's the best fit for the job.
In the comments section of TV Line's poll, a user named Jack said, "I love the actor love reading rainbow but some one below nailed it- Burton talks like he is talking to kids. He would make an amazing kids show host, like Mr Rogers." Several others agreed with this sentiment. Of course, this isn't an official poll and won't have any bearing on the final decision but it's still interesting to see where viewers' heads are.
When Will A Decision Be Made About The Next Host Of Jeopardy!?
While the idea of having guests hosts has been a great way to see what people are capable of, there are some viewers who are getting tired of the constant rotation. After all, each person brings something different to the show and having a new person every week changes the vibe.
Fortunately, the guest rotation isn't going to last forever. A decision on a permanent host is set to be made at some point in August 2021. It's unclear exactly what producers are going to base the decision on, but it will likely be a number of factors. Hopefully, the choice won't be made solely on viewers since Burton and David Faber hosted during the Olympics and will likely have lower numbers as a result. If Burton is offered the position, there's a very good chance his answer will be yes.
It goes without saying that no one in the world could ever replace Alex Trebek, but hopefully the show's next host continues to carry on the legacy that Trebek worked so hard to build and maintain.