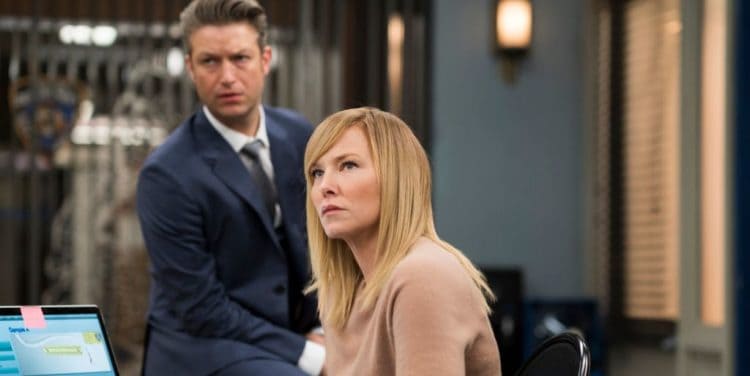 Romance tends to get lost in the sauce on cop shows like Law & Order where the entire premise of the show focuses on getting the bad guy and putting them behind bars. After playing in our faces for years and slowly teasing us with the Benson and Stabler, they finally got something right. Yes, we're talking about the budding romantic relationship between Amanda Rollins and Dominic Carisi. If you don't know in Law & Order SVU Season 23, Rollins and Carisi are an official couple. This means so much to fans because we're ready to explore other aspects of our favorite detectives lives outside of the precinct.
Rollins and Carisi's Love Story Didn't Happen Overnight
If you haven't been keeping up religiously over the last couple years you might think Rollins and Carisi's budding romance came out of nowhere. In reality, there was a lot of chemistry between the two earlier on when Carisi was a new detective at SVU and not the hotshot assistant district attorney he is now. Let's take a trip down memory lane. We met Rollins in the Season 13 premiere when she had just relocated to SVU from Georgia. Carisi came onto the show the following season as a new Detective. The chemistry between the detectives over the years was undeniable. The show writers always made sure they shined som light on Rollins and Carisi's close relationship. There are several instances in which people assumed that the two detectives were a couple. For example, in Season 21 when Rollins visits her father in the hospital with Carisi her dad assumes that they are a couple and so do the hospital staff. Carisi was also by Rollins side during her pregnancy with her daughter. He accompanied her to all of her doctor appointments and was even there when she gave birth. Their "friendship" eventually becomes strained when Carisi is promoted to assistant district attorney since he also holds a law degree. They went from working together everyday to not seeing each other as much because of Carisi's new busy schedule. Rollins was very vocal to Carisi about how much she missed him.
Rollins and Carisi Kissed On Season 22
The moment we were all waiting for happens on the finale of Law & Order SVU Season 22. They were at Fins wedding and Carisi was going to officiate the ceremony. However, at the last minute Finn and his fiancee decided to hold off on the wedding. Rollins asked Carisi to read the speech he had prepared. The speech was heartfelt and it brings Rollins to tears. Car is finally confronted her with his feelings and they shared a passionate kiss. The moment Rollin realizes that she has romantic feelings for Carisi is to die for!
Will Rollins and Carisi Relationship Last?
Rollins has a bad track record with relationships. With an alcoholic father that was never quite reliable a d a a sister hooked on drugs, Amanda's toxic family dynamics contributed to her making poor relationship choices, like sleeping with random bartenders. We can't forget that at one point she was involved with her commanding officer. In Season 20, Rollins got pregnant with Declan Murphy's while she was casually dating Detective Amaro. Rollins past means nothing because in a recent interview with TV Line, Peter Scanavino reamed that Rollins and Carisi aren't taking their relationship lightly. In fact, they are a hundred percent committed to each other which is really great to hear because Carisi would make a great stepdad to Rollins little girls!
Will Working Together Affect Their Relationship?
No doubt, things can get complicated when you work with your significant other. When Rollins and Amaro were together they would occasionally fight over cases. Rollins and Carisi's "work romance relationship thingy" was somewhat tested in Episode 8 of this season. A teen girl helped initiate a robbery that claimed the lives of three people and harmed a teen. After some digging SVU finds out that the girl is actually a sex assault victim. Car is faces pressure from forces up top to make an example out of the girl. Rollins disagrees with the way Carisi is handling the case and is very disappointed when he doesn't fight harder to grant the victim some leniency. However, by the end of the episode Rollins and Carisi kiss and make up. Things might get heated between Carisi and Rollins shared cases but they know each other well enough to be able to talk to each other about what's going on. We will be tuning in every Thursday to see how Rollins and Carisi's relationship play out.
Tell us what's wrong with this post? How could we improve it? :)
Let us improve this post!