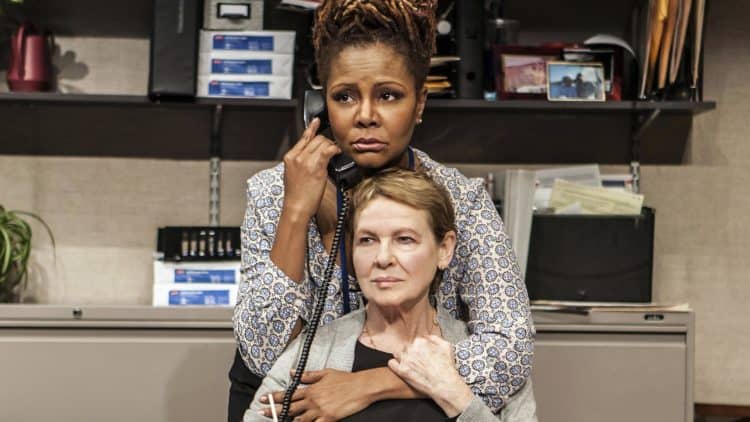 Tonya Pinkins is the type of actress you don't see very often. She can truly do a little bit of everything. The level of talent she's displayed throughout her career has earned her the respect of fans and colleagues alike. She has played a wide variety of characters and no matter what kind of project she's working on she never disappoints. Many viewers will recognize her best from her appearance in shows like Gotham and All My Children. Not only does Tonya have a long list of acting credits behind her, but her fans will be happy to know that she also has several project sin the works. Continue reading to learn 10 things you didn't know about Tonya Pinkins.
1. She's A Chicago Native
Tonya was born and raised in the Chicago area. Neither of her parents had any history of working in the arts. Her father was a police officer who also worked in insurance sales. Her mother worked for the post office. Despite neither of her parents having any experience in the arts, Tonya's creative talents quickly became apparent.
2. She Was A Shy Kid
When most people think of actors, they automatically assume that they're outgoing and love being the center of attention. That isn't always the case, though. Like many other actors, Tonya was a very shy child and it took her a while to get comfortable being in the spotlight.
3. She Went To Law School
Tonya's acting journey isn't as traditional as some people's. After receiving a BFA in musical theater from Carnegie Mellon University in Pittsburgh, she went on to earn a degree in creative writing from Columbia College in Chicago. She then attended law school at California Western School of Law although it's unclear whether or not she earned a law degree.
4. She Loves To Write
Acting is what Tonya has become best-known for, but writing was her first love. During an interview with Picture This Post, Tonya said, "My first love was always writing. I had an experience in fourth grade that was traumatic and stopped me from writing for a long time. I've always been trying to get back to writing."
5. She Really Wanted To Go To Yale
Tonya is thankful for the high-quality education she received, but there's one school she always wanted to attend: Yale. She told the Hartford Courant, "I always intended to go to Yale. Really. That's what I was going to do years ago. And I had a full ride there, too."
6. She's a Tony Award Winner
On screen work is what has gotten Tonya the most main stream attention, but she's also had a very successful theater career. She made her Broadway debut in the 1981 production of Merrily We Roll Along. In 1992, she won a Tony Award for Best Featured Actress in a Musical for her role in Jelly's Last Jam.
7. She Has Directing Experience
Tonya always lights up whenever she gets in front of the camera, but she's a star behind it as well. She made her directorial debut in 2016 with the short film What Came After. She is currently working on releasing a project called Red Pill which she wrote and directed.
8. She Hopes To Inspire Others
It goes without saying that entertainment is always one of the main goals behind Tonya's work, but that isn't the only thing she's aiming to do. Tonya hopes that her work will inspire those who see it and so far it looks like that's exactly what she's done throughout her entire career.
9. She Isn't Afraid To Speak Her Mind
Lots of people struggle with speaking their mind because they don't want to rub people the wrong way. This is especially true for people in the spotlight who fear their opinions could hurt their career. Tonya isn't worried about any of that, though. She isn't afraid to stand up for the things she believes in and she has been very vocal about issues such as racism.
10. She's A Proud Mother
Even after all of the years Tonya has spent in the entertainment industry, she has never been the type to put all of her business on display. As a result, there isn't much information out there about Tonya's personal life. One thing we do know, however, is that she is a very proud mother. She has three children: two from her marriage to Hubert Kelley and one from her marriage to Ron Brawer. Sadly, her divorce from Kelley resulted in a bad custody battle which caused her to lose time with her children.