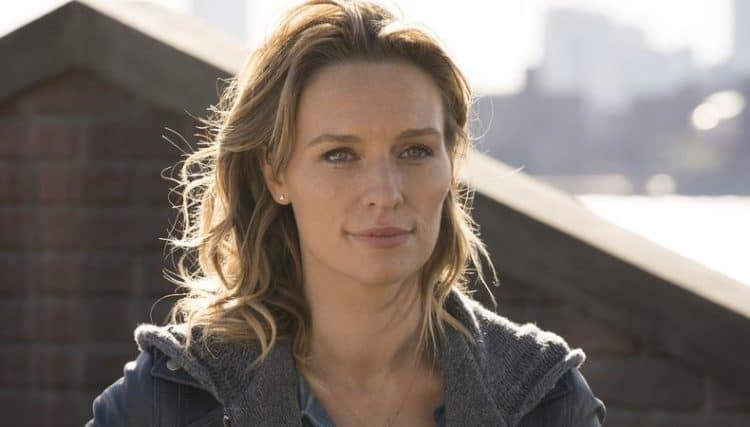 Michaela McManus is an actress who is best known for her performance on "Law & Order: SVU" as Kim Greylek. She also appeared on "One Tree Hill" as Lindey Strauss and most recently on the new NBC television series "Aquarius." She has a large following of fans who are always happy to hear more about what's going on in her career as well as in her personal life. To help you get to know her a little better, here are 10 things that you probably didn't know about Michaela McManus.
1. Her Birthday
Michaela McManus was born in Warwick Rhode Island on May 20, 1983. She turned 36 years old in 2019. Her parents are Jim and Patricia McManus. Michaela kept her real name for her acting profession instead of choosing a stage name.
2. She has a college education
Michaela completed her high school requirements and then considered what she was going to do for her career. She decided upon becoming an actress. She enrolled in classes at Fordham University and was successful in graduating with her degree from the institution. She also attended New York University. She entered the school's graduate acting program but did not finish her studies because it became necessary for her to move to Los Angeles, California to pursue her career in acting.
3. She is a wife and mother
McManus met Mike Daniels who is also in the entertainment business. He is a writer and producer. The two hit it off and they were married in July of 2011. The couple is still happily married and they have a family. She gave birth to her first son on April 3 of 2014 and they named him Gabriel October Daniels. In September of 2016, they welcomed their second son into the world and named him Declan Griffith Daniels.
4. McManus was written out of SVU
We also learned why Michaela McManus made a fast departure from "Law & Order: SVU." She joined the cast as ADA Kim Greylek, but when Stephanie March returned to reprise her role as Alexandra Cabot, it was time for her to depart to make room for the returning star. Her write out was abrupt and there was little explanation offered until later when producers made an official confirmation that she would not be returning to the show.
5. She had to take a hiatus from acting
Michaela was working on a project when the Writers Guild of American went on strike. As a member of the group, she was mandated to join with other members and cease participation until the strike was settled. This event took place from 2007 through 2008. When the strike was settled, she returned to work.
6. She worked a desk job
When Michaela was participating in the Writers Guild of America strike she went out and found another job to supplement her income. She took a job working at the desk in the E! Entertainment building at the gym. This tells us a lot about her character. She likes to stay busy working and instead of kicking back, she went out and landed another job while she was waiting to go back to acting.
7. She has clergy in the family
Michaela McManus has an auntie who is a member of the clergy. Although we haven't heard much about the faith that she follows, if any, we do know that her aunt is a nun named Sister Mary McManus, on her father's side of the family. We assume that she is Catholic but there has not been confirmation of this.
8. She is currently filming a movie
We also discovered that Michaela is currently involved in the cast of a new film that is titled "The Block Island Sound." Although there has not been a lot of information released about the film yet, we do see that she has been credited with the lead role in the film and that the directors of the film are Kevin McManus and Matthew McManus. The pair have also written the film. She will co-star with Jim Cummings and Neville Archambault. The film is under the status of filming and the producers haven't released any information about the plot or the expected release date, so we'll just have to wait until they are further along in the process. Fans of Michaela McManus will have something to look forward to in the near future.
9. She has a high approval rating
The popular actor and film rating site Rotten Tomatoes has reviewed several of the projects that Michaela McManus has been involved in. Her highest viewer approval rating on the site is a whopping 89% for her performance on the 2012 film "Funeral Kings." This is an outstanding percentage that tells us she is favored by the general public as a good actress and they enjoyed her performance in the movie.
10. Her lowest score is 31%
While we were on the site reviewing the viewer ratings of approval for McManus, we noticed that she received a fairly low percentage of approval for her role in the television series "The Village." It was a short-lived series that didn't find a lot of popularity so we think that she deserves a pass on this one. Overall, she is very well-liked and respected by viewers for her acting skills and abilities. The next lowest score was a decent 65% for her role as Lt. Janel Gillis Teleya in "The Orville," followed by a 77% approval for her role as Grace in "Aquarius." Michaela also got an 80% for the role of Scarlett Price in "Castle," 81% for playing Tara in "Awake," and 85% for her role as Jules in "The Vampire Diaries." Overall, Michaela has a very high approval rating when compared to the scores that have been given to some other actors in the business. It will be exciting to see what the near future brings for her career.
Tell us what's wrong with this post? How could we improve it? :)
Let us improve this post!