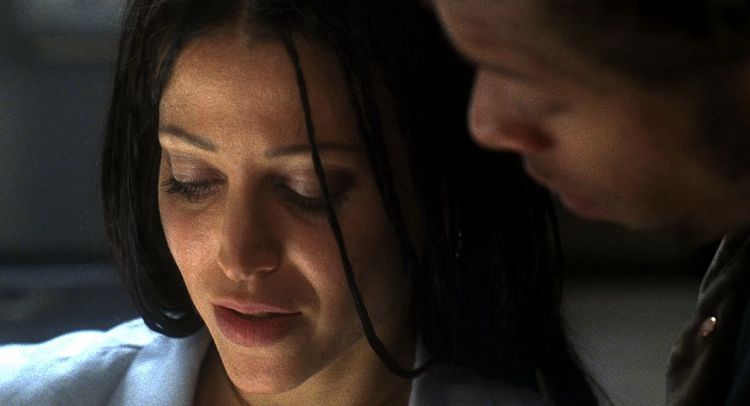 Now that the reboot of "Head of The Class" is in the works, fans of the 1980s sitcom are wondering what happened to the cast since none of them have remained active in the acting industry. Leslie Bega was in the series starring as Maria, and her career in the film and television industry has faded with her most popular role being Valentina in "The Sopranos." As such, we are left to wonder what happened to her and here is what we know about her career then and now.
She always wanted to be an actress
Since she was a child, Leslie knew she wanted to become an actress thanks to her mother, whom she describes as a theater star. Leslie would accompany her mother to her musicals and end up sleeping in the orchestra pit where she was exposed to all sorts of musicals. By the end of all productions that her mother starred in, Leslie knew every song by heart. Since unlike today, there was no one to stop her from getting to the costume rooms, the actress would sneak into them, dress up and sing while acting like the different characters she had seen during shows. One day she got caught and found her way on to the stage performing in front of an audience instead of her secret shows.
Leslie began acting at the age of six, and her first play was "The Patriots" which unlike the musicals she had gotten used to, was a play. She fell in love with various playwrights, including Shakespeare and spent her time reading plays, regardless of the genre; thankfully, she had a library at her disposal. With her love for the theater already cemented by her exposure, she dressed up as a Star Trek character and went to meet a theatrical agent who was blown away by Leslie's creativity. Before she knew it, her career as an actress was on the rise, going from the stage to commercial sets. Her first commercial was Michael Jackson's Pepsi advert, and in her entire childhood, Leslie did at least 100 commercials according to her interview with The WebShow.
She put her career on hold
By the time Leslie was in her teens, her career in film and television had taken off; in 1984, she was a dancer in "Breaking" and its sequel "Breakin'2: Electric Boogaloo." She was also cast in "Highway to Heaven" and "The Twilight Zone" before becoming a regular cast in "Head of The Class." Soon after the series wrapped up, Leslie filmed "Mobsters" in 1991 and shortly after met her ex-husband Jon Farris when her best friend invited her to a party. Leslie's best friend who ended up being the maid of honor at her wedding to Jon told her a group of musicians from Australia would be attending the party and one of them was going to be her husband. Well, the friend's words came true, and Leslie and Jon began dating.
According to Married Wiki, her relationship with the musician is the most famous, although the actress also has a few other celebrities including Charlie Sheen in her dating list. Jon proposed to Leslie with an antique diamond ring on Valentine's Day which they spent at the Bel Air Hotel Restaurant. Of course, the actress should have known something was going to happen because, for the first time since they began dating, Jon wore a suit to dinner. The couple got married in 1992 but divorced in 1999. Leslie confessed that she put her acting career on hold to travel the world with her musician husband since his band was at the height of its success.
Being loopholed as an actress
Leslie disclosed that after being on "Mobsters," all the other jobs that came next showed that she had already been loopholed into playing a mobster girl or a prostitute. Hence she came to be in "The Sopranos" where she played Tony Soprano's girlfriend. However, landing the role of a television series that remains to be among the best shows of all time was not easy. At the time, the casting directors had been looking for someone to play Valentina without luck, and when Leslie's manager told her about the opening, she had the flu. Since she could not fly to New York, she had to audition on tape 25 pages of the script which she did by recording on her friend's VCR.
She booked the part, and James Gandolfini who played Tony sent her three dozen roses on their first day of shooting which helped in building some chemistry between the two. Leslie joked in her interview with Entertainment Weekly that she got to have more sex on the screen than in real life. Although she feared being pigeonholed, her character in "CSI" has been described as being diametrically opposite to that of Valentina La Paz on "The Sopranos."
She is now a realtor
Leslie has put her acting days behind her, and on her website, Leslie flaunts her experience in the real estate market, having bought her first house when she was only 17. She has a wide range of skills, also in architecture gained from her employment in a company based in Australia that deals with architecture and design. The realtor established her own commercial real estate brokerage firm after working for Peak Company in Beverly Hills. She became an expert in land acquisitions, developments as well as investments which led to her being recruited by Sotheby's International Realty; she is rated among the top 1% brokers of the agency.
Leslie continues to advertise prime property as indicated by an advertisement in the Los Angeles Times in September 2019. Her real estate brokerage experience has also resulted in her appearing in "Million Dollar Listing" and "Selling LA" while Leslie's career as an actress has helped her land a celebrity client list. Since she has been in real estate for the past 18 years, it is safe to say she is comfortable in the field and is not shifting gears anytime soon.