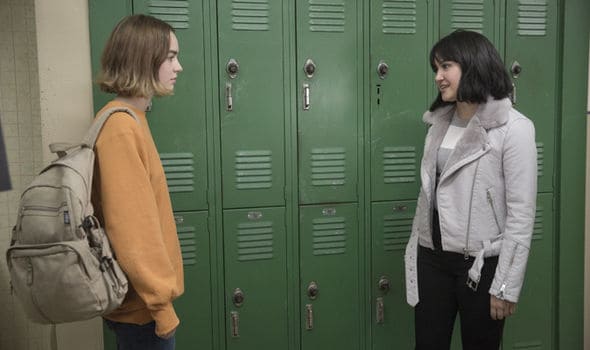 Working in the entertainment industry doesn't always mean that you will be an overnight success. This is something that actress, Ariela Barer, can attest to. Although she's been in the business for over a decade, she didn't land her first main role until 2017. Ariela Barer is best-known for her current role as Gert Yorkes in Hulu's Marvel's Runaways. Gert is a superhero who was first introduced in the Marvel comic series in the summer of 2003. Barer's portrayal of the character has been met with lots of praise and fans and critics alike believe the young actress' future is very bright. Continue reading for 10 things you didn't know about Ariela Barer.
1. She Is The Lead Singer In A Band
When Ariela Barer isn't acting, she's singing. She is the lead singer of an indie rock band called The Love-Inns. The band is made up of 3 musicians including one of Ariela's closest childhood friends. In addition to singing, Ariela also knows how to play the piano and the guitar. The band released their debut album, Split Lip, in 2017. The first song on the album, "Dust Factory" was written by Ariela.
2. She Is Mexican And Jewish
Ariela Barer comes from a diverse ethnic background. Both of her parents were born in Mexico and are also Jewish. Ariela told Hispanic Network Magazine, "We're pretty much from everywhere, in all honesty. I feel most connected to my Latina heritage, for sure. Most of my family, except for my parents, lives in Mexico. So, whenever we visit anywhere it's to Mexico. I'll be going there for the holidays."
3. She Still Takes Acting Classes
No matter how good you are at something, there's always room to learn and improve. This is a philosophy that Ariela Barer lives by. Although she has found success in her career, she still continues to take acting classes at Stuart Rogers' Studios in Hollywood. She believes that all actors should continue to take classes no matter how long they've been in the business.
4. She Originally Auditioned For The Role Of Molly
When Ariela Barer went to the casting for Marvel's Runaways, she had no intention of landing the role of Gert. She planned on reading for the part of Molly. Barer was drawn to the role because Molly was the only character written as a Latina. However, once the casting team met her, they decided she'd be a better fit for Gert and offered her the chance to read for that role instead.
5. Flamin' Hot Cheetos Are Her Favorite
Ariela grew up in a household where healthy eating habits were installed. Although she loves to cook and eat healthy dishes, there's one snack food she has a weakness for: Flamin' Hot Cheetos. She considers these spicy Cheetos to be her absolute favorite snack and something she couldn't live without.
6. She Began Acting Professionally At 9-Years-Old
While most other kids her age were playing with coloring books and going to recess, Ariela Barer was working. She landing her first professional acting job when she was just 9-years-old. Ariela was discovered along with her sister, Libe, while acting in a local children's theater. Libe is also a successful actress who has appeared in several shows including iCarly and Sneaky Pete.
7. She Came Out On Twitter
At the end of 2017, Ariela Barer came out as a part of the LGBT community in a series of tweets. Since opening up about her sexuality, Barer has been very vocal about advocating for the community. She has gotten a lot of support from her social media followers with many of them applauding her for being so open.
8. She's A Big Believer In The Importance Of Representation
Ariela Barer hopes for more diverse representation in the entertainment industry. She knows the power of being able to see someone who you can relate to in a position of power. In an interview with Teen Vogue, she shared, "I think just existing and taking up public spaces when you have any identity other than, like, cis white male, is powerful in itself. I know for me, seeing someone like Stephanie Beatriz is really inspiring just because she exists."
9. She Hopes To Get Into Writing And Directing
Acting may be what brought her into the spotlight, but Ariela Barer hopes to do more one day. When she isn't busy filming Runaways, she is working on her own projects. She hopes to write and direct some day and has already written and directed a short film titled Jelly.
10. Her Superpower Would Be Shapeshifting
Ariela Barer is pretty content with her life as is, but if she could pick one superpower make her life a little more exciting, she would choose the power of shapeshifting. She feels that having this power would give her an edge in the entertainment industry and help her land any role she wants.