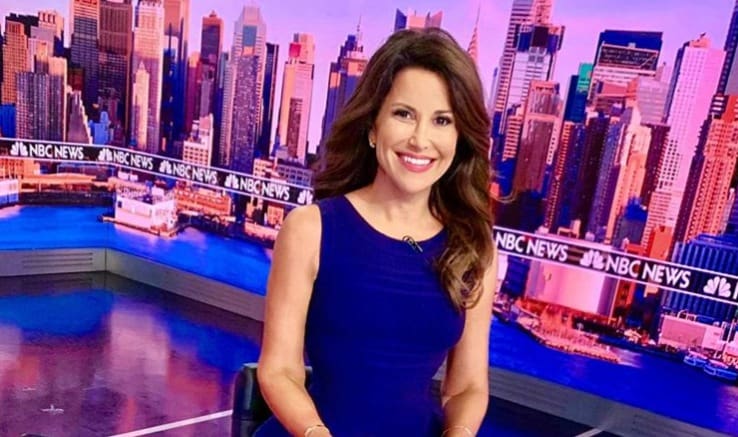 Delivering the news is am important job, and it's one that award-winning anchor, Gigi Stone Woods, takes very seriously. With a career that has resulted in successful stints on multiple networks, Gigi has proven that she has the skills to deliver compelling and informative stories. She has covered countless major events and has also interviewed important people from all over the world. Her interviewing abilities allow her to get the most out of every story she works on. Although people who have seen Gigi on TV may be very familiar with her work, there's much more to her than most viewers know. So, what is this talented woman like when the camera stop rolling? Read on for 10 things you didn't know about Gigi Stone Woods.
1. She Has A Master's Degree In Journalism
Gigi Stone Wood clearly has a natural knack for working as a journalist, but she's also got the education to back it up. Gigi holds a master's degree in journalism from Columbia University in New York. This program is widely considered to be one of the best in the United States.
2. She Has A Consulting Company
In addition to being a highly respected journalist, Gigi Stone Woods is also an entrepreneur. She has her own consulting company called Stone Woods Media where she "teaches executives and corporate spokespersons how to best communicate their message and connect with an audience. She helps them prepare for media interviews, creating and delivering a compelling story that resonates across various media platforms."
3. She Created "Inspiring Women In Business"
Gigi believes in using her platform to help other women. As a business woman herself, it's no surprise that she would want to shed light on other women in business. While at Bloomberg TV, she created, hosted, and co-produced an interview series titled "Inspiring Women in Business". The series focused on conversations with business women who were interested in sharing their stories.
4. She Is A Mother
Gigi has done a lot of impressing things throughout her career, but her most impressive job might be motherhood. She is the proud mother of two children: a son and a daughter. Her Instagram account is filled with adorable pictures of her kids and their family adventures.
5. She Was Named After A Movie
Most people either have a really cool story about how they got their name, or they don't have a story at all. Gigi Stone Woods is a proud member of the first group. Her name was inspired by the 1958 film, Gigi. The film tells the story of a young French man who enjoys casually dating lots of women until his friendship with Gigi turns into something more. In 1991, Gigi was preserved in the National Film Registry and is considered the last great musical by MGM.
6. She Speaks 3 Languages
Just when you were thinking that it's not even possible for Gigi Stone Woods to get any more impressive, she does. According to her LinkedIn profile, she speaks Spanish and French in addition to English. Although she only has a working proficiency in French and Spanish, having an understanding of multiple languages is always a plus, but it's probably especially helpful in Gigi's career.
7. She Loves To Vacation In The Hamptons
As a native New Yorker, Gigi has spent a lot of time vacationing in the Hamptons throughout her life. Now, as a wife and mother, she still considers the area the perfect place for family vacations. During an interview, Gigi shared that her favorite things about the Hamptons are "the open fields and beautiful beaches, and of course the famous way the light hits at sunset."
8. Her Wedding Was Inspired By Jane Austen
18th century author, Jane Austen, probably doesn't ring wedding bells in most people's minds, but apparently Gigi Stone Woods feels differently. Woods made it very clear after being proposed to that she wanted a "Jane Austen wedding," and that's exactly what she got. She and her husband wed in a ceremony at chateau de Raincheval, a recreated version of the 17th century French structure. Gigi wore a beautiful Vera Wang dress and the couple was surrounded by their closest family and friends.
9. She Loves The Outdoors
Gigi's job may require her to spend a lot of her time plugged in, but when she's away from work she enjoys hanging out in the great outdoors. After all, there's nothing better than getting outside and enjoying some fresh air – especially after a long day. In her free time, Gigi enjoys boat rides, beach trips, and other adventures with her family.
10. She Believes In The Importance Of Education
Gigi Stone Woods is a strong believer in the importance of education. She is currently a board member for an education-based non-profit, The Opportunity Network. The goal of this organization is to reimagine "networks as sources of power to catalyze opportunity and access for students from historically underrepresented communities, so they can drive their visions of college and career success forward."