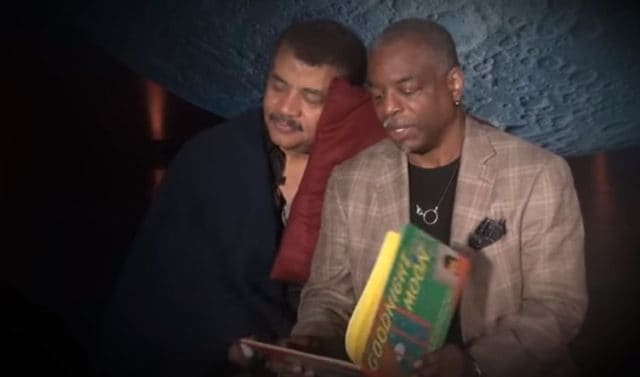 LeVar Burton, reader extraordinaire, has brought countless children to reading over 23 seasons of Reading Rainbow. Our children have eagerly waited to hear him read new stories. We have loved him for his ability to captivate them. Those who did not grow up with Reading Rainbow came to know Burton when Reading Rainbow was re-created as an instant-hit, 2012 app for the iPad. The new RRKIDZ took just 36 hours to move into first place as an educational success.
It hasn't just been Reading Rainbow that has catapulted Burton to popularity, however. Before Reading Rainbow, he debuted as Kunta Kinte in the ABC television series Roots. The drama based on Alex Haley's novel Roots not only won numerous awards but expanded the way humans began to think about each other. Burton's debut acting role had a social impact which mattered.
After Reading Rainbow, Gene Roddenberry invited Burton to take on the role of Geordi La Forge, in Star Trek: The Next Generation. La Forge was a blind character whose sight was enabled through futuristic technology incorporated into a prosthetic device worn over the eyes. He's played many roles since then, and has created a significant career as a director for television and films. But, the educational goals of hearing, seeing, and thinking in new ways run as common threads through three roles which have made Burton famous and respected.
Enter Neil deGrasse Tyson, author and astrophysicist magnifique, whose controversial decision to remove Pluto from its traditional place as the ninth planet has put him in the uncomfortable position of being the recipient of copious amounts of children's hate mail. Here is a man who began his phenomenal career in astronomy because he saw the expanse of the night sky at the Hayden Planetarium's sky theater when he was nine. He's not forgotten his childlike wonder and fascination with celestial objects. In fact, his career is filled with amazing scientific work, teaching, discussing, and thinking about the universe.
Tyson has completed research on observations in stellar formation, bulges, cosmology, galactic astronomy, and stellar evolution. He's held positions at Princeton University, The University of Maryland, the American Museum of Natural History, and the Hayden Planetarium. He's served on "Moon, Mars, and Beyond" commission and has been awarded the highest NASA honor for civilians; the NASA Distinguished Public Service Medal. Add to that, hosting of numerous documentaries and appearances on television shows. He's an advocate for space exploration and animal rights, too. The man with the eye for space still has both feet moving forward on the earth.
When you consider that Burton and Tyson represent the highest exemplars in the fields of science, literature, and education, their recent relaxing moment with a good book is perfection. From our adult vantage points, we can reminisce about favorite books and times together as we sit for a spell and watch the unexpected unfold in a very short, but oh so wonderful video.
How serendipitous that two fabulously intelligent and successful men should meet over a beloved night-time story! Tyson clutching his blankie, a snuggly pillow, and precious toy bunny, snuggled up to Burton to enjoy a personal reading of Goodnight Moon. Tyson had been waiting since May, when he tweeted that he "longs occasionally for someone to read Goodnight Moon to him as he falls asleep". His fond wish has been fulfilled, with the video sharing the moment on Tyson's YouTube StarTalk Radio channel. With an enormous blue moon in the background, the two enjoyed storytime… and we get to enjoy it, too.
Save