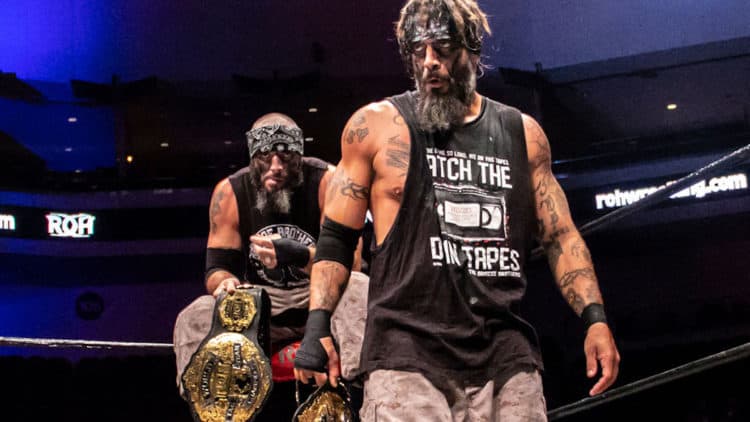 Back in October, Ring of Honor shocked the world by announcing that they were releasing all talent and would go on hiatus for the first quarter of 2022. Naturally, the wrestling world assumed the worst and thought that the company was going out of business for good, but thankfully, ROH was purchased by Tony Khan so the indie promotion will continue operations. Now, the talents of the ROH roster are free to sign anywhere they please with Jay Lethal and Brody King notably signing with AEW. However, at Final Battle, FTR came out and confronted The Briscoe Brothers, which caused excitement since many thought it meant Mark and Jay would end up in AEW. However, that was in December, and Mark and Jay have yet to be on AEW television. Recently, the word coming out of backstage according to Fightful Select is that the company has no interest in signing the ROH World Tag Team Champions.
One of the reasoning appears to be due to the anti-gay tweet Jay Briscoe send out in 2013, "The Delaware Senate passed a bill yesterday that allows same sex couples to get married. If that makes you happy, then congratulations!!!!!!…try and teach my kids that there nothing wrong with that and I'll fucking shoot you"
That remark caused an uproar instantly and Jay apologized for his actions and stated that it was all a part of his character. However, Jay Briscoe was a babyface at the time, and sending anti-gay rhetoric is probably the last thing that a babyface should do. This statement reportedly kept WWE from signing the brothers in the past. Now, there's been a couple of other instances where The Briscoes seemingly danced in line with this message. Back at a Fight Club Pro Wrestling show, a fan claimed that one of the Briscoes grabbed a pride flag out of somebody's hands, wrapped it around the neck of one of the competitors, and choked him. To be clear, this article is not a hit piece on The Briscoe Brothers nor am I trying to make them look bad. I don't know them personally, so I'm not going to make irrational judgments because of what they've said or done on camera. I would be a massive hypocrite as I listen to a lot of rap music and comedians where artists say homophobic slurs or jokes. By that notion, Dave Chappelle and Eminem are homophobic too. Perhaps Jay Briscoe was in character when he said that tweet. I don't know because I'm not in his mind.
Based off of research, there's no documented incidents regarding either Jay or Mark Briscoe. As of this writing, there isn't any records of hate crimes towards the LGBTQ+ community nor have any wrestlers or crew members publicly spoke out against the duo in regards to homophobic behavior. This is a tricky subject. Mark and Jay are extremely talented wrestlers and the duo shouldn't be forever judged based on one statement. This isn't a serious crime like murder or pedophilia. Jay said something stupid and immediately apologized for it. The flag incident appears to be a moment where the wrestlers interacted with the fans by using the flag against their opponents. There's not much context there because it doesn't say that Jay or Mark spit on the flag or shouted slurs and forcefully took the flag. It's not uncommon in wrestling for athletes to take items from fans to use in a match. Personally speaking, if this decision were up to me, I would talk to Jay and Mark Briscoe's co-workers. How do they act behind the scenes? Are they friendly towards any one in the LGBTQ+ community? Has there been any sort of incident that displays their homophobia? If their co-workers have nothing bad to say about the duo then I don't see the issue with All Elite Wrestling hiring the ROH World Tag Team Champions.
They're one of the best tag teams in the world and they deserve to be in the strongest brand that has an excellent tag team division. Judging a man's character based off a tweet is silly and short-sighted. Of course, these are just rumors as there's no guarantee that this is the reason AEW has signed the duo. It could be for the simple fact that the company just isn't interested in them. Why they wouldn't be is a mystery, but that can't be ruled out as well. Jay and Mark deserve to be in one of the top promotions in the world, if they're record behind the scenes are clean.
Tell us what's wrong with this post? How could we improve it? :)
Let us improve this post!