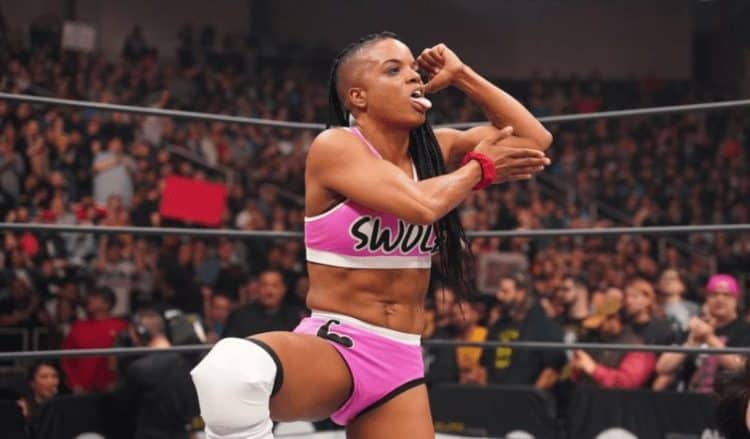 On November 30, 2021, Big Swole announced her departure from All Elite Wrestling. It was reported as a mutual decision on both sides until the final day of 2021. Big Swole revealed why she decided to leave AEW, citing numerous issues including the lack of diversity within the company, "Outside of lack of structure, their BIGGEST issue, which is diversity. I do not beat around the bust when it comes to diversity and my people. There is no representation, truly, and when there is, it does not across in the black community as genuine. At all. I don't know why everybody is so afraid to accept it or say it, but it's not a good look. What happens is, you have this wonderful company that treats people's families, but there is nobody that looks like me that is represented at the top and in the room with them. They are not helping to necessarily influence decisions, but to explain why certain and certain words shouldn't be said. There is one else who can explain our culture and experience except for us," she said on Call in the show. Swole would go on to talk about how her daughter made her realize the lack of representation and noted how Bianca Belair and Big E were the shining examples of what WWE is doing right about that issue.
Tony Khan responded swiftly by essentially highlighting that the top executives are brown and listed a couple of black performers currently in AEW. Khan also took a shot at Swole, noting that he opted to not renew her contract because her wrestling wasn't good enough. First things first, Tony Khan's response was immature and clearly based on emotion. Khan highlighting the diversity in his roster isn't the issue, it's the fact that he opted to take a shot at Swole's wrestling ability. Rumor is that AEW actually chose not to renew her contract and if this is indeed the case then Khan could be telling the truth; however, by revealing this information after Swole criticized the company about their lack of diversity showcases that he doesn't value a black performer's opinion and would rather take shots to deflect from the issue at hand. Now, in terms of Big Swole's statement about AEW lacking in diversity, this is a completely false narrative that doesn't hold weight when you think about it for two seconds. To Swole's credit, AEW has yet to have a black male singles champion.
However, AEW is one of the most diverse wrestling companies out there and the notion that the promotion lacks diversity is ridiculous. Nyla Rose – a transgender black athlete – has previously held AEW Women's title. Hikaru Shida and Riho – two Japanese women – had a lengthy period with the women's belt. The Lucha Brothers are currently the AEW World Tag Team Champions. Jade Cargill is getting a mega push and could win the finals of the TBS Championship tournament. However, it's not just the fact that AEW has had different races as a title holder as they're prominently pushing black talent. Despite his partner Darius Martin getting injured, AEW has pushed Dante Martin as a singles star and he's nicely been showcased against big names such as Kenny Omega, MJF, and Malakai Black. The Acclaimed have gotten over as a popular tag team act and are consistently featured as well. In addition, Powerhouse Hobbs, Private Party, Scorpio Sky, and Lio Rush are also featured black talents on Dynamite. Just because we haven't had a black singles male champion doesn't mean that AEW isn't pushing the envelope when it comes to diversity.
Talents shouldn't be given championships because of their race. That's equivalent to an actor being given an Oscar nomination because he's black. It should be based on skill and talent, not the color of someone's skin. AEW's still a new company and it's not fair to blast them on diversity when everything they've done says otherwise. If Big Swole truly felt this way, then this is something that she should've said to Tony Khan in private. Big Swole has the right to feel the way she feels about the diversity issue in AEW, but to ignore the loads of talent that's obviously being pushed on television is a disservice to her statement. Diversity isn't about being a champion. There's no doubt that a male singles star will emerge soon as AEW is clearly grooming a couple of names. Diversity is about equal opportunity for all races and Tony Khan has done a wonderful job displaying that throughout his promotion. He's clearly not doing it for some type of agenda nor is he even trying to gain recognition because of how diverse his roster is. Hopefully he doesn't change his plans because of Big Swole's comments. There's no need to rush and have a black champion on AEW anytime soon.
Tell us what's wrong with this post? How could we improve it? :)
Let us improve this post!