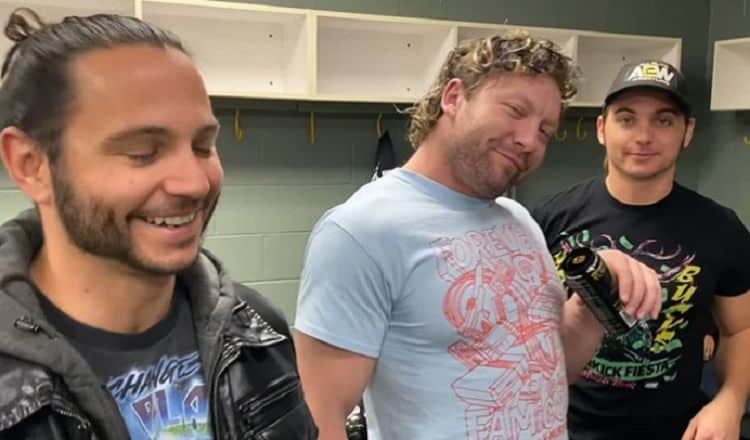 If you're reading this, it's because you want to find out some tidbits about one of the worlds finest pro-wrestlers, Tyson Smith, better known as Kenny Omega. This self-professed 'straight edge' wrestler hails from Canada and has since become one of the most sought after wrestling performers in the world. As the story goes, he was discovered by wrestling promoter Bobby Jay while working at an IGA supermarket, and now is the executive vice president of All Elite Wrestling. That's all well and good, something you can find on a wiki, but did you also know he loves anime and Star Trek? Well, he does. Below we've scrounged through interviews to find perhaps a thing or two you didn't know.
1. He's a Big Fan of Anime
Any anime fans out there? Well, if so then know that you can include Kenny as part of your ranks. Indeed, he enjoys watching it right before exercise, especially sports anime, as he feels it energizes his workout. In an interview with the famous anime website and streaming service, Crunchyroll, we learn that his first anime was Astroboy, and that's where he caught his bug for anime. His favorite villain is Midosuju from Yowamushi Pedal, and calls him the "Sports equivalent of Thanos. Kenny also considers hand drawn anime superior to CGI drawn anime, as he believes it's artwork for the screen.
2. He Doesn't Consider Himself a Tough Guy
In a 2017 interview with Alicia Atout, Kenny shares that in reality, he's not what one would call a tough guy, so he's careful about the risks he takes. He's a highly skilled athlete that has had to tone a few of his moves down as he got older. He states that he replaced some of the moves of his youth by adding a bit more "comic flair" to his matches. He goes on to relate his most dangerous move. In 2012 Budokan, he decided to make this match a show stopper. So he performed a Frankensteiner move from the top rope to the floor, and describes it as the "most shocking fall that I've ever had to absorb".
3 . He Actually Wrestled a Blow-Up Doll
Kenny Omega is known for his love of innovation, of creating a wrestling match that is almost an alternative to the standard ones seen in WWE. As such, he'd done things such as wrestle a 9 year old girl, which was beautifully and skillfully handled by both Kenny and Haruku. But, then came the most surreal of all: Wrestling a blow up doll, and DDT wrestling was just the company to let it happen. In fact, Kenny stated that he actually tried to make it look like the doll had won, says Kenny "…yes, this thing (doll) is defending itself, it's attacking, it has a chance of winning…we make people feel sorry for this thing, and make people feel as though it's a human being putting its life on the line for the entertainment of the fans."
4. He Chose his Look as "The Cleaner" Based on Wexler and Cobra
Those of you who are familiar with video games know who Wexler is. If you're not, then know that he's the dark, brooding yet ultra evil villain behind the Resident Evil franchise. As for Cobra, well if you're a Stallone fan then you'll immediately recognize the name. Cobra was a film from the 80's starring Stallone as a cop with an axe to grind, excelling in skills, yet always held back by a jealous and stingy boss. Once you become familiar with both those characters, you'll see how they influenced his "Cleaner" character, with the dark hair, sunglasses and villainous nature.
5. He is a Huge Supporter of What Other Wrestlers Do Outside the Ring
Kenny strongly believes that it's important to respect and support his fellow wrestlers, and is a huge supporter of the accomplishments they perform outside the ring. In the 2017 AMBY interview with Alicia Atout, he expresses his keen interest in films which include The Rock, as well as any music that his friend, fellow wrestler, Chris Jericho produces. In fact, during the beginning of the interview he mentions listening to Fozzy, which is Jericho's heavy metal band, and finds his hit "Judas" catchy.
6. Kenny is a Trekkie
If you don't happen to be familiar with the phrase "Trekkie", know that it simply refers to those who follow and love the Star Trek franchise, Captain Kirk, Spock and beyond. In a 2018 interview he conveys how he find Star Trek inspirational to his career as a wrestler. That's what's great about Kenny. Whether it's anime, video games, or Star Trek, he takes in the core of it all, and finds a way to include it in his wrestling career. During the interview, he states that Star Trek, "made him who is is, to some degree."
7. Kenny Had a Brief Stint in the WWE
New fans of Kenny might be wondering why he's not in the WWE. Well, for a very short time he was. Early on in his career, Kenny spent some time in WWE's Deep South, where potential wrestlers were evaluated and coached by Bill Demott. It was because of this time in the WWE that he almost gave it all up to get a job at the airport. Kenny is a fierce, independent fighter and had a difficult time with WWE and its cliques and gossip. He has since turned down 4 WWE contracts, and instead worked as an indie wrestler, before he signed with All Elite Wrestling.
8. AJ Styles Brought Kenny Back into Wrestling
Kenny is a creative force, a man with an independent spirit. So, is it any wonder that his miserable experience with the WWE and all its backstage politics, he felt like leaving the field of wrestling entirely. However, thanks to a wrestling match with AJ Styles, "The Phenomenal One", he realized that not all wrestling or wrestlers were the same. One day, a promoter booked Omega for a final match against wrestler AJ Styles. After his match with AJ, he felt his love of wrestling open up once again, and the rest, as they say, is history.
9. Having the Freedom to Craft His Own Style Means More than Money
If nothing else, Kenny's an individualist, right down to his style of wrestling. Growing up, he was well aware of the fact that many wrestling fans considered the WWE the be all and end all of wrestling. But Kenny was different. He yearned to find his own way in the business, to craft his own style in spite of the huge popularity of the WWE, and as you can see, that decision made him who he is today. When asked why he wasn't a member of the world's predominant wrestling organization, Kenny explain it this way. In an article for The Sportster, he states, "I am sort of very much a part of representing an alternative. If my motivation was money, I would already be in the WWE."
10. Kenny's First Gimmick: Otaku Gamer
Many fans new to wrestling and just getting to know Kenny, might not realize that he's always been a huge fan of gaming since a kid. In point of fact, his wrestling name, "Omega" is based on the Final Fantasy villain, called Omega To continue, Kenny was just 16 years old when he began his career as a wrester, working for TRCW. As for a gimmick, he chose to be an otaku gamer. In fact, in a 2019 video by Razer, he's being interviewed in an arcade, and discusses how these games have and continue to inspire him in his career as a wrestler. This love of gaming began early in his life, and the fact that he tied that love of gaming and anime into the creation of his career is pretty amazing.