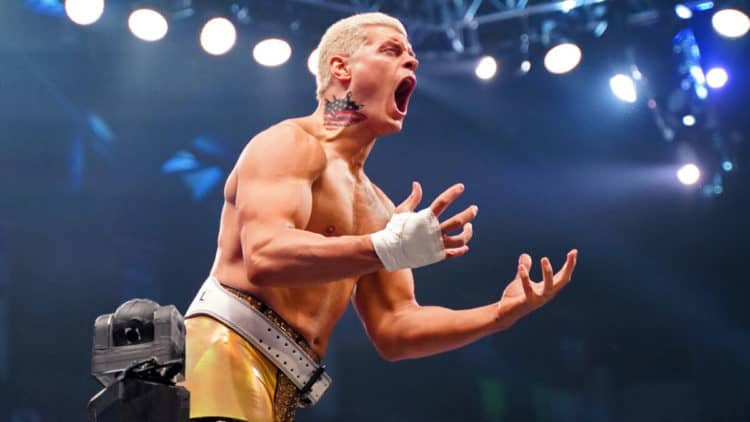 So, I think it's safe to say that Cody Rhodes is done with All Elite Wrestling. There's been plenty of stories and speculation over why the third-generation star left the company, with the most notable being that he left because of being stripped of his creative powers following the horrible Dark Order segment in 2019. At the moment, there's no heat to these rumors because they haven't been confirmed by the man himself, thus it's anyone's guess as to why Cody Rhodes left AEW. However, in retrospect, Cody Rhodes's run in All Elite Wrestling was sort of a failure. Whether you love him or hate him, this is the guy that helped get the independent scene as hot as it did following his departure from WWE in 2016. The third-generation talent went into the unknown and made himself into a star, which should've carried over to AEW.
For a while, it did. Cody Rhodes world title feud against Chris Jericho was definitely his best. The back-and-forth promo battles were great and there was a clear-cut path for each character. The AEW World Champion was standing in the way of Cody achieving his dreams of becoming the top dog of AEW. Rhodes was the good guy looking to knock Chris Jericho off his throne. Unfortunately, Cody lost. Not only did he lose, but for some odd reason, the company put the unnecessary stipulation that Cody could never compete for the world title ever again. This was a mistake. Tony Khan should've used his authority to make sure that this stipulation was never put in place. It didn't make sense for Cody to tack that on to his world title match because the story never called for it. It was clearly designed to get more heat on MJF when he officially turned his back on "The American Nightmare", but it also kept Rhodes out of the position that he truly deserved.
However, it wasn't just the fact that Rhodes was banned from ever winning the top AEW title, but the constant character shifts that effectively confused his audience. Rhodes has mainly been a tweener (or anti-hero) throughout the independent run, but more often than not, the former AEW star's antics have come across as heelish. There's this arrogant, "I'm better than you presence" that always been presented by the third-generation star. Whether it was him needlessly doing push-ups to using Arn Anderson to cheat and win matches, the flip flopping of his character lost AEW fans as time went on. During his rivalry with Anthony Ogogo, it oddly became an American vs. foreigner feud, two gimmicks that certainly worn out its welcome decades ago. This is both a problem in WWE and AEW. Both company feel that heels and babyfaces don't matter, which is a costly mistake. You need defined babyfaces fans can cheer as they climb their journey to the top. This is why Adam "Hangman" Page got so over with the crowd because his character arc saw him struggle following his loss to Chris Jericho and it took him a while to reach the top of the mountain. Cody never really had many feuds that he could really sink his teeth into.
The fans turned on Cody because their just wasn't a compelling character to latch onto. Add in the fact that his wife has essentially been a heel for her entire AEW career, which made for a confused dynamic that creative never really explained. Has Cody's run in AEW been a total bust? No. Cody has had great matches with the likes of Jericho, Sammy Guevara, and Darby Allin, and helped put over the stars of tomorrow. He's certainly had a better run then most AEW stars, but it just wasn't on the level of his fellow Elite buddies. They were times when he seemed to be spinning his wheels. His tag team match at Full Gear was unnecessary. The build-up to his big Shaq match was simply bad and uninspiring. Cody's character wasn't so damaged that he needed to leave AEW as it did appear that he was on the cusp of something interesting prior to his permanent exit. Cody Rhodes can simply hold his head up high knowing that he's one of the main reasons why the professional wrestling landscape changed in the last couple of years. Should the former AEW star head over to WWE; however, then hopefully he's rightfully slotted into the main event scene. WWE's track record when it comes to pushing anyone outside of Roman Reigns and Brock Lesnar is pretty terrible. Sure, Bianca Belair, Becky Lynch, Ronda Rousey, Drew McIntyre, and Bobby Lashley were able to emerge as stars, but the amount of wasted potential is way too much. Hopefully, Cody's name is added to that list.Chris JerichoChris Jericho
Tell us what's wrong with this post? How could we improve it? :)
Let us improve this post!