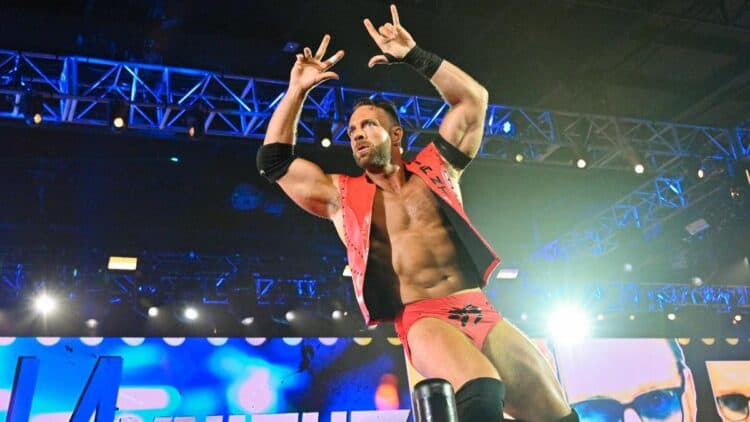 It's official, LA Knight is now on the main roster. The former Eli Drake was previously in the company back in 2013/2014. Going under the horrible name, Slate Randall, Knight didn't necessarily make it far in the NXT brand, mainly being used as enhancement talent before being released. However, Knight didn't fade away into obscurity as he made his rounds on the independent circuit. It wasn't until he made his debut on Impact Wrestling that he was finally given another opportunity to showcase his skills as a performer. Unfortunately, Knight's first big opportunity wasn't necessarily his best, debuting under the forgettable Rising faction with Drew Galloway (Drew McIntyre) and Micah (Tanga Loa).
However, once the former Eli Drake was able to break free and become his own man, the then Impact Wrestling star showcased why WWE made a mistake in releasing the young talent. Knight was never a strong in-ring competitor, though he's nowhere near as bad as The Great Khali or Jinder Mahal. In fact, Knight had memorable matches against names such as Johnny Impact. However, the biggest thing about Knight was that he had the gift of gab. His promo skills would often rival the likes of The Rock, and though he would sometimes stumble and go overboard, his mic skills are what made him special.
Fast forward past the major accomplishment of becoming the Impact World Champion, and the former Impact star made his way over to NXT following a brief stint in NWA/ROH. Knight made his debut in early 2021, but during the height of the pandemic. Still, Knight came in hot because of his work on Impact Wrestling and the indies, though he wasn't showcased well in the black-and-gold brand. Knight had feuds, most notably against Cameron Grimes and Ted DiBiase. Knight never seemed to fully fit in the new model of NXT. By the time the company made the huge transition by ditching the indie riffic mold that NXT had the past couple of years, it was too late for the former Impact World Champion.
There had been a reported new edict under the guise of Vince McMahon, which was that he wasn't interested in pushing talents who were on the bridge of 40. While names such as AJ Styles, Bobby Lashley, and Edge are still getting the main event treatment, there's still a notable lack of young talent floating around the main event scene. This is pure speculation as despite reports, Vince McMahon and company have never stated that this was fact. However, Knight is on the main roster, and given the recent string of dark segments that showcase the former Impact World Champion as a manager, it doesn't appear that officials have too much interest in pushing him as a singles star. Obviously, Knight's mic skills will do wonders for any talent that's managed by him. The guy simply oozes in charisma; however, the prime years of Knight's career is far from over.
Sure, the guy is closing the gap on the age of 40, but why not push Knight as an upper mid-card talent instead? Fine, Vince McMahon and company don't want him in the main event scene because he wants to freshen it up with young talent. That's actually a sound business model. But WWE's mid-card scene desperately needs to be repaired as well. Knight has the ability to play the veteran who could put over young talent while making the Intercontinental and United States title relevant again. There's nothing with him floating around the mid-card scene. Managerial roles should be relegated to talents who aren't particularly an in-ring competitor or was hired as a manager in the first place. There's too much wasted potential in Knight, as if the company gives him a mic then he should have no issues getting over with the WWE crowd.
Perhaps Knight was told that he would be nothing more than a manager on the main roster when he first signed his contract in early 2021. If that's the case then he's clearly happy with that role. But why not have him be a manager in NXT like former X-Division Champion Robert Stone coming in? It's odd how WWE continues to try and fit a square peg into a circle. First, the company forces valets like Lana and Eva Marie to wrestle and reportedly they were trying to put former NXT Champion Adam Cole as Keith Lee's manager. It's crazy that this company doesn't see Knight as a singles star given his tremendous mic ability. He's actually a pretty good wrestler too, which is seemingly a rare combination in today's market. He'll definitely put over the talent he's managing, but LA Knight's in-ring career didn't need to end so soon.
Tell us what's wrong with this post? How could we improve it? :)
Let us improve this post!