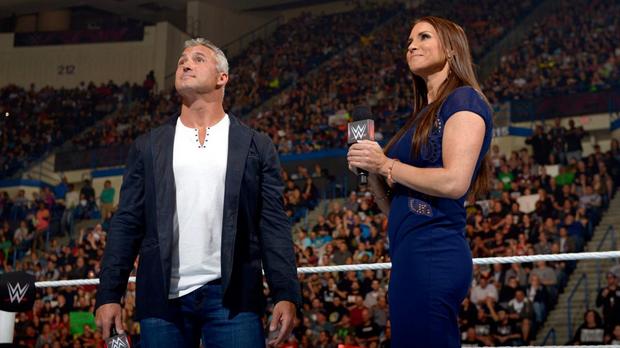 The WWE is a company with a current market cap of $1.54 billion as of this writing. Should you ever decide to get into a business that you can pass on to your kids, might I suggest a wrestling organization? That's most certainly what Vince McMahon has done with the WWE. And I'm quite certain his kids are glad that he did. The McMahon family's 2016 WWE salaries have officially been released and they're quite high.
While Vince McMahon still has creative control over the WWE we haven't seen him as much since he passed the reigns to son Shane McMahon and daughter Stephanie McMahon. Shane and Stephanie assumed the roles of Commissioner of SmackDown Live and Raw respectively. And Stephanie's husband, Triple H is also a huge earner in the family. So how much did they actually make?
As reported by F4Wonline.com, Stephanie McMahon earned $2,000,000 in her roles as an executive and a performer in 2016. Her brother, Shane McMahon, surprisingly did even better in his comeback role, as he managed to gross a figure of $2,150,000. Besides taking on the televised authority figure role, Shane also wrestled at Survivor Series and WrestleMania; nearly killing himself at both.
Triple H earned a whopping $3,993,417 in the year 2016. It should come as no surprise that Vince McMahon is the highest earning member of the McMahon family having drawn a huge salary of $5,348,624 last year; which really isn't quite as much as one might think it would be.
As far as the king himself, Vince McMahon has a reported net worth of $1.22 billion, the majority of that being WWE Stock. Not bad McMahon family. Not bad.
Tell us what's wrong with this post? How could we improve it? :)
Let us improve this post!