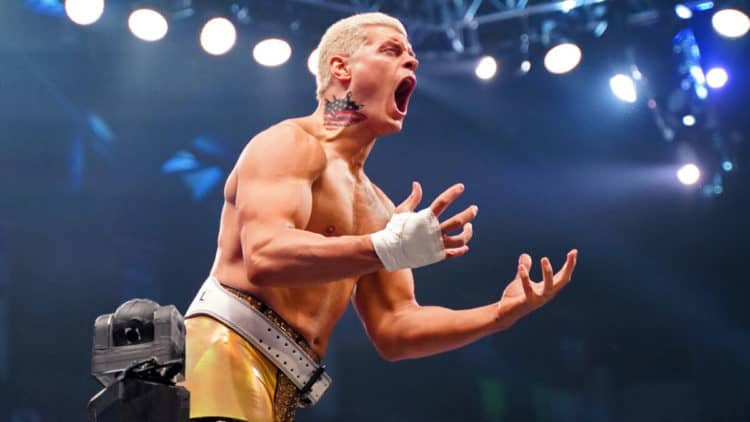 This past week, the wrestling world was greeted with the biggest news of 2022 thus far, Cody and Brandi Rhodes have officially left All Elite Wrestling. According to several sources including Fightful Select, the former TNT Champion's contract ended shortly before 2022, with the former AEW star admitting that he was on a handshake deal with Tony Khan. The last time that Cody Rhodes wrestled was at the Beach Break special where he dropped the TNT title to Sammy Guevara. It was a fitting end for the "American Nightmare" as his first match on AEW Dynamite was against The Inner Circle member. It was assumed that Cody would re-sign for the company due to his Executive Vice President status, so it was genuinely a shock when the former AEW star announced his departure on Tuesday. Now, neither Cody nor Brandi have stated that they're retiring, and given the rumors of the two being in contact with WWE, the question comes whether the couple show goes back to the place that they were unhappy with during their first stint there.
Still, Cody has been complimentary of the company in the past and when you actually look at his run, in retrospect, the third-generation star was treated better than a lot of ex-WWE talent. Cody had a huge chip on his shoulder and managed to prove that he didn't need the company in order to be a star. He started popping up on the independent scene, notably working with New Japan Pro Wrestling and Ring of Honor. The "American Nightmare" would join the Bullet Club and Cody's run during the indie scene was a complete success. He was a major instrument for All In, which became the first wrestling show outside of WWE and WCW in the U.S. to draw a crowd of 10,000 since a 1993 Lucha Libre show at the L.A. Sports Arena. He's also one of the original members of All Elite Wrestling. In truth, without Cody, the independent scene wouldn't have gotten as hot as it was. This isn't to take away credit from all the talent that made the indie circuit such a hot commodity because it wasn't just Cody that changed the industry. There was the growing buzz surrounding New Japan, but Cody's star power and hustle really helped elevate the scene. Cody is a star and it's surprising that Khan let him walk away given his value. Let's be real here, Cody knows intimate behind-the-scenes details that could greatly benefit WWE as well. Was it a mistake that Khan didn't shell out CM Punk or Daniel Bryan for Cody? Yes. If it truly came down to money, then Khan really should've put in the extra bucks. To be clear, I don't know if this is a case where Khan simply couldn't because of the numerous talents he's signed recently or the fact that he just didn't see Rhodes on the level of CM Punk or Daniel Bryan to shell out that kind of cash.
If Cody only cares about money, then he should definitely go to WWE. In fact, I wouldn't be surprised if he demands Roman Reigns or Brock Lesnar money, who reportedly make somewhere between $5 – $12 million per year. Cody has proven his worth and has actually expanded his talents outside of the world of wrestling. He's not Dwayne Johnson or John Cena, but he's managed to dip his toes in media and films. However, I don't buy this is strictly about the money. Cody had it made in AEW. He was the EVP of the company, who was allowed to take on various projects outside of AEW. Now, I won't add fuel to the rumors that Khan and Rhodes had a falling out recently. Until either party confirms that an incident took place between them, then it's all just gossip at this point. Deep down, Cody likely wants to prove that he can be a draw and main event WrestleMania like Roman Reigns. This is pure speculation on my end as Cody Rhodes has not stated this publicly. But it's typically a pattern for most talents who leave WWE. Drew McIntyre, John Morrison, Christian, Kurt Angle, Bobby Lashley, Brock Lesnar, and Mickie James are just some of the released talents that left the company and returned sometime later.
WWE doesn't exactly have a good track record with creating stars. Admittedly, they've done an excellent job with Roman Reigns and Brock Lesnar, but everyone else feels dispensable. Cody returning adds someone fresh to the top of the card and gives the roster a major boost. Cody has all the tools to be a big star. He's great inside of the ring and is a tremendous talker. It just depends on how the company sees him. If Cody cares more about trying to make it as a star, then it'll be smart for him to test the waters by forcing WWE to give him a one-year deal first. WWE knows how to book stars. Look at Roman Reigns. The company would be wise to bring him over as one of the major players on the roster. It would actually be a mistake if he doesn't go back to the WWE. AEW and WWE are the biggest companies in the world, and since he's 36-year-old, I doubt he wants to do the independent scene again. Perhaps in a year Cody will end up being another case of a misused talent. Maybe he won't be. Hopefully the former AEW star gets the treatment that he deserves.