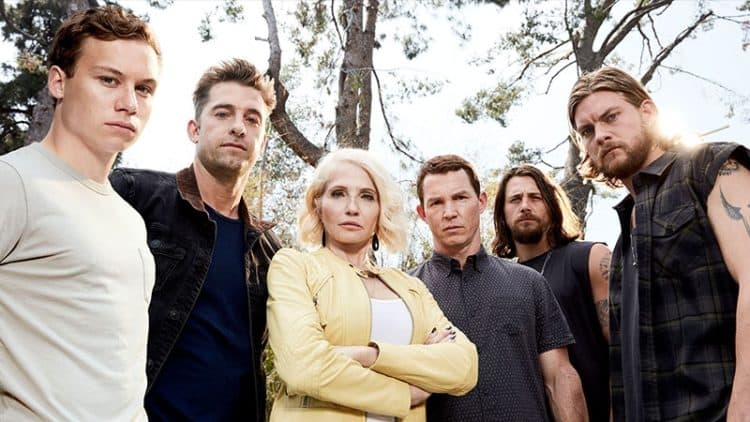 When the TNT series Animal Kingdom debuted in 2016, lots of people were immediately intrigued. The series follows a teenage boy named Josh who moves in with his relatives after his mother passes away. However, this isn't your typical family. Josh quickly realizes that his grandmother, Smurf, isn't the type to sit on the porch and knit all day. Instead, Smurf is involved in some very serious illegal activity. Although a story like this may sound like something that was created solely in a writers' room, that isn't exactly the case. Keep reading to find out more about the story behind Animal Kingdom.
Where Did The Animal Kingdom Story Originate?
Many viewers may not realize that the story of Josh, Smurf, and their family didn't originate with the TNT series. It is actually based on an Australian movie of the same name which was released in 2010. The author of the book, David Michôd, is also one of the executive producers on the show. Like most talented creators, David tapped into real-life events when coming up with the story for Animal Kingdom. However, that doesn't exactly mean that the movie and the series are based on true events.
According to The Guardian, Animal Kingdom was "Inspired by Australian gangland crimes of the 80s and 90s, particularly subjects such as the Pettingill family and events such as 1988's Walsh Street police shootings." David also developed an interest in true crime which helped him come up with even more interesting and realistic details. So, while the Cody family doesn't actually exist, they were loosely based on real people, and their stories were heavily influenced by those people. They say "the truth is stranger than fiction" and a lot of time, that proves to be the case.
Who Was The Pettingill Family?
People in the United States may not be familiar with the Pettingill family, but that last name has become notorious in Australia. Led by Kath Pettingill, who was also known as Evil Granny and was the inspiration for Smurf, the Pettingills were involved in several crimes in the Melbourne area. Kath had 10 children. Many of them were part of the family 'business' which included drug dealing and selling weapons. Not only did the family have trouble with the law, but there was also turmoil within the family due to one of Kath's children turning her back on the family and providing information to police. Kath was eventually convicted of drug trafficking. Several of her children have passed away including Victor Peirce who was shot and killed outside of a grocery store. Victor's murder was part of the infamous Melbourne Gangland Killings.
Animal Kingdom isn't the first time the Pettingills have been featured in the media. Their story has been shared in docuseries and other scripted shows.
David Michôd's Writing Process
When David was writing the movie Animal Kingdom, he was steeped in self-doubt. He simply didn't think the project would be successful. He told The Guardian, "When I was cutting the movie, I had no idea what it was and I was chronically depressed. I had a pretty open fear that maybe I was making a gigantic mess. We had test screenings throughout the edit and people would come in and say very nice things, but I just assumed they were lying because they didn't want to hurt my feelings". Little did he know, Animal Kingdom would go on to be one of Australia's most popular movies in recent years.
On top of that, it would result in the successful TNT series that millions of people have come to know and love. The movie also inspired a book called Animal Kingdom, A Crime Story. Additionally, the movie won several awards and even earned Jacki Weaver an Academy Award nomination for Best Supporting Actress.
The Future Of Animal Kingdom
Animal Kingdom is officially in its fifth season. Viewers are excited to see what's in store for the Cody crew. Unfortunately, however, they're also coming to grips with the fact that the series is nearing its end. Animal Kingdom has already been renewed for its sixth and final season which will likely air some time in 2022. Saying goodbye to a great show is never easy. However, many fans seem to be happy that the show is going to get a pre-planned ending which gives writers the opportunity to tie up any loose ends.  At the moment, there isn't any information on what kinds of things season six will cover, but those updates will probably be released as its premiere gets closer.