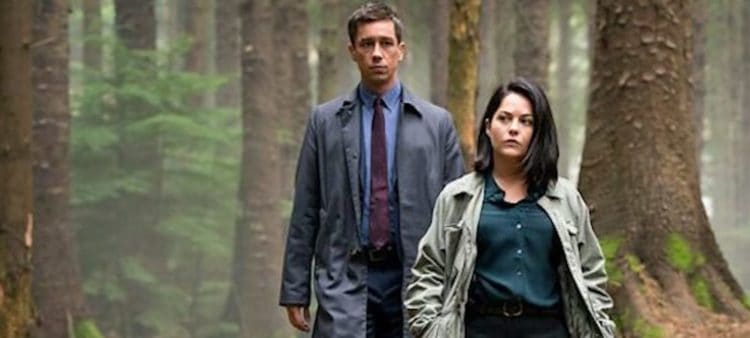 The television series "Dublin Murders" is a new crime drama that airs on the Starz channel. The show is in its first season and if you're a fan of crime drama and mystery, it's something that you might want to consider tuning in for. The show is based upon the books "In the Woods, and "The Likeness," which were written by Tana French, an Irish-American writer. It's a psychological thriller, and if it's something that you're already watching and you're enjoying it, here are five more that we think you might be interested in.
1. The ABC Murders
If you're a fan of "Dublin Murders" then you will probably also enjoy this series. "The ABC Murders" stars John Malkovich as Hercule Poirot as an older and more astute investigator. The show takes place in England in the 1930s era. Poirot is no longer the revered character in the show that he once was and when murders begin picking up coinciding with a series of dark letters penned by a mystery criminal the stakes are raised. Poirot accepts the case and uses all of his finely honed detective skills to find out who the killer is before he strikes again. This is a three-part show in the drama/crime genre that co-stars Andrew Buchan and Rupert Grint along with Malkovich. They're in a race against time.
2. Rebellion
"Rebellion" is a television mini-series that was released in 2016. It is a series that is based upon real events that took place in 1916 known as Easter Rising. The show follows the events that took place through the perspective of fictional characters created for the dramatization who endure the political events that took place during that era when the events defined the history of Ireland and Britain. It was a violent period of time and the characters are played by a cast of well-known actors including Michelle Fairley, Ian McElhinney, Charlie Murphy, Sarah Greene, Brian Gleeson, Ruth Bradley, and Niamh Cusack. Filming began in 2015 and completed in 1916 in commemoration of the 100th anniversary of this historic event. This show would be particularly appealing to history buffs who are familiar with the happenings of this period in time.
3. Hard Sun
"Hard Sun" is one of the newer series that made its debut in January of 2018 and it ran through February of 2018. Although it only ran for a single season it is available on a variety of streaming services. The show takes place in contemporary London in a pre-apocalyptic world. Two detectives must work together to fight crime in the city but they take very different approaches to the job. This creates an interesting and dramatic theme for the series. Charlie Hicks and Elaine Renko must both enforce the law while they simultaneously protect the ones that they love in a world that is on a certain path towards destruction. There is no avoiding the coming apocalypse. Hicks is a corrupt guy in his personal life, but he remains committed to this family and to the job. His partner is the opposite and she cannot be corrupted. Even though the two are partners neither really trusts the other but they find themselves in situations where they must work together to survive until the world that they live in comes to an end. It's one of the most suspenseful dramas we've seen and if you like intrigue and suspense, you will probably thoroughly enjoy the one season of "Hard Sun." The show has been given a 75% approval rating from audiences who have viewed and rated it through Rotten Tomatoes although the critics have given it a 48% approval rating.
4. Jack Taylor
"Jack Taylor" is a crime drama that was produced in a variety of different locations, but primarily in Galway, Ireland and in Bremen, Germany. The show aired for one season with a total of nine episodes. It aired on the Virgin Media One network and it made its debut on August 2, 2010. The series follows maverick detective Jack Taylor who was fired from the Irish police force. He lost his temper and assaulted a politician during a routine traffic stop. He's old-school in the way he performs his duties but it's not something that he can do and be a police officer. After losing his job with the force he set out to work for himself, becoming a private investigator. He takes on the tough cases that the police have no desire to investigate themselves. He's assisted by Cody, his sidekick and a variety of colorful contacts both on and off the force. The series is inspired by the Ken Bruen crime drama books.
5. Love Hate
Here is another drama series that is action-packed. The series first aired on October 3, 2010, with its final episode airing on November 9, 2014, so there are four seasons aired on the RTE One network. It was produced in locations in Dublin, Ireland. The series follows the events that take place when a catastrophe occurs, igniting tensions among gangs that spills over into the community, among friends and family, who attempt to live with its impact. This popular drama series focuses on Darren, who does the very best that he can to stay out of trouble and live a clean life. The circumstances that surround him in his environment make it nearly impossible for him to do so. He ends up going back to his old gang and picking up the old habits that he had broken. There are two distinct sides to Darren who is the focal point of the series, but he does what he must to survive. The drama also follows the lives of his friends, family members and associates who are all struggling with their lives after the catastrophic events that have taken place.
Tell us what's wrong with this post? How could we improve it? :)
Let us improve this post!