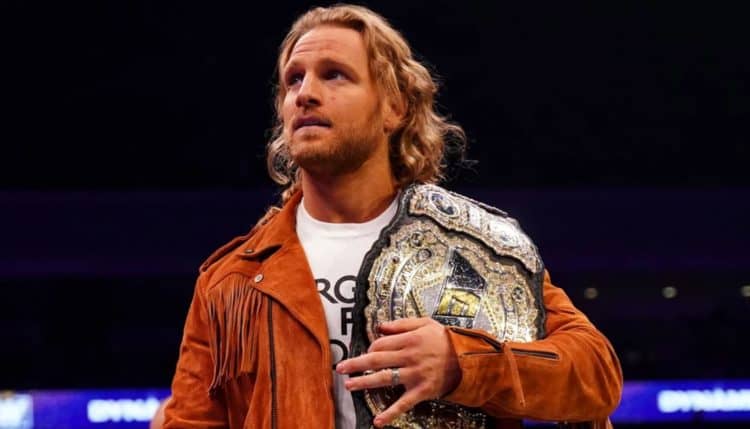 After failing to accomplish his dreams of becoming the AEW World Champion for nearly two years, Adam "Hangman" Page finally took down his top adversary Kenny Omega at Full Gear and captured the top prize of All Elite Wrestling. Since its formation in 2019, AEW has brought in some big names such as former WWE Champions CM Punk and Bryan Danielson; and some of the homegrown stars have evolved their talents to a top-level that guarantees their future as the main eventer. So, who should be the man to dethrone Page for the AEW World Championship? This list will explore the several different wrestlers who should take the prestigious belt away from the current AEW star.
Maxwell Jacob Friedman (MJF)
MJF is one of the most obvious choices on the list but if there's one young guy who should be given a shot at the top spot, it's the 25-year-old. MJF has only been wrestling for 7 years, yet he carries himself as an established professional whose been in the business for 30. His promos are simply fantastic. It's not just the cheeky one-liners and heelish quips, but it's the fact that he oozes with so much charisma and poise that he's able to get over any feud or story that comes his way. His wrestling is just as strong. Once labeled a Miz knock-off, that was quickly put to rest when he's had tremendous bouts against Jungle Boy, Darby Allin, and Dante Martin, young talents who are still in the early stages of their careers. That means MJF can be a good ring general for green wrestlers, and he would likely exceed expectations against big names like Bryan Danielson or Kenny Omega. MJF is ready for the top spot, and it would be surprising if 2021 ends without him holding any gold.
Bryan Danielson
Danielson is coming off a decisive feud against Page for the AEW World Championship; however, who's to say that their 30-minute classic was the final match in their rivalry. For now, Page has moved on, but AEW can easily roll back around to this feud sometime later in the year. Danielson is a smart guy, so he'll definitely use his loses against Page to develop his character going forward, and perhaps a dark and more violent heel turn will come out of it. Either way, there are several directions that AEW can go by revisiting this rivalry. Maybe Danielson wins an eliminator title tournament or one of those Casino Battle Royales. Perhaps a personal issue grows between both men, and Danielson's quest to get another world title match becomes a violent obsession. Either way, having their rivalry come full circle with Danielson coming out on top would be a great way to transition the belt off of him.
Miro
Miro's redeemer storyline seems pointed towards the former TNT Champion finally reaching the big title. The early days of the former WWE star was a mess, as his Best Man gimmick did no favors for his character, nor did it make sense for him to be teaming with Kip Sabian. However, not everyone can be on top at the same time, so I understand having Miro hang around the lower card a bit before separating from Sabian. Once he ditched the video gamer nonsense and became a badass is when Miro started to really live up to his true potential; But following his championship loss to Sammy Guevara, Miro's character became very compelling. His God complex created an interesting narrative about the man whose let down everyone in his world. It's a clever way at doing a redemption arc as it adds more dimension to the former TNT Champion, who should receive a world title run in the future.
Christopher Daniels
I know this is an odd choice but hear me out. Christopher Daniels has been in the wrestling business for over 20 years and will be considered one of the greatest men to never step inside of a WWE ring. Daniels hasn't received much focus in his time in AEW, especially once his partnership with Frankie Kazarian ended. I don't know when Daniels plans on hanging up the boots for good; however, the guy is still pretty solid in the ring. Giving the former ROH World Champion a "can he still hang with the big boys" type storyline could be a great way to send his career off. Daniels doesn't need a lengthy reign. In fact, the purpose would be for a young guy to take the belt away from the veteran. I know this wouldn't be the most popular choice, but Daniels deserves a nice send off if he's retiring soon. Plus, why not have him put someone over strong on his way out?
Wardlow
MJF and Wardlow are bound to implore sometime. It won't likely happen until someone holds the AEW World title. However, what if that someone turned out to be Wardlow instead? MJF is clearly the leader of The Pinnacle, so him taking the backseat to one of his guys may not sit well with the 25-year-old. While ultimately, I do believe that the title should go MJF – though because of heel shenanigans – once the implosion is over, Wardlow has a nice appeal as a top-level competitor. He may not have the mic and wrestling skills that MJF does, but the enforcer has come a long way since his early days in the company and he's grown to the point where he can handle being the top dog for a brief period of time.
Tell us what's wrong with this post? How could we improve it? :)
Let us improve this post!