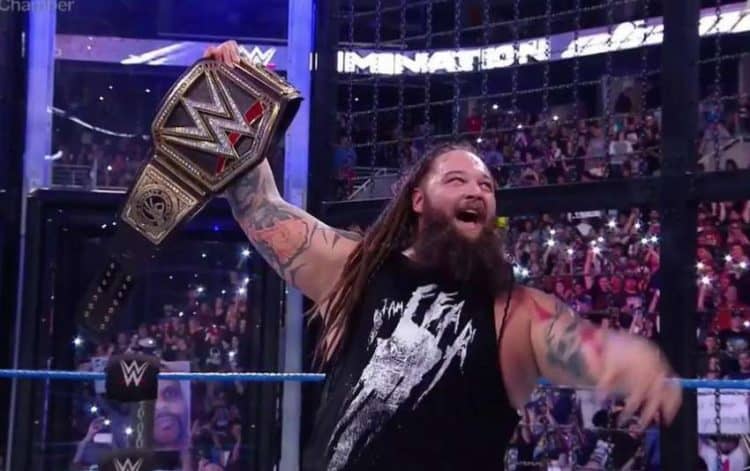 In 2021, WWE went on a mass cutting spree by eliminating over 50 talents from its roster. Some of those talents were former WWE Champions (Braun Strowman, Bray Wyatt), former Women's Champions (Ember Moon, Nia Jax), and even former NXT Champions (Keith Lee, Karrion Kross). Now, the landscape of wrestling has become so big at this point that it shouldn't be hard for any of these men and women to find work; however, here are the five wrestlers that AEW show hire for their promotion. The only wrestlers that are exempt are Toni Storm and Johnny Gargano, as both talents were released under their own terms. Let's get started with the first name:
Taya Valkyrie
Reportedly, some of the talents were released due to their age and its appears that Valkyrie (aka Franky Monet) was caught under this edict. If you look back at Valkyrie's entire NXT run, then it's not particularly surprising that she was released from the company as she was never painted as a big deal under the WWE landscape. However, prior to her brief run in the developmental brand, Valkyrie was one of the top prospects on the independent circuit. The 38-year-old has wrestled in Lucha Underground, AAA, Impact Wrestling, and just any promotion on the indie scene as her skills surpass most of the women on both the WWE and AEW roster. AEW has come a long way with the women's division; however, the company can still use veteran talents like Valkyrie to be ring generals for the rookies. Plus, adding Taya will boost the in-ring and character quality of the company's division.
Ember Moon
A killer entrance, a badass look, and a sweet finisher couldn't save Moon from the talent cut. In retrospect, the company didn't seem to understand how to craft Moon's character, but despite the veteran's lack of success in WWE, she's had plenty of great matches, including her battle with Asuka at TakeOver: Brooklyn III. Like Taya, AEW could use another strong female talent in their growing women's division. Just as Ruby Riott got the chance to show the world that WWE made a huge mistake firing her, Moon can finally showcase her character in the proper light. The former NXT Women's Champion has tons of charisma and experience that will only help strengthen the company's division.
Keith Lee
Keith Lee was another top name on the independent scene. Traveling all across the world, Lee entered NXT as the former PWG World Champion, VIP Heavyweight Champion, and XCW Heavyweight Champion. More importantly, Keith Lee had the size and strength that Vince McMahon reportedly wants in main event talent. After virtually doing nothing in his first year in NXT, Lee finally achieved some type of notoriety following his star making turn at the 2019 Survivor Series pay-per-view and his career only went up after that. However, Lee went from being the first ever NXT double champion to stop and start pushes on the main roster. Following his long layoff prior to WrestleMania, the company brought him back to job out to then WWE Champion Bobby Lashley. That moment was the beginning of the end for Lee. The reason that Lee fits perfectly with AEW is due to the fact that their style is well suited for him. Keith Lee got over on the independent scene because he was a big guy doing cruiserweights type moves, something that Vince McMahon and company tried to drastically change. Lee would be a great addition to both the upper and mid-card level on an already stacked division. He stands out more for his size and charisma, the latter that was severely hindered during his main roster run.
Shane Strickland
Strickland mainly floundered in NXT until he formed the group, Hit Row, with B-Fab, Aj Francis, and Top Dolla. Quickly, the group became popular due to their unique style; however, Hit Row didn't really get a chance to make a lasting impression as they were swiftly called up to the main roster. They pretty much did nothing with the group and less than five months later, everyone was gone. Strickland is an independent pro who has wrestled in Lucha Underground, Major League Wrestling, EVOLVE, and Combat Zone Wrestling, and the veteran has showcased that he has the talent both on the mic and inside the ring. Strickland will fit like a glove on AEW's roster and he'll finally get to prove why he deserves to be seen as main event talent.
Bray Wyatt
The man formerly known as Bray Wyatt was the biggest shock last year. The former WWE Champion was a huge money maker for the company; however, his sudden disappearance from television was clearly a clue that his days were numbered. Wyatt brings a different style to AEW. He isn't a speedy, highflying type guy like most of the roster, but the thing that he'll excel at is character. Wyatt would be wise to stay away from the hocus pocus nonsense that plagued the tail end of his WWE career. Matt Hardy's deletion schtick failed in AEW, and Wyatt's would likely do the same. However, if Wyatt can go back to the grounded realism of his cult leader persona or even The Fiend stuff then he'll easily standout on the loaded AEW roster. He may not be a Kenny Omega or Bryan Danielson inside of the ring, but he's a fantastic storyteller that AEW shouldn't overlook.Bray Wyatt