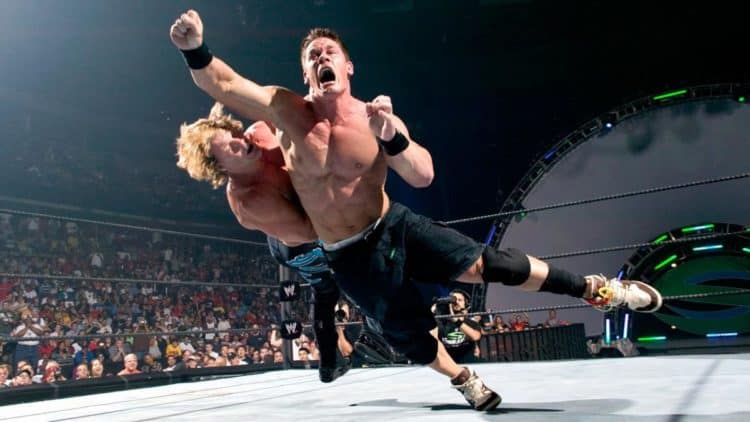 Summerslam is known as the "Biggest Party of the Summer" and this year's event is set to be a big one, with it being the first Summerslam since the pandemic which caused the 2020 event to take place with no fans in attendance. While we eagerly await this year's event, let's take a look back at some of the classic PPVs from yesteryear. Here is every Summerslam 2005 match ranked from worst to best.
Orlando Jordan vs Chris Benoit – WWE United States Championship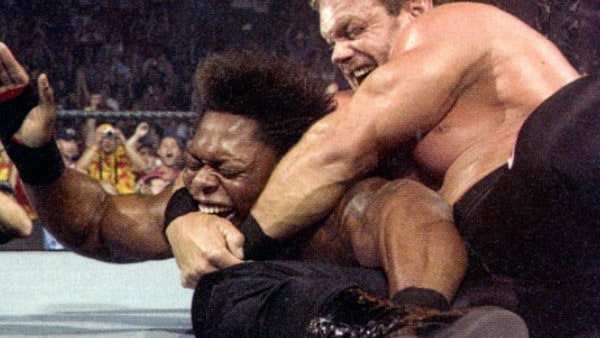 The opening match of the PPV saw Chris Benoit win the United States Championship by making Orlando Jordan tap out to the Crippler Crossface in just 25 seconds. You will rarely see Benoit this low on the list, but there isn't much to say about a 25-second match.
Kurt Angle vs Eugene (with Christy Hemme)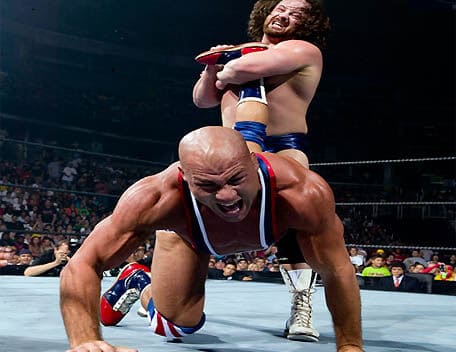 You won't see Kurt Angle this far down on a list very often, but this match wasn't anything special. The story was that Eugene wanted Kurt Angle's Olympic medals, he won a gold medal in the 1996 Olympics. The match itself wasn't very memorable, but it did feature Eugene hitting Angle with the Rock Bottom and Stone Cold Stunner. In the end, Angle won the match and kept his Olympic gold medals.
Edge (with Lita) vs Matt Hardy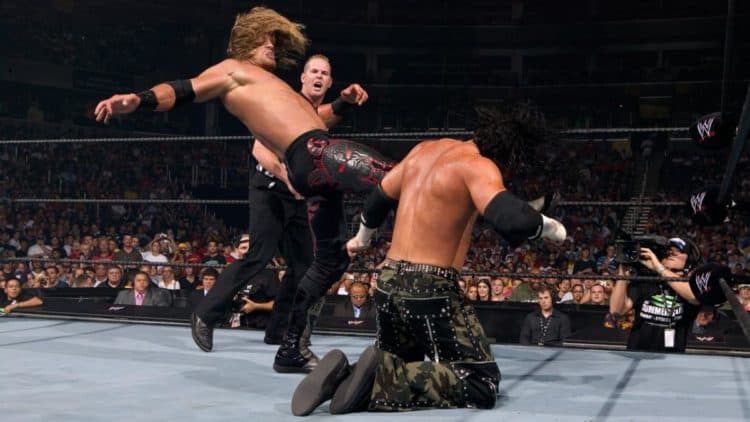 Edge vs Matt Hardy was one of the hottest angles of the year, stemming from a real-life feud after Hardy's then-girlfriend cheated on him with Edge. Eventually, the two managed to work through their differences and agreed to turn it into an angle. What should have been one of the hottest matches on the card was ultimately very disappointing, being given less than five minutes and being a throwaway match on the card. WWE could have done so much more with this match.
Hulk Hogan vs Shawn Michaels – Singles match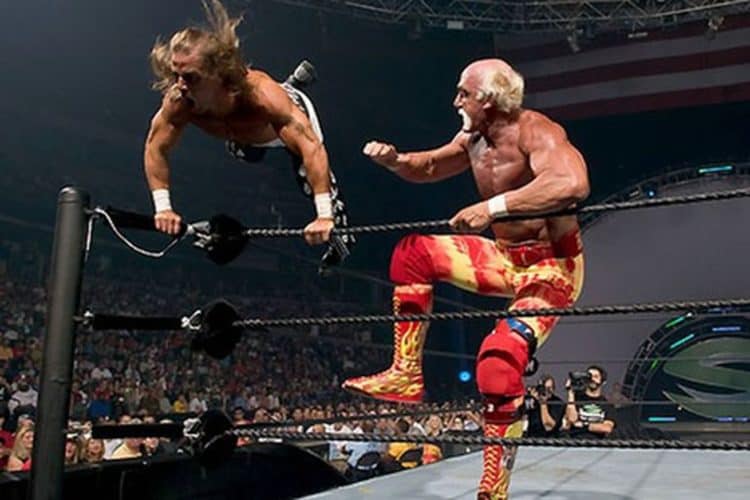 A once in a lifetime match, The Hulkster vs The Heartbreak Kid, this is a match that dreams are made of…except it wasn't. It has been rumoured that the feud was meant to be a three-part feud, with two matches set to follow this one. According to rumours, HBK was set to win this match, followed by Hogan winning the following two. But, using his political pull backstage, Hogan wanted to win this match and for it to be a one-off match. This caused HBK to decide to take liberties and not play ball with Hogan. Shawn Michaels oversold every move The Hulkster did, making a simple punch look like he'd be hit by Superman. While the match is incredibly fun to watch, it is a shame that this is the one and only match that the two icons took part in. Had the match gone down as intended it likely would have been an instant classic. It did become one, just for all of the wrong reasons.
Batista vs John "Bradshaw" Layfield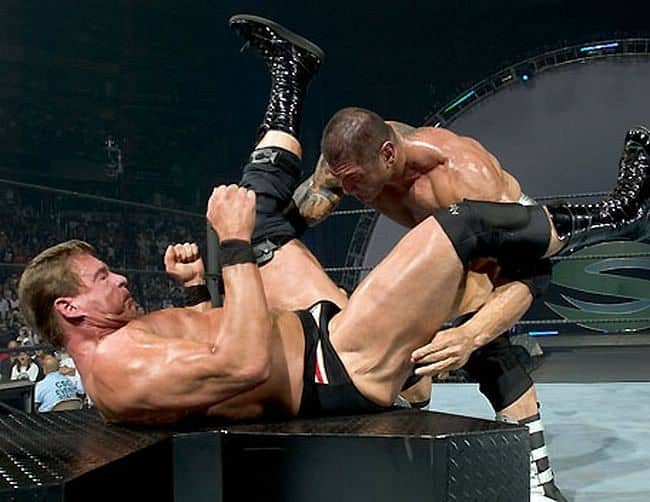 The two faced off in a No Holds Barred match which got very physical, with Batista spearing JBL through the security guard rail. After a near fall later in the match, JBL brought the steel steps into play but was unable to use them as Batista performed a Batista Bomb onto the steps in order to win the match and retain his World Heavyweight Championship.
John Cena vs Chris Jericho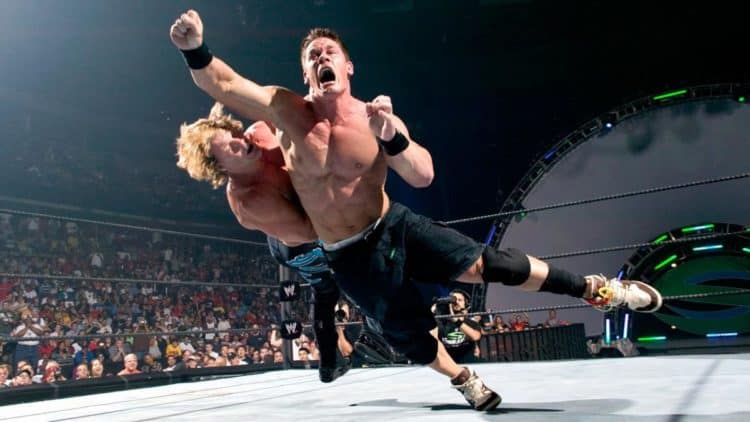 John Cena managed to retain his WWE Championship against Y2J in the first main event match of the card. The match itself was great, with Jericho able to counter both the FU and Five Knuckle Shuffle into the Walls Of Jericho. But, this wasn't enough as Cena was able to get the upper hand, connecting with an FU to win the match and retain his title.
Randy Orton vs The Undertaker – Singles match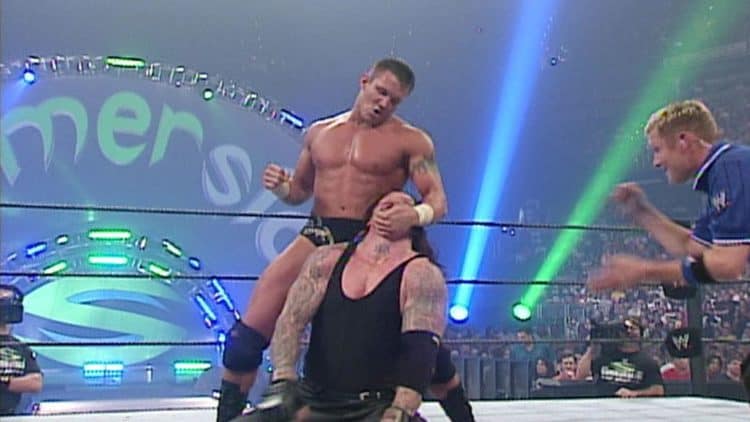 The Legend Killer faced off against The Deadman in a really good match which really helped to continue elevating Randy Orton to the next level. During the match, both men countered each other's finishers and Orton was able to go toe to toe with the legend. At the end of the match, a fan jumped into the ring, distracting The Undertaker, which allowed Orton to hit an RKO for the win. It was then revealed that the fan was Orton's father "Cowboy" Bob Orton.
Rey Mysterio vs Eddie Guerrero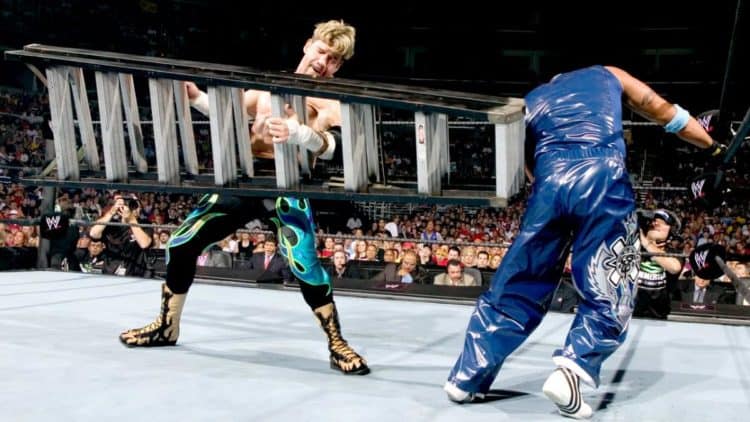 Only in professional wrestling can the custody of a small child be decided by who can climb a ladder first, but here we are. Going into this match, who was Dominik's father came into question as Eddie Guererro revealed that he had an affair with his best friends wife, this was also the feud that created the famous meme of "I'm your Papi". At Summerslam 2005 to two faced off to decide who would become the legal guardian of Dominik. Although Vickie Guererro famously missed a spot that caused Eddie to become infuriated, the match itself was fantastic and certainly a highlight of the year. After a 5-star 20-minute match, Vickie Guererro was able to hold onto Eddie to allow Mysterio to climb the ladder and grab the custody papers. This was Guerrero's penultimate PPV appearance as he passed away unexpectedly in November 2005.Summerslam
Tell us what's wrong with this post? How could we improve it? :)
Let us improve this post!