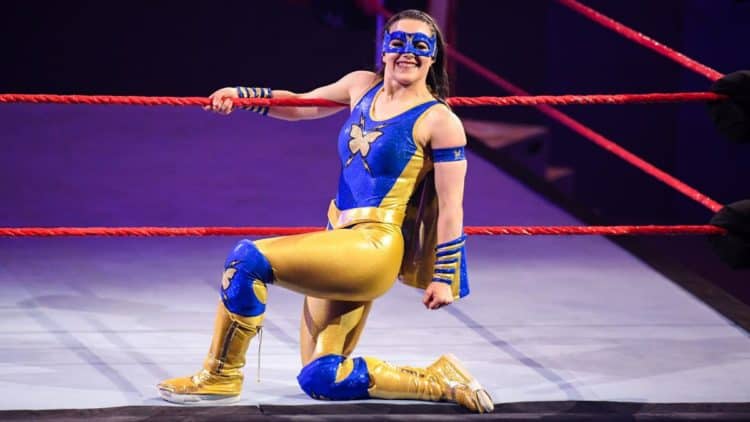 WWE has had some great moments in 2021, such as Bianca Belair winning the Royal Rumble and Big E. cashing in his Money in the Bank briefcase. However, there's been plenty of head-scratching and terrible booking decisions that plagued the company last year. This list will highlight the five worst booking decisions made by the company that stood out in an extremely negative manner.
Breaking Up The Hurt Business
Going into WrestleMania, there was some excitement in the air as The Hurt Business was easily the hottest thing in the WWE at the time. It wasn't just Bobby Lashley and MVP that were shining on the RAW brand, but Cedric Alexander and Shelton Benjamin finally got a chance to showcase their talents. The trio was actually booked strongly since their formation in late 2020, and the three men actually came across as badasses instead of the typical chicken**t heel route that the company usually likes to book. However, following Lashley's big championship win, the group was notably distant from the newly crowned WWE Champion, and on March 29, 2021, the company decided to break up the group for no good reason. This felt like a decision that Vince McMahon made because he got tired of seeing Alexander and Benjamin with Lashley and MVP. Business-wise, it didn't make any sense. The faction was actually over, though as babyfaces, not heels. Plus, it got fresh faces on the top of the card. WWE would continue to prove that breaking up The Hurt business was a mistake by making Alexander and Benjamin become jobbers until they randomly reunited before Lashley's match against Goldberg. Imagine if The Shield broke up a month after their first match? Or Degeneration X and The Four Horseman? WWE threw potential money down the drain that notably lessen Lashley, Alexander, and Benjamin's stock and confirmed that the company just doesn't see the last two men as stars.
Karrion Kross jobs to Jeff Hardy
The beginning of the end all started here. Karrion Kross notably entered the match as NXT Champion. Jeff Hardy, who's been jobbing left and right throughout most of 2021 beat Karrion Kross in less than five minutes. What's worse? Is that Karrion Kross actually entered the match with an undefeated streak. This killed Kross's main roster career instantly. Granted, the company weirdly decided to cut what made him unique and special down in NXT but having the top champion on the developmental brand lose to a glorified jobber sent the message that Kross was nobody worth investing it. The former NXT Champion struggled to get one single reaction following this big loss, and despite trying to repair the damage, it was already too late. This has to be a record on the fastest time WWE killed a young prospects career.
Nikki A.S.H is booked as a weak Champion
Throughout most of Nikki Cross's career, the former SANITY member was booked as a crazy chick who knew how to fight, but, suddenly, Nikki randomly changed her persona to become Nikki A.S.H (Almost a superhero). This change was obviously to capitalize on the superhero craze that's currently going on in the entertainment landscape. However, this transition also turned Nikki into a joke. The almost a superhero acronym meant that Nikki has yet to reach her full potential and was working her way up to being a full superhero. The problem? This type of storytelling was completely backwards since Nikki was already the champion! The company booked Nikki to either lose decisively or take a beating for 90% of the match and then get some type of fluky win. It damaged Nikki's credibility and more importantly, the fans stopped caring about her character when it was clear that they were treating her as a joke. Nikki A.S.H failed to truly recover from her lackluster title reign.
Becky Lynch Turns Heel and Beats Bianca Belair in a Matter of Seconds
Imagine taking your most popular women's star and turning her heel for no good reason? That's what happened when Becky Lynch made her surprise return at Summerslam 2021. The crowd popped huge for the former WWE Raw Women's Champion and were excited at the potential of seeing Bianca Belair vs. Becky Lynch. That all disappeared when Belair lost within 30 seconds. This damaged the hard work of building up Belair since her big Royal Rumble win. More importantly, the Becky Lynch heel turn just doesn't make sense. She's coming off a long layoff, so Lynch was now a fresh character. Plus, fans clearly want to cheer on the RAW Women's Champion. Lynch is trying her best to get booed, but the fans either barely react or cheer her on regardless. This hurts Lynch's opponents because she's still one of the more popular characters on the roster. How can a heel properly get over a babyface when the villain is more popular than the hero? A terrible decision that shouldn't have been made in the first place.
Kofi Kingston Is Destroyed by Bobby Lashley
WWE effectively murdered Kofi mania by not only having Brock Lesnar destroy the former WWE Champion in a matter of seconds but keep him down in the mid card scene without building a story regarding his huge loss. The company had a chance to somewhat right the wrongs that they did with Lesnar. No one expected Kofi to win; however, fans were firmly behind him giving off a great showing against Lashley. Instead, it becomes a squash match to highlight the WWE champion. WWE had a certified star on their hands when Kofi beat Daniel Bryan for the WWE Championship at WrestleMania 35, but the company has done their damn hardest to make sure that fans never see Kofi as a main event star again. WWE is in desperate need of stars yet booking decisions like this is the reason why they continue to fail to produce some.
Tell us what's wrong with this post? How could we improve it? :)
Let us improve this post!