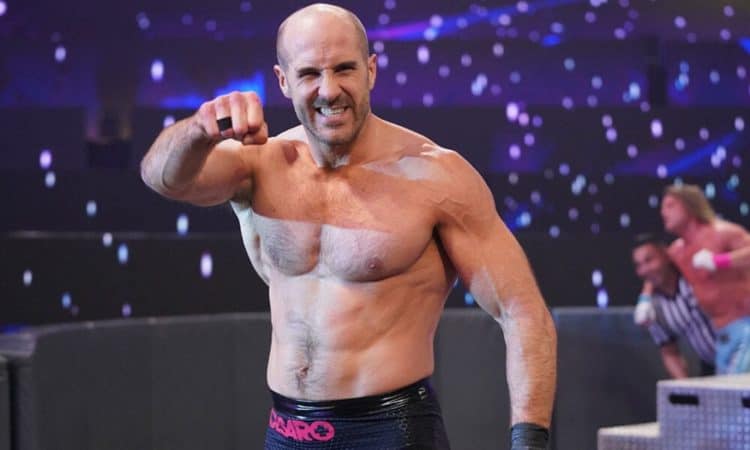 For those of you currently living in a rock, Cesaro is no longer in the WWE. The former WWE United States Champion had been with the company for over 10 years, first making his debut in 2011 following a lengthy run on the independent scene. Since his Smackdown debut in 2012, Cesaro is the definition of an underutilized wrestler under the WWE banner. To be fair, the former WWE star has a career better than most: former five-time RAW Tag Team Champion, former two-time Smackdown Tag Team Champion, and the 2014 Andre the Giant Memorial Battle Royal winner. However, every time Cesaro seemed to be on the cusp of the main event scene, the rug was pulled from under him. There were numerous reports that stated Vince McMahon just didn't see the premiere athlete as a top star.
The Chairman of the company confirmed this news himself, speaking with Steve Austin in a live interview on the WWE Network back in 2014, McMahon stated that the current roster wasn't "ambitious", but when Austin zeroed in on the former WWE star, McMahon didn't hold back on his criticism: "He's not connecting yet, but we hope he will" and that he "doesn't quite have the charisma, doesn't quite have the verbal skills as well." McMahon also stated that "there's something missing" as well. Here's the thing, there's no denying that Cesaro was never an elite promo guy in the vein of Stone Cold Steve Austin or The Rock, but despite the fact that he's never reached that status, Cesaro has gotten over with the fans several times during his WWE run. That was mainly when the company was highlighting his incredible strength. Who could forget when Cesaro picked up the Big Show and tossed him over the top rope with ease? The crowd was electric for that moment. Or him swinging The Great Khali at Battleground 2013? Fans got into Cesaro on several occasions with the notable "Cesaro Section" signs amongst the crowd. Cesaro never had an issue with connecting with the crowd and if WWE continued to focus on his strengths, then he would've been massively over still. Plus, it helped that Cesaro was a tremendous wrestler.
The true problem is that Vince McMahon just never saw him as any thing other than a mid-carder for life. Cesaro was a good hand for the company, and that's the slot he was destined to be in at this point in his career. There seemed to be a glimmer of hope for a decent upper card push for Cesaro last year. For the first time in his career, Cesaro seemed to be moving up and away from the tag team scene by getting a huge singles win over former WWE Champion Seth Rollins at WrestleMania. That match was followed up by a strong pay-per-view bout against Roman Reigns for the WWE Universal title. Then, Cesaro disappeared once the company put an end to his feud with Rollins. It wasn't just for a week or a month, it was several months. He randomly returned here and there, but it was clear that creative had nothing else planned for "The Swiss Superman". Once again, it all comes down to the booking. Sometimes, wrestlers fail to get over, Roman Reigns is a prime example of this. However, the company never gave up on Reigns as a babyface. In fact, WWE continued to push him for five years as the top babyface until they finally gave him a much-needed heel turn. The company was consistent with Reigns's push, and despite the rejection from fans, they were accustomed to the fact that Reigns was a main event star.
On the other hand, Cesaro's constant stop-and-start pushes grew tiresome. It was odd that they turned one of the most over acts in the company heel by associating him with Paul Heyman. That effectively killed his momentum as a babyface. The "Cesaro Section" fan signs died down because the audience realized that the former WWE star was never going to be taken seriously as a main event competitor. Cesaro had the tools to be a top guy. He looked like a superstar and fans treated him like one. It's just a shame that Vince McMahon never saw it with him. Cesaro will surely be fine leaving the WWE landscape. He'll succeed in wherever he goes and the former United States Champion should hold his head high knowing that he gave his best during his lengthy period in WWE. Cesaro didn't fail Cesaro. Vince McMahon did.