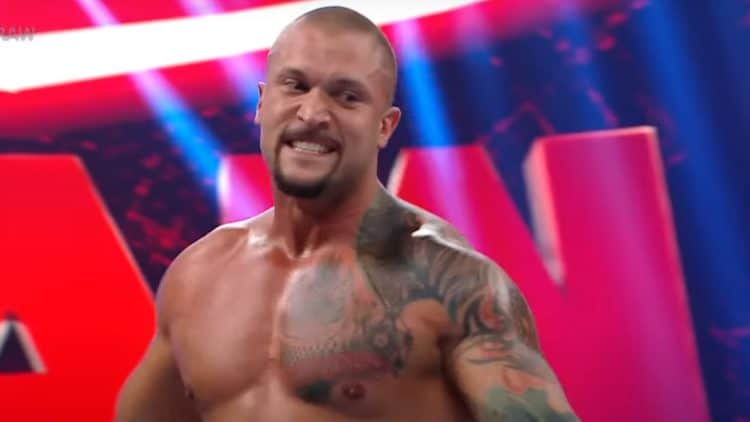 When Karrion Kross signed to WWE in February 2020, he seemed like a sure fire hit. The former NXT Champion had everything that Vince McMahon loves in a male athlete: great height, marketable looks, and strong charisma. Kross wasn't exactly an indie darling like Adam Cole or Johnny Gargano, but he still had some solid heat behind his name thanks to his time on Lucha Underground and Impact Wrestling. Formerly known as Killer Kross, the newest acquisition seemed prime for the main roster very quickly as Karrion was pushed hard out of the gate. In less than five months, he won the NXT Championship. The presentation of Kross was perfect: His gimmick with Scarlett Bordeaux was striking and unique enough to stand out in a good way. Was Kross delivering five-star classics? No, but the guy was still a good wrestler and the perfect mold of what WWE wanted.
Then, that infamous moment happened. His main roster debut. Not only was Karrion Kross the NXT Champion, but he was undefeated in the company. His first match was against Jeff Hardy and you know what happens. Kross lost in less than two minutes. This effectively buried Kross, the undefeated streak, and the NXT brand as a whole. This was the top guy in the developmental brand. Yet, he couldn't even beat a glorified jobber despite his undefeated status. However, it wasn't just the fact that Kross lost to Jeff Hardy in two minutes. The bigger issue was his presentation. Kross' gimmick was the definition of sports entertainment. He was playing a larger-than-life character that stood out from anything on the main roster. However, none of that came across on the main roster. He was stripped of the characteristics that made him unique in NXT and instead, he seemed like a generic create-a-wrestler from WWE2k. Any sense of personality was gone, including one of the vital parts of his act, Scarlett Bordeaux. Since he didn't have an identity of his own that separated him from the others on the main roster, the audience didn't care because he didn't stand out as special or anyone worth paying attention to. The loss only confirmed that notion.
The company continued to damage him even further. The disconnect between Vince and Karrion Kross was apparent as the Chairman reportedly didn't pay attention to the talents down in the NXT brand. The reasoning for the split between Bordeaux and Kross was non-existent and there was no storyline consistency. Fans who really enjoyed Kross's act down in NXT gave up on the superstar because it was no longer the special character that dominated the NXT brand since his debut in early 2020. There was no attachment to him because fans also knew he was doomed when they saw the drastic changes. The third gimmick change made things even worse. It's bad enough that Kross was a generic, bland, tall guy, but now, he's dressed up in some terrible gladiator/sex type gear that was comedic, not threatening. His matches were nothing special and despite the company trying to right the wrongs of their mistake of giving Jeff Hardy the win, audiences didn't see anything worth investing in.
Eventually, Kross was released. Was the former NXT Champion's image so damaged that he needed to be let go? No. The company could've simply took him off television for a couple of months and re-debut him with his original gimmick alongside Scarlett Bordeaux. Or Kross could've went back down to NXT to repair his image. There was no need to fire the man because he does have talent, but Vince McMahon messed him up so bad that it was going to take time and patience for the fans to accept him as a serious threat. Solid booking helps too. Unfortunately, Vince McMahon didn't have that patience and instead of excerising that option, he just simply released the former NXT Champion. Vince McMahon is the same guy who absolutely refused to turn Roman Reigns heel for five years. The WWE Universal Champion was consistently shoved down the throats of fans, yet, Vince continued to push him as if nothing was wrong. I guess any reaction was better than no reaction. Kross didn't screw Kross here. From all accounts, the guy was simply doing what he was told to do. Vince and company just lost patience with him because they don't particularly have any. Karrion Kross should've been a star in WWE. He was essentially perfect in NXT. It's a shame that Vince McMahon didn't see the same in him as many thought he would.