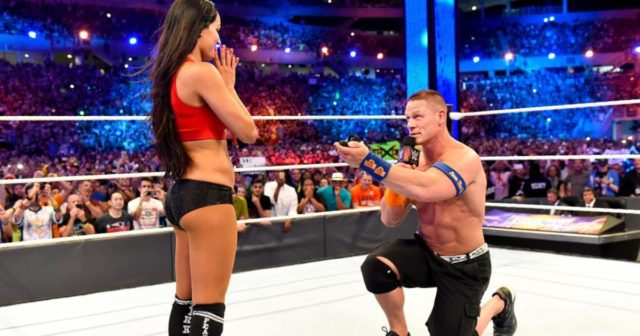 All in all Wrestlemania 33 was a success. The Undertaker retired. Roman Reigns now has the WWE all to himself. And John Cena made a surprise proposal to Nikki Bella. P.S. the biggest highlight had to be the return of the Hardy Boyzswinning the Raw tag team title. But I'd like to go back to John Cena for a second. As his career in the WWE winds down Cena must have been thinking that it was time to settle down in real life too.
After his mixed tag team match with now fiancé Nikki Bella, Cena got down on one knee and proposed in front of the entire world. It was met with raucous applause and a whole bunch of congratulations. But like all great moments in sports history, this one is getting the mockery treatment and I have to admit it's pretty funny.
Fans have taken to Photoshop to doctor the picture you see above. Their creative minds have led to some pretty hilarious results and of course I wanted to share them all with you. Here's a look at some of the most outstanding Photoshops of John Cena proposing to Nikki Bella at Wrestlemania 33.