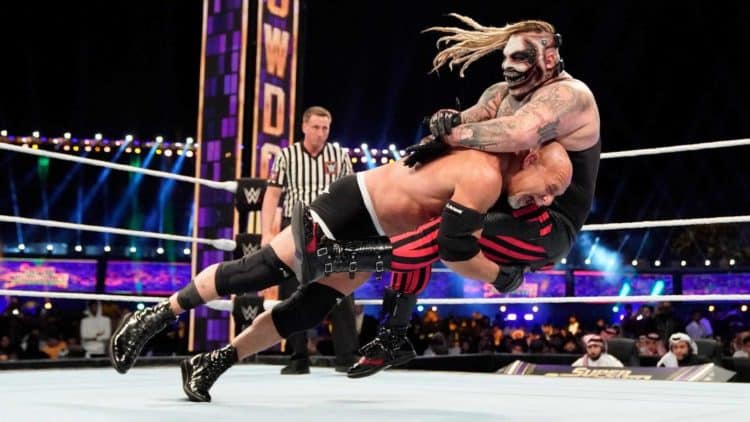 Eric Bischoff made a very interesting comment recently about both AEW and WWE. The former WCW personality stated on his 83 Weeks podcast that he feels that WWE tells better stories overall, "You could take WWE's existing roster, bring it over to AEW and nothing is going to happen. It's story, and first of all, you have to have a basic understanding of how to tell a story and I don't see it. I see it in WWE and I don't see it in AEW." It's an interesting perspective since Bischoff has been in both WWE and AEW, and that leads to the question, does WWE tell better stories than AEW?
Had this been the Attitude and Ruthless Aggression era then I would easily say yes. Granted, for every Vince McMahon/Stone Cold rivalry, the company would do something stupid like Mae Young giving birth to a hand or Katie Vick, but overall, those eras have far more memorable stories than All Elite Wrestling. This doesn't mean that the modern era of WWE is full of crap. Every once in a while, WWE gets it right. The Samoa Joe/Brock Lesnar feud was pretty darn good. So was the Roman Reigns/Jey Uso one. Then there's Kofi's journey to becoming WWE Champion, the simple story of Goldberg/Brock Lesnar, and there are plenty of more recent rivalries and feuds that stand out in the modern era. The good thing about WWE is that they focus more on storytelling than spots. This also includes the past NXT edition, which was indeed better storytelling-wise than AEW. Johnny Gargano vs. Tommaso Ciampa is the definition of long-term storytelling. You don't see flip, flip, dive, superkick, superkick, superkick in an extremely fast sequence that doesn't really add any depth or layers to the story being told. However, the modern era isn't exactly the most praised because of the lack of strong booking. The whole Bray Wyatt/Randy Orton/Alexa Bliss feud was a confusing mess that didn't do many favors for anyone. Asuka losing her undefeated streak and the company not doing anything with her was a strongly missed opportunity.
The constant turning of babyface and heel dynamics. The most recent example is both Edge and AJ Styles, whose turns came out of the blue. Those are just some of the examples of plenty booking mistakes the company has been making. Then there's the mid-card division where the only stories that creative can come up with is champions losing non-title matches. Damien Priest just beat Finn Balor in a non-title match and he'll likely get a rematch at WrestleMania. Carmella and Zelina Vega lost to Liv Morgan and Rhea Ripley and those two have been added to the tag title match at WrestleMania. This formula is especially notable in the tag team divisions. Creative is actually doing a better job with the men's tag division as we'll finally getting to see personalities like Chad Gable and Matt Riddle shine because they're booking segments that allow their characters to do more than wrestle. I could go on about how lackluster and often bad the modern version of WWE booking is, but AEW is far from perfect too.
The build to the Shaquille O'Neal and Jade Cargill was atrocious. Cody Rhodes/Anthony Ogogo was strongly misguided. The conclusion of Britt Baker and Thunder Rosa was lackluster. Creative simply waited too long and they didn't keep the wheels spinning as these two were apart. When Tommaso Ciampa was injured, NXT kept reminding audiences of their pending feud with subtle little things. AEW didn't do that, and instead mostly had these two wrestle in various matches without adding much depth to their characters and rivalry. Some of their matches are spot fests. There's no denying that. However, AEW have done an excellent job at creating some genuine compelling feuds as well. MJF/CM Punk was close to perfect. Cody/Chris Jericho was also the same. The slow dissension between ReDragon and The Young Bucks. Daniel Bryan and Jon Moxley, The rise and fall of Hangman Page. AEW has certainly made mistakes, but the company hasn't wiped away storytelling in their matches or structure. There's plenty of more rivalries and feuds that I could name that standout in AEW. The company definitely focuses on wrestling more, but they do understand the value of a good story.
So, who's better when it comes to storytelling right now? AEW, though the company is far from perfect. However, their long term feuds seem more thought-out and better planned, even if they hit some snags on the way. Though Hangman Page vs. Adam Cole was extremely rushed, Jericho/Kingston, Moxley/Bryan, MJF/CM Punk, with the official face turn of Warlow showcased the company's storytelling ability. You could easily point of the problems in that exact same pay-per-view in terms of story, but WWE's formula for basic storytelling is wash, rinse, and repeat. More often than not, they kill rivalries with repeated rematches and unless you're a main event caliber talent, it's rare that the company gives you a story to really chew on. When was the last time the WWE women's tag team titles had a properly developed feud? What about the Intercontinental title? Ronda Rousey vs. Charlotte Flair feels forced. Though the long term story of Becky Lynch and Biana Belair is nice. Roman/Lesnar is also decent, but these past two rivalries aren't fresh in any way. NXT 2.0 is still trying to figure themselves out. As a whole, WWE is better if we're recounting the history. Plus, the first NXT and NXT UK, but at this moment, AEW has the slight edge.