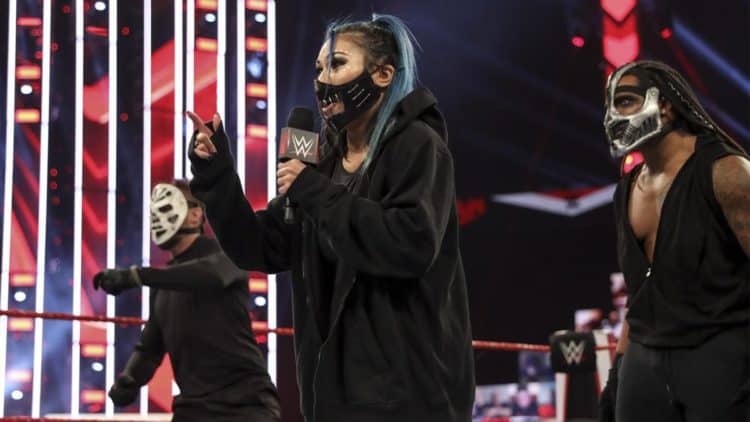 Retribution is one of the worst factions in the last ten years. Actually, scratch that, as Retribution is one of the worst factions of all time. Now, before I tear down the group as a whole, it should be made clear that the wrestlers within the faction are all extremely talented. Dominik Dijakovic (T-Bar), Shane Thorne (Slapjack), Mercedes Martinez (Retaliation), Mia Yim (Reckoning), and Mustafa Ali have all proven their worth in either NXT or outside of WWE. These guys and girls were simply dealt with a bad hand, and though Martinez left the group quickly, her WWE career never recovered. However, the group actually went out of their way to try and make Retribution work. When asked to explain the hideous attire and terrible names – which were rightfully trashed by fans and critics – Ali actually came up with a strong reason why during his appearance on RAW Talk with Charly Caruso and R-Truth.
The work that each Retribution member put in to try and make the group seem credible should be commended, but at the end of the day, they were fighting an uphill battle because it was clear from day one that there was no sense of direction for Retribution. The Nexus made one of the best debuts for the 21st century, destroying John Cena and most of the RAW roster. Granted, the company screwed them up later on, but their arrival was an exciting change that had everyone looking forward to the future. The Shield made a strong debut by thrusting themselves into the main event at Survivor Series 2012. The Wyatt Family had a strong collection of promos that led up to their television introduction. Now, not every formation of a faction was great. The Four Horsemen was kind of a happy accident. Degeneration X was kind of a standard debut that got better as they went along. Still, those factions were treated with respect, and they felt like important stars that the company wanted us to clearly pay attention to. Retribution didn't. The group made their debuts acting like a bunch of wild children, causing minor chaos backstage that didn't have audiences take notice. It was clear that the group was haphazardly put together because there never seemed to be a motive for their actions nor were they ever even considered as focal point of the brand.
The costumes and the names were ridiculous. As I previously mentioned, Mustafa Ali gave an excellent reason for the hideous attire and names, but his explanation was never showcased on RAW. Plus, the group couldn't be taken seriously as they outfits seemed like bad Halloween costumes that were purchased in the reduced sale aisle at Party City. And the names? The company was trying to go for intimidating, but they were laughable at worst and somebody's PSN name at best. But it wasn't just the silly names or costumes that made Retribution bomb. Dolph Ziggler is absolutely one of the worst names ever given to a wrestler and he managed to overcome that hurdle because the company actually treated him as a star. Well, for a certain period of time that is. It ultimately comes down to the booking and the faction was treated like glorified jobbers. They lost their first two matches against the much cooler faction, The Hurt Business. Worse yet, the members were destroyed by "The Fiend" Bray Wyatt, a single man. The company never seem to know what the group was. Are they a play off Antifa? What's their agenda? Again, Mustafa Ali and the group did everything in their power to make sure and explain these questions, but Vince McMahon and creative simply didn't care as they booked them as losers from the beginning. Plus, most of Ali trying to tie loose ends never made it onto the flagship brand.
This group had potential. Ali proved that he can be a strong heel and every time he was given a mic, he was pretty good. Retribution could've been an interesting mix of Nexus and The Shield. A group who is tired and fed up with being a bunch of nobodies taking control of their destiny. That has potential, and obviously, that's the answer's to what's their agenda question. But the booking never matched their agenda. In fact, the booking cemented that they didn't even deserve the spotlight and the company was right to hold them back. They had this ability to hack, but it never came into play during their matches. They liked to cause chaos and mayhem but couldn't even hold their own against one man. Retribution never had a chance and everyone's careers suffered because of it. None of these members were able to get over and now, some have been released or are currently in jobber status. It's a shame. Retribution had all the potential in the world.