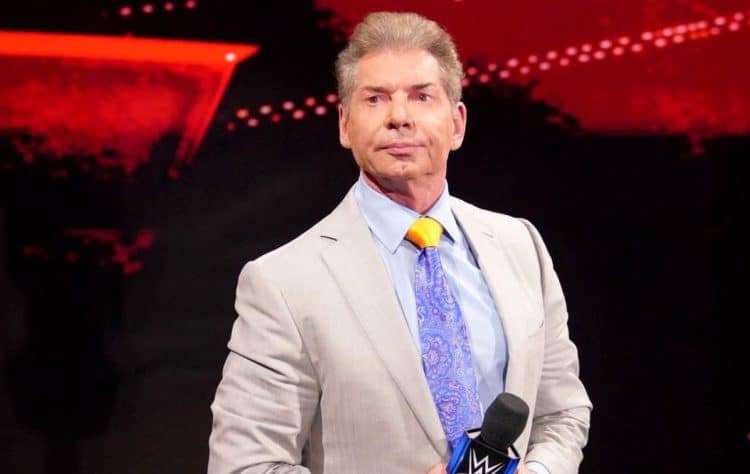 WrestleMania season is upon us and the card is shaping up to be a star-studded event. First, there are reports that Stone Cold Steve Austin could actually make his return inside of the ring for the first time in nearly 20 years. Given the fact that Kevin Owens – who is Austin's rumored opponent – constant jabs against the state of Texas it sure seems heading for a Stone Cold return. However, that isn't the only big, rumored match that might take place at this year's grand event. It's been reported that Vince McMahon will step back into the ring for the first time in nearly a decade against…Pat McAfee. That's right, the Smackdown announcer may get a huge WrestleMania match at the big show next month. Now, even though I'm reacting to the possibility of Vince McMahon making a big return next month, the main focus on whether he should, not the match itself since it hasn't been confirmed.
So, the obvious question is, should Vince McMahon make a return to the ring in 2022? Here's the thing, exactly what does Pat McAfee vs. Vince McMahon do for the future of the business (should it happen)? McAfee is a mainstream name, and so is Vince McMahon so I understand the mindset of the company, but if Vince McMahon is going to make a big return, then why not give a young star a big opportunity against the veteran? McMahon actually has a storyline going with Austin Theory, so why not give him the spotlight as the company clearly sees Theory as a future star? Vince is not Shawn Michaels or Bret Hart, so he's never been portrayed as an in-ring technician, but McMahon has always used himself to get over the wrestler that he's feuding with. The main reason that Austin got over so huge was due to his feud with Vince McMahon. The Chairman was the perfect villain for Austin's anti-authority character. McAfee isn't the future of wrestling. The guy was extremely impressive in his debut match against Adam Cole and if the former NFL star truly wanted to pursue a career in the sport, then he'll likely succeed just like Ronda Rousey. However, he's not being presented in that manner. He's the Smackdown announcer, nothing more. He gains nothing from facing Vince McMahon as he's not an in-ring competitor. Sure, ESPN, and other mainstream sites will pick on the story, but it'll be forgotten in the mainstream the following week.
More importantly, Vince McMahon is nearly 80-years-old. As great as McAfee was against Adam Cole, he's not traditionally a professional wrestler, so he won't exactly be able to carry McMahon to a great match. Granted, McMahon has never gone for a technical classic, but does the Chairman have enough in-ring prowess to keep up with McAfee? Heck, even if it isn't McAfee, should McMahon be wrestling against anyone on the roster? Father time gets the best of everyone. Shawn Michaels was one of the best wrestlers to every step inside of the squared circle, yet his return match against Undertaker & Kane at Crown Jewel 2018 was a disaster. Goldberg and Undertaker came close to killing each other in 2019. McMahon himself forced Flair to retire because he thought the multi-time world champion was too old to continue competing inside of the ring. This question is about McMahon's health, point blank. I'm no doctor, but is it worth McMahon destroying his body at the age of 76 for a quick buck?
No. Yes, the company will go out of their way to protect McMahon, so there's going to be plenty of smoke and mirrors, but the character of Vince McMahon just doesn't have much value in 2022. This isn't to say that Vince shouldn't have a presence on television. Despite the current issues with the WWE product, there's no denying that Vincent Kennedy McMahon is a legend in this business, whether you love him or hate him. Hopefully, this Pat Acfee vs. Vince McMahon match is nothing more than a misreported rumor. It's likely that Austin Theory will represent Vince McMahon for the big Mania match against McAfee. The Chairman does have a special guest appearance scheduled and it was teased that Theory would show up. It's the less marketable match-up, but at the very least, Vince McMahon won't be risking his health. This year's WrestleMania is shaping up to be a very interesting spectacle. Let's just hope that the Chairman has enough senses not to wrestle against a man who has no long term in-ring future in the WWE.