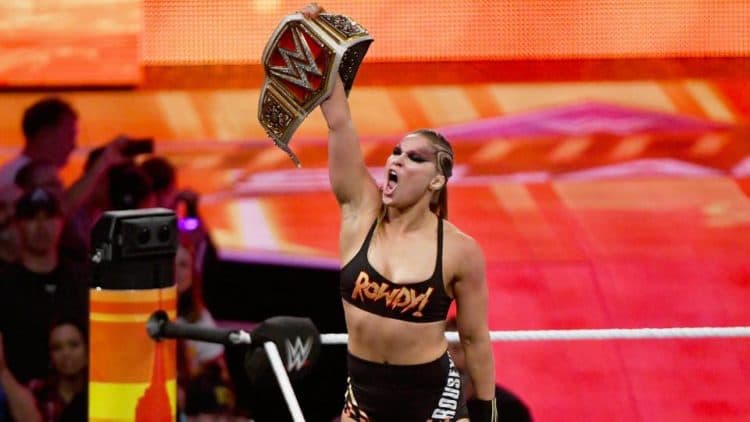 Ronda Rousey is your 2022 Women's Royal Rumble winner! The former WWE RAW Women's Champion made her shocking (or for anyone with internet, not so shocking) return at the big four pay-per-view after taking time away from the ring following her big title loss at WrestleMania 35. However, let's rewind back to Rousey's in-ring debut a year prior; The former UFC Women's Bantamweight Champion was arguably the hottest star on the roster as she impressed fans and critics with her wrestling ability out of the gate. If there's one thing you can say about Ronda Rousey was that she never had a bad performance despite being a rookie in the wrestling business. However, the tide shifted following her unforgettable debut. Week after week, Rousey destroyed girls left and right until she beat Alexa Bliss for the RAW Women's Championship at Summerslam. Guess what happened next? She continued to destroy women on the RAW roster. Then Survivor Series came. Rousey put in another great performance against Charlotte Flair at the pay-per-view, but the RAW Women's Champion was suddenly booed by the fans.
Rousey would continue to get a negative reaction from the crowd, despite putting her all in every match she competed. So, why did the fans suddenly turn on the "baddest woman on the planet". Because Ronda was perfect. The former UFC Bantamweight Champion was treated and booked like a megastar, as she should be. However, Rousey stormed through every obstacle put in her way with ease. WWE made it clear that there was no one on her level and that was the first mistake that the company made. I get that Ronda is the former UFC Women's Bantamweight Champion, so portraying her as some wrestling rookie wasn't going to cut it but making the entire roster so inferior to Rousey was a detriment to her character. Stone Cold Steve Austin got over huge because he was an ass-kicker who was taking on the big bad Vince McMahon and corporation. His character was continuously challenged, thus his journey to beat the holy hell out of Vince McMahon was not an easy one. There's nothing wrong with making Rousey out as a badass, but fans stop being invested in Rousey because they were simply tired of her running through the entire division without any sort of character development. It's not just about the end goal as fans want to be invested in the journey that should come with a few roadblocks. Wrestling is just like television and movies in a way, as characters are just as important. People don't identify with perfect characters because there's no such thing as a perfect person. Without Rousey's morals being truly challenged, her personality wasn't allowed to shine through. Rousey needed to fall a bit so fans would stay invested in her climb to the top.
Once the company finally turned Rousey heel, she was interesting again. While the whole "wrestling is fake" narrative was stupid, Rousey's new attitude erased the staleness of her character. Rousey was still a badass, but now with an arrogant "I'm better than you" personality that complimented her so well. Since the dynamic changed, audiences wanted to see Becky Lynch topple Rousey because she's the antagonist trying to stop her from achieving her ultimate goal of being the first woman to hold both The Smackdown and RAW Women's Championships. Over two years later, Rousey has made her return and fans seem to love her again, but the women's Royal Rumble winner is seemingly coming in with a character that isn't built to last. During a special backstage interview, Rousey made it clear that she was in it for herself and didn't particularly care about the fan's positive reaction. It seemed she was resuming her heel role. However, her backstage WWE promo was never mentioned on RAW though Rousey came across as heelish throughout her promo. She didn't seem enthusiastic about being there, and notably didn't shake anyone's hand thus indicating her still having a heelish mindset. If that's the case then her actions and facial expressions make sense, though it's not exactly clear if the company still wants her to be a heel. This makes for an incredibly confusing character. Rousey's badass routine only works as a heel because she's allowed to be arrogant and a force that will help put over the next babyface in the company. It's too early to tell what the company is going for yet, but hopefully Rousey doesn't revert back to that bland perfect character that she was before the heel turn. WWE RAW Women's Champion
Tell us what's wrong with this post? How could we improve it? :)
Let us improve this post!