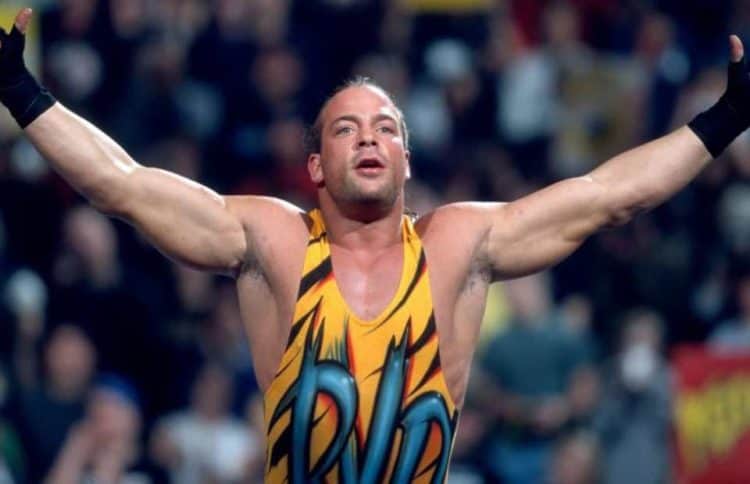 For as dynamic as he is and as popular as his character has been for so long, Rob Van Dam still seems like he's struggled for a good part of his career to stay on top since despite his energy and the fact that he knows his way around the ring. He's fun to watch and he has the kind of energy that suggests he can keep up with just about anyone, but for some reason Van Dam just didn't seem to be a huge draw in the WWE for a while and as a result it's not too hard to see how he switched promotions at one point. It was almost as though he got passed up at some point in favor of those that were willing to play the game and accede to the wishes of the business. But he's still wrestling and as you can imagine he's still a big draw for a lot of people since his high-flying style is something that a lot of fans are dazzled by and love to see when they sit down to enjoy the show.
Here are a few things about Rob that you might not have known.
10. His first appearance on the WWF was in 1987 with the Million Dollar Man Ted DiBiase.
If anyone remembers when Ted DiBiase used to pull people out of the crowd to make them do something undignified to earn his money then you've been a wrestling fan for a long time now. Rob was one of those that was picked out of the crowd when he was 16, and it sounds as though he was asked to kiss Ted's feet.
9. Apparently he was in an attendance at Wrestlemania III.
This is kind of easy to assume since obviously he's been a wrestling fan for quite some time and has had the desire to be in the ring, entertaining the people in a big way. This was apparently confirmed on a DVD that came out a while back.
8. His wrestling debut came in 1990.
So he's been in the business for close to three decades now which is phenomenal since quite honestly some wrestlers simply burnout since the show does take a huge toll on the bodies of those that wrestle and despite being scripted there are accidents that happen and a great deal of stress that comes with the job.
7. He's had on screen feuds with some very prominent wrestlers.
Rob has had a lot of different feuds with various wrestlers, some that have been well-hyped and others that were kind of there and gone without a whole lot of attention being paid to them. To be honest the creative teams for each promotion he's worked sometimes seem to lose track of what to do with him.
6. For a while he had a beef with ECW over money.
It's not as glamorous as people want to believe all the time when speaking of how wrestlers live and get paid. Some of them don't get paid that much and others tend to have contract disputes with the companies they work for as they tend to take on a lot of risk and want to be paid for their time and effort. Sometimes it's deserved, other times however the wrestlers are just trying to get whatever they can based on their reputation.
5. He's been a firm advocate for the legalization of cannabis.
This kind of attitude has been a part of his in-ring and normal persona for a long time now and it's been who he is. Rob has been one of the guys that's pretty open about what he believes in and isn't going to hide every part of his person behind a false identity.
4. Both he and Sabu were arrested at one point for possession of hashish and another substance.
Both men had pills on them but Rob had hashish, which was why he was arrested. They were released on bail not long after but their wrestling careers suffered for this since the WWE has a very strict policy on drug use.
3. He's appeared on High Times magazine.
Rob is the only wrestler to appear on the cover of this magazine and it kind of fits since his entire persona is wrapped up in this kind of lifestyle for better or worse. So far though it's been seen as part of his gimmick.
2. He is actually trained in martial arts.
This is kind of evidenced by his actions in the ring since he is pretty skilled and is able to showcase some of those moves that he's earned by right of long hours of practice.
1. At one time he owned his own comic book store.
Quite honestly it's not hard to see Rob owning a comic store since it's a calm and laid back atmosphere that seems to vibe with his character.
He's definitely one of the more entertaining wrestlers out there.