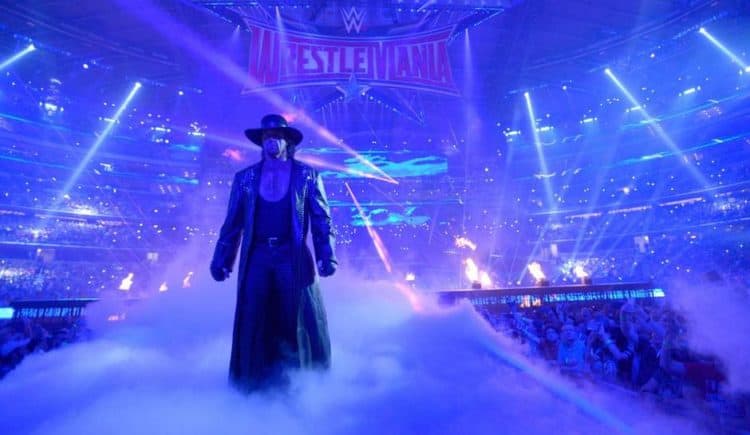 When it comes to celebrities and WrestleMania, there has always been some type of involvement with the Hollywood elite and WWE. Even at the first WrestleMania in 1985, the show was headlined by Mr. T, with big names like Cyndi Lauper, Muhammad Ali, and Liberace. Having celebrities is a common place in the business and they have provided special moments at the biggest show of the year. Floyd Mayweather Jr.'s No Disqualification match at WrestleMania 24 was great. Heck, even Bad Bunny's amazing showcase was one of the highlights of last year. And The Rock and Ronda Rousey moment at WrestleMania 31 was fun even it never resulted in an official match. Of course, who could forget about Mike Tyson being the referee of the WrestleMania main event between Shawn Michaels and Stone Cold? There's nothing wrong with celebrities taking part of the WWE event.
However, the issue with this year's showcase of immortals has three celebrity matches involving Logan Paul, Pat McAfee, and Johnny Knoxville. Business-wise, it's understandable why the company brings in big names as they want to attract as much attention and revenue at WrestleMania as possible. It's insane to think that Logan Paul is a draw but given the fact that many people want to pay big dollars just to see him punched speaks volumes about his brand. However, that's pretty much what the lackluster build has been about, getting fans anxious to see the Paul brother take a 619. And Pat McAfee, he had an excellent showcase against Adam Cole in NXT, and though the start of his feud against Austin Theory was weird, the build hasn't been too bad. Johnny Knoxville should be a fun distraction as the Jackass star will likely do something crazy that will get the wrestling world buzzing. However, the reasoning for those three celebrities taking part of WrestleMania underlines a greater problem that WWE continues to ignore: They don't have any true stars that can help sell WrestleMania.
Intercontinental Champion Ricochet is defending his title on a WrestleMania Smackdown pre-show. Finn Balor – The United States Champion – is in some meaningless battle royale. Even if the RAW star ends up defending the title as rumored, the fact that he doesn't have a marquee match at the biggest WWE show of the year is a crime. It's been said time and time again, WWE desperately needs stars. The company can't rely on Brock Lesnar forever. In fact, the WWE Champion recently revealed that he was retired until the money coaxed him out of it. That means Lesnar isn't likely to be inside of the squared circle for much longer. That leaves Roman Reigns; however, everyone else feels so inferior to those two that it's no wonder that the company is trying to pack the show with celebrities. The WWE has no stars argument has been done to death so I won't continue to dwell on it further.
However, these WWE superstars work tirelessly for over 200 days doing live events, pay-per-views, and television. These guys and girls put their bodies on the line and the fact that WWE would rather push them aside in favor for a quick buck is somewhat of a spit in the face of most talents who work hard all year long. This is a business, so it's going to be difficult to make a choice on who doesn't make the WrestleMania card, but the fact that the once prestigious Intercontinental and United States titles have no place on the show highlights just how unorganized and desperate the event feels. It's reminiscent of WWE continuously bringing in legends like The Undertaker or Goldberg back during this time of year. Heck, Stone Cold Steve Austin's return feels nothing more than a pure marketing ploy. Understandably, Austin is from Texas so the company wanted him at the event, but why not hint at a possible match much sooner? WWE did that with The Rock and John Cena. WWE needs to be building towards long term and start trusting their roster more. How do you expect a guy like Ricochet or Finn Balor to be seen as a star when they're not given the opportunity to highlight themselves as one at the showcase of the immortals?
The whole two-night aspect of WWE is unnecessary as it revealed that the roster just doesn't have enough depth to hold a weekend event. I'll likely be a fun weekend filled with great matches, but it doesn't mask how desperate most of the bouts feel. Hopefully, Vince McMahon focuses more on their talent instead of trying to stuff the card with outside talent next year.WrestleMania
Tell us what's wrong with this post? How could we improve it? :)
Let us improve this post!