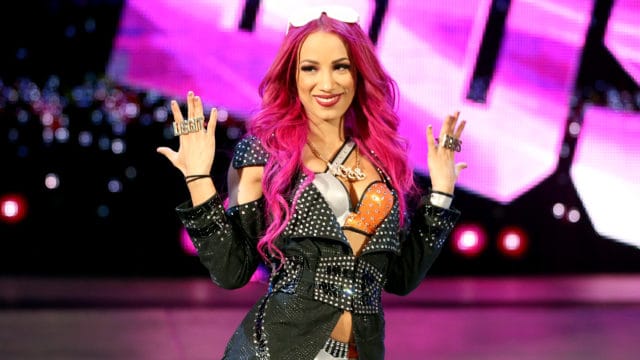 While Hollywood and professional sports have begun to make changes to provide equal pay and opportunities for female stars, one of the industries which has made the greatest inroads in this area is professional wrestling. At one time a sideshow, women's professional wrestling has become one of the most popular and exciting aspects of the industry. Performers like Sasha Banks have helped lead the way.
Banks, whose real name is Mercedes Kaestner-Varnado, is one of the brightest stars in professional wrestling. She is a champion of Raw, NXT, and Chaotic Wrestling. As she ascended so quickly to the pinnacle of the industry, many want to know more about who she is outside the ring. Here are five of the most interesting facts about this talented entertainer.
5. She moved a lot as a child
Banks may be better accustomed to the life of doing shows in different cities throughout the year than most wrestlers. This is because in her youth, her family moved frequently. Her brother has a disability which requires medical attention. For this reason, her parents had to move to find the best healthcare possible. This meant leaving California to move to Minnesota, then leaving again and landing in Massachusetts. Banks would eventually begin her wrestling career in Boston.
4. She is well trained
Although Banks is obviously a gifted athlete and talented performer, she has also worked hard to hone her craft. After winning a Tough Enough challenge put on by Chaotic Wrestling, she was invited to train at the Chaotic Training Center with a full scholarship. This is a highly acclaimed school which has trained stars like John Cena and Kofi Kingston. While training, Banks was typically the only woman in the class.
3. She is married to a professional wrestler
Few people could be in a relationship with a professional wrestler. The time spent training or on the road doing shows would be enough to put strain on most relationships. Luckily, Banks is married to someone who fully understands the schedule and demands of a pro wrestler. In 2016, she married Sarath Ton, a professional wrestler who goes by the name Kid Mikaze. He also works for WWE as a costume designer.
2. She is Snoop Dogg's cousin
Banks is not the only celebrity in her family. Her father is the uncle of iconic rapper Snoop Dogg, making them first cousins. Apparently, the two stars were fairly close growing up. Their relationship has deepened as Banks became a star, as Snoop Dogg helped her craft the persona she is famous for today. In addition, he famously rapped her entrance music for Wrestlemania 32.
1. She is leading the way for female professional wrestlers
Banks is more than a successful female wrestler; she is a trailblazer who is proving to other women that they can be successful in this historically male-dominated field. When she was pitted against Bayley in October of 2015, the two women became the first to headline a WWE event and participate in an Iron Woman match. In 2016, she would participate in the first WWE pay-per-view event headlined by women. With her talent, charisma, and athleticism, Banks has shown that women can be viable stars for the industry.
Final Thoughts
Sasha Banks is famous for her incredible wrestling ability and persona. However, her personal life is arguably just as interesting as her performances. Not only is she a hard worker who has developed her abilities through training, she is also leading the new wave of female wrestling stars. Given the incredible reception that Banks has earned through her headlining matches, it can be certain that her star will continue to burn bright for years to come.