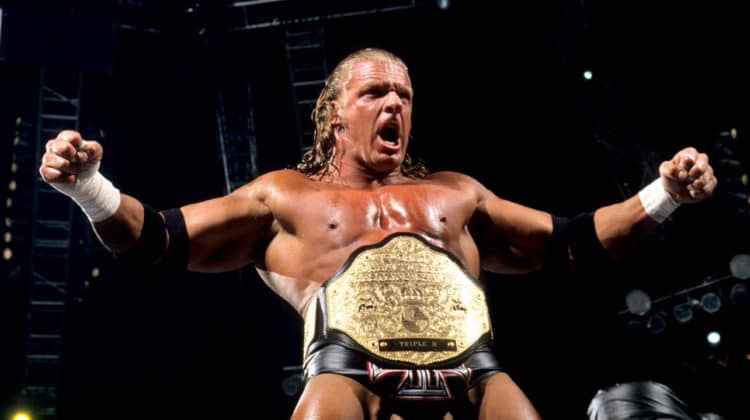 After being in the ring for nearly three decades, Triple H was forced to retire following a life-threatening health scare. The former multi-time World Champion made the news official by leaving his boots inside of the ring at WrestleMania. Whether you loved him or hated him, the future WWE Hall of Famer left an impressionable mark on the business both in front and behind the scenes. This list narrows down the five best matches of Triple H's career. The only exemption is that the focus is on single bouts, so matches like the first-ever Elimination Chamber at Survivor 2002 won't count here. Let's get started with the first match.
Three Stages of Hell for the World Heavyweight Championship at Armageddon 2002 – Shawn Michaels vs. Triple H
Triple H and Shawn Michaels didn't necessarily end their rivalry on the best note with their Hell in a Cell match being bloated and too long, but there's no doubt that these two had some classic battles, even if their rivalry was stretched to the limit. After an incredible Elimination Chamber match that saw The Heartbreak Kid on top of the mountain once again, the duo battled in one of their more underrated encounters. It was violent, brutal, and a showcase of why these two are considered some of the best inside of the ring. In fact, this can be considered Triple H's best Three Stages of Hell match. Sadly, the end result saw Triple H resume his reign of terror once again, but it was a classic encounter between these arch enemies nevertheless.
Hell in a Cell match at WrestleMania 28 – Triple H vs. The Undertaker with Shawn Michaels as The Guest Referee
What this match lacked in blood made up for incredible storytelling. Two veterans who are a master at this game managed to produce one of the best (if not the best) PG-era Hell in a Cell matches considering the fact that no one brought into Triple H ending the streak. First, the inclusion of Shawn Michaels was genius. The complexity of his character is what really helped sell the match. On one hand, Triple H outright called Michaels weak, which is why he couldn't do the job on two separate occasions. So the former World Heavyweight Champion's alliance wasn't so clear cut because he didn't necessarily want to see Triple H be the man to finally give The Deadman his first loss. That's why Michaels hitting the sweet chin music was such a shocking moment. It's not surprising given his history with both men, but the build to the match was so strong that his presence was uncertain. This Hell in a Cell match won't go down as Taker's best, but these veterans produced a strong encounter that had a great mix of action and story interwoven within.
Triple Threat Match for The World Heavyweight Championship at WrestleMania 20 – Triple H vs. Chris Benoit vs. Shawn Michaels
Obviously, it isn't easy to watch matches involving Chris Benoit these days. However, just focusing on the wrestling aspect, the guy was truly one of the best wrestlers to step inside of the squared circle. His Royal Rumble win was well earned and historic, and the first-ever triple threat main event for the World Heavyweight Championship lived up to the hype. The dynamic of the three wrestlers was firing on all cylinders, with plenty of twists and turns such as arch-rivals Triple H and Shawn Michaels actually working together and suplexing Benoit through the announcer's table and Michaels knocking Benoit's head off with some sweet chin music as he had Triple H in a sharpshooter. The match will be forever tainted in the history books, but there's simply no denying the greatness that is ultimately delivered. Say what you will about Triple H's reign of terror, but the guy was the perfect heel and both Benoit and Michaels were excellent foils for the cerebral assassin.
Street Fight for the WWE Championship at Royal Rumble 2000 – Triple H vs. Cactus Jack
Not surprisingly, one of the best feuds in Triple H's career has to do with the legend Cactus Jack himself. Both their Street Fight and Hell in a Cell matches were incredible, but the Royal Rumble bout gets the nod because it's how their epic rivalry began. Foley doesn't go too crazy in this bout (he saved that for Hell in a Cell), but he presented a strong and believable challenge for the WWE Champion. More importantly, it was a realistic and entertaining bout that could've gone either way. More than likely, fans assumed that Triple H was leaving the event with the belt, but several near falls quickly changed that perception. Cactus Jack has numerous unforgettable bouts against various stars, which is why it's impressive that his battles with Triple H stands out as one of his better bouts.
Three Stages of Hell match at No Way Out 2001 – Triple H vs. Stone Cold Steve Austin
This was arguably the beginning of one of the biggest mistakes of Stone Cold's career. At the height of his popularity, the company opted to turn Austin heel the following month at WrestleMania 17. Still, that didn't mean that the Texas Rattlesnake didn't produce excellent matches and his Three Stages of Hell match was no exception. The psychology of the match was great, with Austin pulling off the victory in a straight wrestling match and Triple H getting the win in a Street Fight. Their bout wasn't the craziest match you'll ever see, but you don't need insane stunts to tell a compelling story. The ending of the match was also clever. Austin was the Royal Rumble winner, so having him lose clean was not the best strategy. The climax saw both men hit each other with weapons made it seem as if Triple H only won by luck, not skill. This meant that either man could've walked out victorious, thus not burying Triple H's win in the process, but feeding into Austin story that led to his eventual heel turn.
Tell us what's wrong with this post? How could we improve it? :)
Let us improve this post!