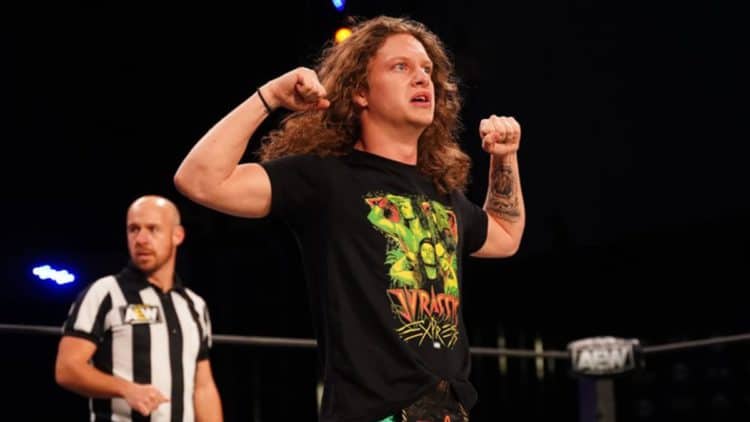 After months of speculation, it's officially been reported that Marko Stunt has been informed that he is no longer with All Elite Wrestling. It's been rumored for months as the former Jurassic Express member hasn't been seen on AEW television since last September. Even when Stunt was with the company, he was mainly used as a javelin for bigger superstars on the roster. The former Jurassic Express member was mainly treated based on his height, which is likely what sealed his fate within the promotion. Wrestling has evolved since the 80s and 90s. Thankfully, if you're foreign then that doesn't automatically mean that you hate America. The women are showcased for their athletic prowess inside of sex appeal. And different styles have been introduced into the professional wrestling world. However, wrestling is a big man's game. In fact, that statement could say for nearly every sport known to man.
Marko Stunt is billed as 5'2, how many guys that height do you see in a sport like Basketball? Sure, Muggsy Bogues, who's 53′, managed to do quite well for himself during his time in the NBA, but the average height for basketball players is 5'7, same thing can be said about the NFL or most professional sports. Now granted, it's not the league's fault that shorter guys aren't showcased in the sport more. Unfortunately, that's just the way it is in the world of sports. Wrestling has lived on the moniker of larger-than-life characters. Hulk Hogan, Andre The Giant, Stone Cold Steve Austin, The Rock are some of the biggest figures to ever come and go in the wrestling ring. The key thing is that they're not short guys. Now, there's been short guys who helped break through the glass ceiling. Rey Mysterio, Spike Dudley, and Hornswoggle, a former WWE Cruiserweight Champion. However, the latter was mainly treated as a joke, not the main attraction. Wrestling is just a big man's game, which is a shame because Marko Stunt is a talented guy. Most fans won't take him seriously as a competitor as society doesn't view short guys like Marko Stunt as someone who could've believably taken down a guy like Big Show or Daniel Bryan.
Marko Stunt doesn't even work much in the underdog role. It worked for guys like Rey Mysterio or Daniel Bryan because there's still a factor about those guys where it's possible that they can slay Goliath. To be clear, I'm not shaming Marko Stunt's height nor am I stating that he's wasting his time inside of wrestling ring. Who knows, if Tony Khan actually took a risk with Marko Stunt and gave him the AEW World title then maybe the fans would've been happy with the situation. Hell, Stunt could've possibly been a huge ratings draw. We'll never know because he hasn't been given a chance prove whether he'll be a hit or miss. Being the third wheel of Jurassic Express was never going to be a long term solution. Stunt's main purpose was to take the pinfall when AEW didn't want Luchasaurus and Jungle Boy to take the loss. The writing was on the wall when Christian Cage started taking over Jungle Boy's role as the third member of Jurassic Express. Obviously, Tony Khan has the right to hire and fire any one who chooses because it's his company. However, it's clear that Khan doesn't see much value in Marko Stunt so it's definitely best for both sides to part ways for the long run.
Darby Allin is the man that has the underdog role and the guy is nicely over with the AEW crowd. As previously mentioned, even if Khan wanted to test the waters with Stunt as a serious competitor, fans likely wouldn't take much acceptance of the role. There were even uproars when Stunt was making comebacks against the bigger sized opponents. Stunt's place just isn't in AEW, especially with the numerous talents that come into the company seemingly every month. Tony Khan made it clear that he was going to have to drop some talents due to the influx of names added to the roster. With so many popular talents joining the roster, the chances of Stunt receiving any sort of push is unlikely since the boss never seemed too interested in doing anything serious with the AEW star previously. Marko Stunt will now get to thrive on the independent scene where he can finally dig his teeth into wrestling and stories. It's a shame that Stunt was never given a strong chance to prove himself, but he was likely doomed from the beginning, which is no fault of his own.