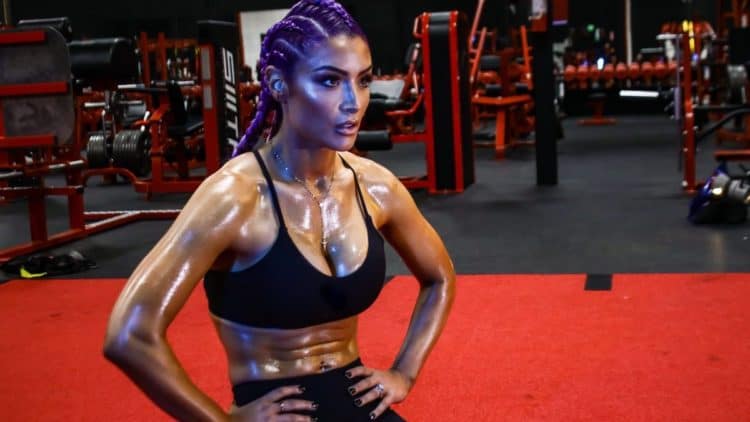 The story of Eva Marie is fascinating. It's definitely not a complicated one. Eva Marie would've fit perfectly in the Diva's era of WWE. The problem? That's easily regarded as the worst era for women's wrestling in the company. Though names like Mickie James, Beth Phoenix, and Melina existed during this time, WWE cared more about looks than the actual wrestling portion. The company was notoriously known for hiring models instead of wrestlers, with Alicia Foxx, Candice Michelle, Summer Rae, and The Bella Twins being prime examples. These women had athletic back rounds on their resumes, but professional wrestling wasn't one of them. Same thing with Eva Marie.
Now, this isn't to criticize the woman herself. Marie generally sounds like she's interested in wrestling and has never come out stating that she used WWE to advance her career. It's not Marie's fault that the company offered her a contract. However, it was clear as day that looks were more important when it came to the hiring for Eva Marie. She wasn't a good wrestler. WWE made the huge mistake of putting her on television before she was ready to step into the squared circle. Over time, Marie did get better thanks to some time in NXT that allowed her some growth following her failed main roster stint. But Eva Marie's brand was tainted by then. While the former WWE star was easy on the eyes, fans these days want more than a pretty face once she steps into the ring. Audiences soured on that because she represented the old diva's era, not in a heel manner, but in an oblivious to everyone backstage and Marie herself way. Once the former WWE star returned to the main roster, the company finally embraced Marie as a heel and her "all red everything" gimmick was actually pretty good. The various reasons that the character would come up with to not step into the ring were creative and entertaining. Marie finally found her niche in the company.
She wasn't a great wrestler by any means, but talents such as Trish Stratus or Michelle McCool didn't exactly start off as fantastic athletes as well. Then, Marie left the company. She stopped competing in wrestling altogether. During this time, women's wrestling wasn't exactly a hot commodity on the indie scene, with Impact Wrestling being the most notable option left. However, Marie never stayed within the business. She disappeared from professional wrestling and focused on her outside acting ventures that really didn't go anywhere. That made fans forget about Ms. All Red Everything and some people feed into the notion that she was simply there for the fame, nothing else. Once Marie made her return, the company once again made the mistake of bringing her up to the main roster without really putting her down in developmental to test the waters with Marie. The former WWE star was clearly putting in the effort in trying to be better inside of the ring, but the company kept pushing her way too fast. Her return gimmick with Doudrop was actually interesting. A heel gimmick where the former Piper Niven did all of the dirty work and Marie took the credit. It was another great gimmick. The problem was the company got bored with it within three weeks, teasing tension between the two following the Naomi squash win.
Creative didn't have a firm direction on where they wanted the relationship to go. When Doudrop and Marie finally broke up, audiences didn't care because the investment given to their characters was confusing. One week they were teasing a breakup. The next, they were happily working as a unit. The audience never got a chance to connect with their characters. Marie was soundly squashed in her feud with Doudrop and then released from the company. WWE put her into a role that she didn't have to be in. Marie was a heat magnet, and she would've been better served as a valet for an up-and-coming heel. That way, if she really wanted to get better at the in-ring aspect, she could have sufficient time to train as she brings value to an act onscreen. Marie brought sometime to the table, but the company clearly didn't see much value in her when she returned. This is a combination of many things. It was an uphill battle for Marie to be a babyface because many fans didn't take her seriously an athlete. They felt that she was here for the fame, not the love of sport. The company also didn't show patience and truly let Marie develop. In time, Eva Marie could've been the Trish Stratus of the modern era, but her wings were clipped too soon.