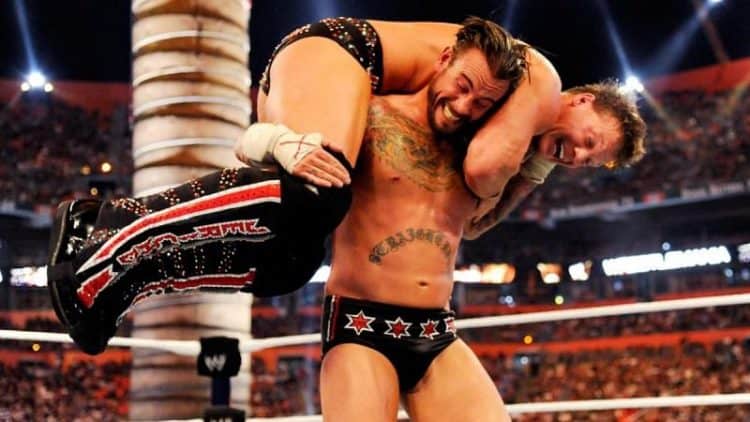 When the Money in the Bank ladder match was created back in 2005, it added a new exciting wrinkle to the world of WWE. It wasn't just the fact that it produced thrilling ladder matches, but it was seemingly a guaranteed chance at creating new stars for the company. And at first, it did, Edge may have been a transitional champion following his win over John Cena, but it allowed him to shine in the main event role. Audiences were invested in his Rated-R persona, with the live-sex celebration being one of the biggest segments viewed in the history of RAW. However, when you really take a look at the list of Money in the Bank winners, the sad realization is that less than five have been truly made into stars. There's been a grand total of 26 MITB briefcase winners and only four really emerged as stars.
That second name is CM Punk, who won the briefcase for the second year in a row at WrestleMania 25. Punk cashed in at Extreme Rules against Jeff Hardy. What followed was a strong heel turn for the former WWE star and the birth of The Straight Edge Society. The fourth name is Seth Rollins, who had memorable cash in at WrestleMania 31 and went on to have a strong run as WWE World Heavyweight Champion. Daniel Bryan is the final name. He played a squirmy douchebag heel to perfection following his big title win and effectively became moreover thanks to a strong character and great story arc for D-Bryan. Despite the disappointing way he dropped the belt, it actually got him moreover with the fans. Carmella is in-between in my book. She stood out due to her strong promo ability; however, the former WWE Smackdown Women's Champion wasn't ready to be at the top of the division due to her constant poor matches following her big win. Names like Dolph Ziggler and Damien Sandow got a positive reaction upon winning the briefcase, but their legs were cut when the company followed through. Rob Van Dam, unfortunately, fell victim to a difficult circumstance that forced the company to drop his push. Everyone else was more so a veteran or established talent like Randy Orton, Brock Lesnar, John Cena, or Dean Ambrose. The concept of Money in the Bank itself is great. WWE doesn't need to drop the gimmick because it's certainly one of their best. The reason why Money in the Bank fails to create stars goes back to the way the company books talent.
Edge became a star because the company booked him like one. The same thing with Seth Rollins. Look at the differences in CM Punk's booking in 2008 and 2009. CM Punk was treated like a mid-carder during his first World title reign. Same thing with Jack Swagger. He entered the match with little momentum, and it was hard to take him seriously as world champion when he was jobbing left and right. Dean Ambrose actually lost momentum because his reign saw him face nothing but mid-carders and the title was treated as such. The same thing can be said about Big E, who never felt like a star because it was clear that creative didn't view him as one. Vince McMahon seems to think that Money in the Bank winners are instant main eventers following their big briefcase wins, thus talents are consistently on the losing end of matches. This happened to a good portion of MITB winners, with the Nikki A.S.H being the most recent. At least Big E. wasn't being treated as a jobber leading up to his huge win, but A.S.H was given an underdog story that remained after her huge title win over Charlottle Flair. Talents weren't given the opportunity to develop their characters because WWE failed to truly invest in them. It's as baffling as Jinder Mahal suddenly winning the WWE Championship after being a jobber for most of his career.
Being a Money in the Bank winner doesn't get audiences invested into characters. If the company books them like jokes, they why would the audience take them seriously? Immediately after Big E's title loss, the former WWE Champion didn't even get a rematch for the championship he lost. He's currently back to clowning around with the New Day, confirming that Vince McMahon never really saw him as a main event star to begin with. As I previously stated, the Money in the Bank concept is a fantastic idea, and this article isn't a call for the company to get rid of the concept. It's a call for creative to start booking their winners better.