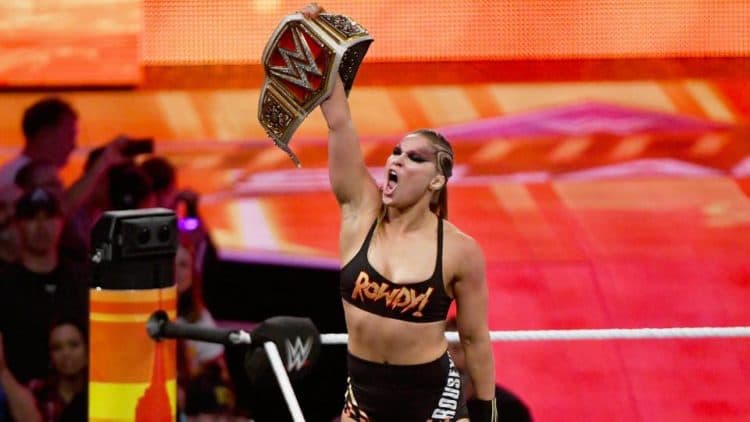 To the shock of many, Ronda Rousey did not beat Charlotte Flair at WrestleMania. However, immediately, a rematch was set but this time, in an I Quit match for the Smackdown women's title. Now, it's not impossible that Charlotte Flair actually beats the baddest women on the planet. WWE has done screwy finishes before, such as The Rock using a tape recording to beat Mankind for the WWE Championship in their I Quit match at the 1999 Royal Rumble. Other than a cheap finish, there's no way Ronda Rousey is shouting I quit. There's a very strong possibility that Ronda Rousey is winning the belt this weekend, and that's a huge mistake. Why? Well, for one, this feud between the two stars just isn't clicking. Their match at WrestleMania was good, which isn't much of a surprise, but there's been no heat on this rivalry since the beginning.
WWE made a mistake by not going for Becky Lynch vs. Ronda Rousey, though I applaud the company for not deviating from their long term of putting over Bianca Belair. However, that's not the biggest issue. Vince McMahon keeps putting Rousey in a position that doesn't put her in a positive light. Rousey revealed in the past that she has a motor-speech disorder, yet the company continues to give her long talking segments. Rousey's character is better served as someone who kicks butt and says as little as possible. If officials really want her to do something long, why not do UFC style taped video packages? There's a reason why Rousey doesn't get that much of a reaction these days because she's not connecting with the crowd due to her weak promo ability. She doesn't feel ready to win the belt, and it actually would be better if the match ended in a screwy manner. Perhaps Raquel Rodriquez attacks Rousey and costs her the match? The former WWE RAW Women's Champion doesn't have to say I Quit as she can pass out from a submission move like Stone Cold Steve Austin did against Bret Hart. Granted, that was a submission match, but it'll be accepted if Rousey passed out, therefore making her unable to say the two words. The attacker doesn't have to be Raquel Rodriquez as the point is to get someone that could feud with Rousey for a bit while Charlotte Flair goes off and fights other challengers.
Once again, Rousey is presented as too strong. She's destroying the Smackdown division with ease, thus it's important to knock her down a few levels first. A hero needs to struggle on their way to the top. Though another problem is that Rousey is simply miscast as a babyface. If WWE gave her the title and then turned her heel then that would be perfect. Rousey is simply better as a villain as she displayed more charisma and personality during her final months leading up to her triple threat match with Becky Lynch and Charlotte. Plus, it allows the company to keep booking her strong so a babyface can finally topple the unstoppable Rousey. However, the company seems dead set on keeping her the face of the division when all it does is create more problems on a roster desperately lacking depth. Exactly who is a credible challenger for Rousey should she beat Flair at WrestleMania Backlash?
She's already destroyed Sonya Deville multiple times. Shotzi was just embarrassed. There's Sasha Banks and Bayley, but the former has already feuded with Rousey. That leaves one fresh match. Whereas heel Rousey can work with Rodriquez, Naomi, Banks (but this time in different roles), Lacey Evans, and Bayley if they decide to bring her back as a babyface. Plus, Io Shirai can finally be called up and feud with her as well. Still, a heel turn would feel premature as there hasn't been any build to it. Ronda Rousey needs to lose at WrestleMania Backlash because the promotion is doing more harm than good by thrusting her on top of the mountain so quickly. It's Ronda Rousey, so it makes sense that she's treated as a top star, but she doesn't feel special like Brock Lesnar does. Plus, her character at the moment is extremely bland. The fans will boo her again if they follow the same path as her first stint. This time, it would be quickly because Rousey isn't coming off the magic of a tremendous match. The former UFC fighter is a talented individual, but the lackluster booking has drastically ruined her character. She desperately needs a change, and I don't mean giving her the WWE Smackdown Women's title.
Tell us what's wrong with this post? How could we improve it? :)
Let us improve this post!