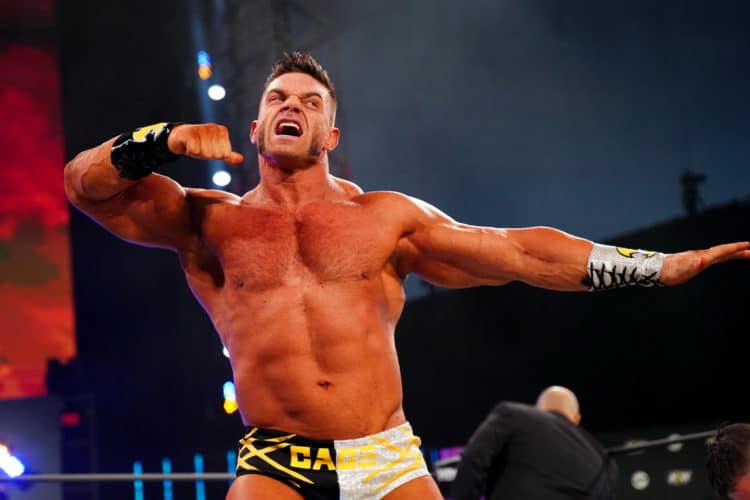 To the surprise of many, All Elite Wrestling reportedly chose to pick up Brian Cage's option to stick around in the company. Brian Cage hasn't had a wrestling match since his loss to Ricky Starks in a Philadelphia Street Fight on Rampage back in October. Though not confirmed, Brian Cage reportedly received heat following a rant from his wife, Melissa Santos, about the company not using him properly. Which, when you examine his career in All Elite Wrestling then you could certainly agree with the former Lucha Underground announcer. The former Impact World Champion nicely built his name around the independent scene following his departure from WWE's Florida Championship Wrestling.
Cage mainly gained notoriety during his time in Lucha Underground, nicely balancing power and aerial moves throughout his matches. While a big guy moving like a cruiserweight is nothing new, Cage was certainly a top-level wrestler inside of the ring, thus his bouts were far more memorable. Once he made the full transition over to Impact Wrestling, Cage got a better chance to display his talents in front of a wider audience. This was both good and bad news; On the bright side, Cage showcased why he's one of the best wrestlers in the world; however, the negative is that he's not particularly strong when it comes to promos. Following his stint in Impact, AEW made the right call to not only debut him as a surprise entrant of the Casino Ladder match but give him the legendary Tazz as a manager. The former ECW World Champion is a strong mouthpiece for any talent, thus covering up the issue of Cage's promo skills.
However, Cage shouldn't have won that match. It was a great surprise, but if the plan was to never give him the AEW World title then it's pointless to feed him to then-champion Moxley, who only won the belt back in February. No one believed that the former Impact World Champion was going to beat Moxley, and though AEW did everything in their power to protect his loss, it still ruined a bit of the mystique that he had coming in. Cage should've started out in a high-profile feud that officials were going to let him win. He needed to build up some momentum that allows the audience to connect with his character. Had they saved their AEW World title match at Full Gear then it would've been special based on the way AEW treated the former Lucha Underground star. Plus, it would've been more believable that Cage could've taken the title off of Moxley. He didn't need to win the AEW World Championship and the company could've still done the same finish. The difference is that Cage had more credibility on his name so he could've taken that type of loss, whereas losing so early in run keep some steam.
Still, it wasn't the end of the world. However, AEW didn't seemed to know what to did with "The Machine". They gave him the FTW Championship and had loads of opportunities to showcase him as a monster who can hang with big boys and move like the cruiserweights, but they never did anything to develop his character or the FTW title. Adding more names to team Tazz only held him back, especially when Ricky Starks stood out as the more exciting personality. Eventually, the faction settled into being glorified jobbers to bigger talents, furthering devaluing Cage's name down the card. There's not a feud that sticks out that really helped showcase what made Cage so special. So when team Tazz had that break-up angle, it was more so a shrug because the faction wasn't treated like a serious threat. Given the influx of names that were coming into the company, Cage's spot on the AEW roster seemed to diminish as the weeks passed by. It's not too late to turn the tide of his career in AEW. Bring him back strong and showcase the former Impact World Champion as the dominant force that he should've been.
Get him into the mix of a big-name talent, though not against the AEW World Champion, Adam "Hangman" Page. No one will believe that Cage would beat Page, and it would only reinforce in the minds of fans that Cage can't win big matches. The AEW star may not be the most charismatic man on the roster, but he's definitely talented and deserves more of the spotlight in the promotion. He doesn't have to be AEW World Champion anytime soon, but he should he one of the featured acts on the AEW roster.