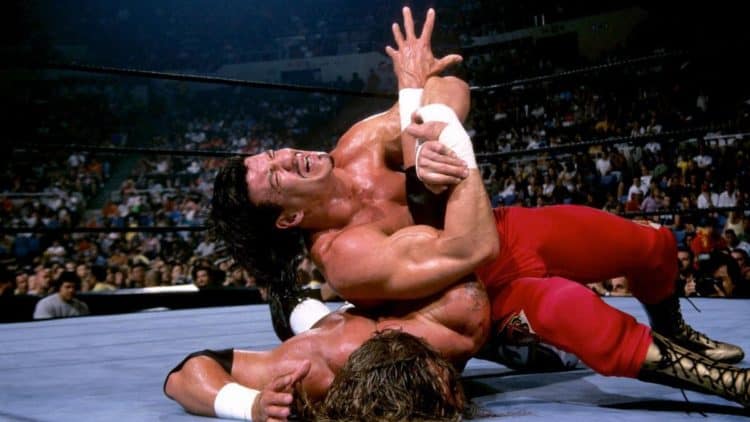 No Way Out 2004 will always be an unforgettable night. Why? Well, it's due to the fact that Eddie Guerrero won his first and only WWE title. It was definitely shocking as it was close to WrestleMania season, and though creative had been teasing Brock Lesnar vs. Goldberg for some time, no one thought that Lesnar was dropping the belt a month before the biggest WWE pay-per-view of the year. The lead-up to Lesnar vs. Eddie Gurrero was solid, with the former WWE star fresh off his one-sided rivalry against Chavo Guerrero and then winning a 15-man Royal Rumble on Smackdown.
For years, Guerrero had danced between cruiserweight, tag team, and the United States title scene. One of the things that Eddie had that so many modern talents currently don't is a high level of charisma. No matter the match or feud, Eddie always gained your attention thanks to the way he was able to connect with the crowd. It wasn't a surprise that Eddie Guerrero won the WWE Championship. It was going to happen eventually. The WWE Hall of Famer has always been a fan favorite and after excelling in the tag team and United States title scene, it was time to move him up the card. Again, WWE actually built-up Guerrero prior to his shocking win over Brock Lesnar. This wasn't a random thrust in the main event like Jinder Mahal nor was he dominated for a good portion of time in his match against Lesnar. However, when it comes down to it, the company made the mistake of pulling the trigger on Eddie's Guerrero title run. This was a huge, star-making moment. Granted, Goldberg's interference should've been scrapped (though I understand why it was necessary), but Eddie should've won the belt at WrestleMania, not at No Way Out. I do understand the drama that was going on behind the scenes.
Brock Lesnar was leaving the company and officials had to scramble to get the belt off of him. WWE wanted to have the money match before Goldberg and Lesnar left the company for good. Unfortunately, both men were screwed over in one of the worst WrestleMania matches of all time. Still, it's rare in the modern age to build up a new star to win his first championship. The journey of Eddie Guerrero vying for the WWE title should've resulted in a big win at WrestleMania. In fact, I think that Chris Benoit and Eddie Guerrero's stories should've been switched. Guerrero should've won the Royal Rumble. If the company really wanted Benoit to be their main star that year, then the path to getting to Lesnar and Guerrero's No Way Out match was fine, but Lesnar should've won by nefarious means. Lesnar was built-up as Goliath and he's been a dominant force throughout his WWE run. This is the guy that completely destroyed names such as The Undertaker and The Rock. Eddie Guerrero is the underdog who knows how to slay Goliath. A man whose on the cusp of winning the belt until Lesnar resorts to dirty heel tactics to get the win. The great thing about WWE's booking of the "Beast Incarnate" was that he rarely cheated to win. Having Lesnar using cowardly cheating tactics would've put over Eddie as a major threat and necessitated a championship rematch.
A David vs. Goliath story is nothing new in professional wrestling, but it's still money if done right. Eddie Guerrero was over with the fans so it wouldn't have been hard to get them on his side. Eddie Guerrero vs. Brock Lesnar should've been the match penciled for WrestleMania 20, especially considering the way Goldberg vs. Brock Lesnar turned out (though to no fault of their own). By no means was Eddie Guerrero's legacy tarnished by winning the belt at a B-level pay-per-view. The company did an excellent job of highlight the importance of him winning the belt following his shocking three count over Lesnar. While having Eddie lose the belt so quickly was a mistake, the fashion that he won the championship was pretty strong. In the end, what's done is done. No Way Out 2004 will always be synonymous with Eddie Guerrero winning the WWE Championship. It's one of the best moments in that's pay-per-view's history. Hell, it's one of the best moments in WWE history. It's just a shame that the company didn't take their time to truly pad out Guerrero's journey to winning his first WWE title. Nevertheless, it's a minor booking blunder in a company that has plenty of worse moments. Eddie Guerrero deserved winning the WWE title, but it shouldn't have happened at No Way Out.