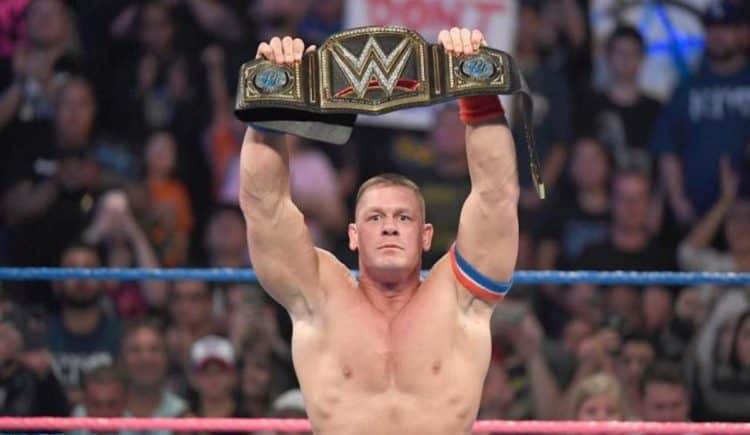 Before becoming a huge movie star, John Cena's life was essentially WWE. The former 13-time WWE Champion has certainly made his mark within professional wrestling; however, many fans aren't exactly fond of the era featuring John Cena. The WWE star had an interesting debut back in 2002, with his first appearance being against WWE Hall of Famer Kurt Angle. It was a great way to expose the rookie by pitting him against the main event star, even if Cena came out on the losing end. Creative wisely moved on from the vanilla look that Cena debuted and gave him a gimmick that got him massively over. In retrospect, The Doctor of Thuganomics was silly, but there's no denying that it was entertaining. Despite being a heel, he got over with the WWE audience and transitioned in the main event scene following his venture in the United States title picture.
Once John Cena stepped into the WWE title picture at WrestleMania 21, it was a natural transition as he was easily the most popular name on the roster. The early run of his career was smooth until he started feuding with Chris Jericho. Though Cena had moved up in his career, his gimmick didn't change all too much. Sure, he wasn't rocking the Doctor of Thuganomics gear, but he wasn't too far removed from his original gimmick. The boo birds rejecting him was a sign of things to come as the situation with Cena didn't get that much better. The problem with Cena is that he remained stuck on the character during this time. He was the very definition of a white meat babyface, a far cry from the era coming off Stone Cold Steve Austin. He preached hustle, loyalty, and respect, but his morals weren't really pushed to the limit. Over time, he became nearly invincible, and in turn, his matches became extremely predictable. The formula for his matches was him taking a beating for a good 80% of it, coming back with the five moves of doom, and ultimately winning with his finisher. Cena wasn't a bad wrestler. Granted, you can sometimes see him blatantly call matches on the spot, but he certainly was no Great Khali. WWE made the mistake by making him perfect essentially. John Cena desperately needed to turn heel; His matches and character was stale, and audiences were tired of the ultimate good guy schtick.
You can argue that Cena was their biggest merchandise seller thus the reasoning they never turned him to the dark side. However, that also highlights another problem the company has. Why does Vince McMahon feel that their can only be one face of the company? Imagine if Hollywood banked on only one celebrity to sell movies? It's a stupid model because the more stars that WWE has, the better it is for the product. The Attitude Era had multiple stars, The Undertaker, Mankind, Stone Cold Steve Austin, The Rock, this is why it's highly regarded by many because the main event scene wasn't clogged by only one person. WWE made it clear that it was John Cena, and everyone else. Had the company diversified the upper card with a colorful cast of characters then it wouldn't have become so stale. Plus, fans wouldn't have been dropping off the product so quickly. Plus, WWE has taken plenty of risks changing up characters. They turned Stone Cold Steve Austin heel (which was a big mistake), or even CM Punk and Becky Lynch. These three were extremely over with the crowd and WWE took a huge risk by turning them.
Company officials even gave in and finally turned Roman Reigns heel. Reportedly, he's still the top merchandise seller and he's currently doing some of the best work of his career. The purpose of wrestling is simple: Heels and babyfaces are necessary because they need each other to get over. Heels are supposed to be the obstacles that stands in the hero's way. Babyfaces are supposed to overcome that obstacle after an arduous journey. What's the point in having a babyface if he can't effectively put over the heel? John Cena was overcoming the odds with ease and no one felt like a creditable threat to the former WWE Champion. The company needed new stars, yet remained stubborn and pushed everyone aside in order to keep John Cena at the top. It was a frustrating ride as there were plenty of names that could've taken over as the top guy, but it always became "LOL Cena wins!" This isn't the fault of Cena himself, but a change was necessary, and because the company refused to move from the status quo, ratings weren't able to come close to the heights of the Attitude Era and money was left on the table because they didn't want to put anyone over Cena for so long. Cena's time was up a long time ago, it's just a shame that the company didn't get the message instantly.