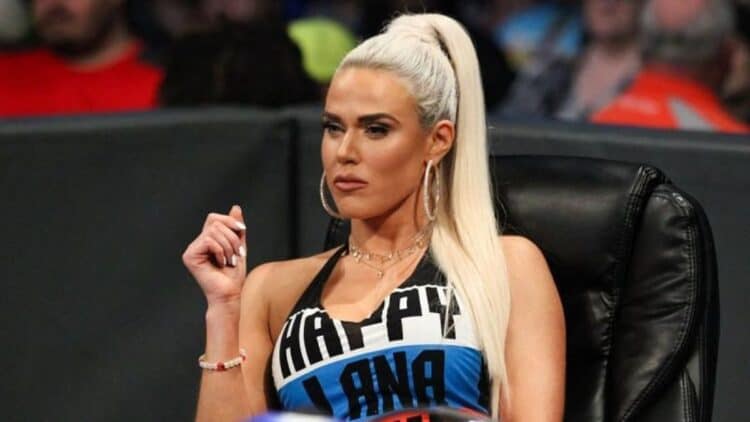 The Russian Beauty from Gainesville, Florida is a prime example of how WWE tries to fit a square peg into a circle. The former model started her career as a manager for the Bulgarian Brute, Rusev. Now the former WWE star developed your typical anti-American gimmick, a salute to their "hero" Vladimir Putin. Surprisingly, the Rusev and Lana act got over as the Bulgarian Brute was treated as something special the moment he hit the main roster. Plus, Rusev and Lana had excellent chemistry and despite the xenophobia stuff, it was a solid gimmick that wasn't strictly about their hate for Americans. Lana excelled in her promo ability, with many calling her the Paul Heyman of her time based on the way she could manipulate the crowd with her words.
Lana seemed to have a bright future ahead of her as the next great heel manager and despite the fact that WWE officials opted to have Rusev drop the belt to John Cena at WrestleMania 31, the sky seemed to be the limit for the pairing. Until creative opted to break up the duo by having Lana embarrass Rusev and storyline date Dolph Ziggler. Lana was massively over as a babyface so it's not surprising that officials wanted to capitalize on that; however, the big mistake comes from the misguided relationship triangle between Ziggler/Lana/Rusev/Summer Rae. Lana felt out of place as a babyface and she didn't particularly add to Dolph Ziggler's act. Sure, she's great eye candy for the long-time performer but really had nothing else to offer for the former World Heavyweight Champion. The Rusev/Rae arc was actually quite entertaining, and though it was a huge mistake breaking up Rusev from Lana, he at least showcased that he could've made a great act without his former manager. Once the storyline was abruptly dropped, Rusev's spot on the roster notably dropped and Lana's days as a babyface weren't compelling. Rusev and Lana pairing once again was a wise move, but the problem was that the gimmick had run its course. It wasn't as fresh as it was when they first made their presence known on the main roster and something felt off with the duo the second time around.
It appeared that officials cooled off on Rusev as he wasn't exactly treated as a star like he did upon his arrival to WWE. However, once Rusev went down, what WWE did with her character took a turn for the worse. Not surprisingly, WWE tried to put Lana inside of the ring. There's no word on how long the former Rusev manager had been training, but it was clear from day one that she wasn't an experienced pro. Though to the credit of Lana, she's far from the worst woman to step inside of the squared circle. However, it was clear that Lana didn't start her training as soon as she got to the performance center in 2013. The company put her into a wrestling position without her truly allowing herself to grow as a performer. She was thrusted into the dangerous Money in the Bank ladder match and though she was ultimately fine in her debut, Lana's lack of experience wouldn't get her through her wrestling run.
However, the issue of Lana's lack of wrestling ability wasn't the full reason that she didn't get over. It was the fact that officials didn't seem to truly understand her character. It appeared that Lana was going to do a sultry dancing gimmick, but exactly how will that translate into the in-ring aspect? WWE has been a PG product for over a decade and while the company has plenty of non-PG moments following the decision to focus on families, Lana's gimmick didn't seem to fit the traditional programming. More importantly, what was Lana's mission statement? Who was her character? Was she an obnoxious and arrogant heel? Lana was never truly defined as a performer. She was a heel, but it wasn't clear what layers she had. WWE had a wrestler with tremendous talking ability yet she didn't have a storyline to truly sink her teeth into.
Lana was treated as a joke out of the gate and never given a story to allow her character to develop. Her going back to Rusev worked temporarily, but the Lashley/Rusev/Lana angle did no one favors. She didn't click with Lashley and though her character was clear, it didn't exactly help get her over. In truth, WWE didn't really seem to know how to use Lana at this point, dancing between valet and wrestler following Rusev's release. Unfortunately, Lana skills as an in-ring performer didn't get much better, though that's WWE's fault for rushing her up within letting the former WWE star getting some proper training in development. Lana failed because the company didn't know what to do with her when they realized that she wasn't ready an in-ring performer. Lana could also never recapture the magic she had with Rusev with other acts on the roster. The company did try to pair her up with several talents to take advantage of her tremendous promo ability, but she was never able to truly click with anyone but Rusev.
Tell us what's wrong with this post? How could we improve it? :)
Let us improve this post!