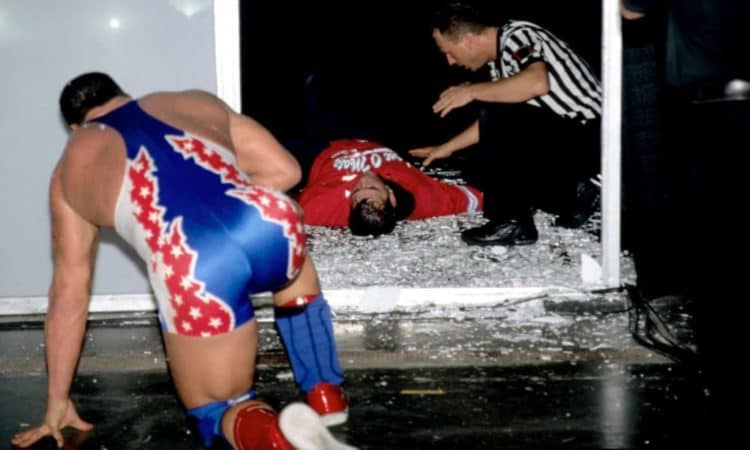 In the midst of huge news regarding the release of AEW stars Cody and Brandi Rhodes, Stone Cold Steve Austin returning, and The Undertaker going into the 2022 Hall of Fame, was one of the biggest shocks of the year: Shane McMahon quietly being released from WWE. It's an odd situation because the son of Vince McMahon was featured in the 2022 Royal Rumble and actually made it into the final three. Reportedly, there were plans in place for Shane to have a high profile match at this year's WrestleMania, which is nothing new at this point. Instead, claims have stated that Shane was overstepping his boundaries backstage and the criticism of the men's Royal Rumble arguably led to Shane McMahon's reported removal from the company. Shane McMahon has been on and off of WWE television for over 30 years at this point. There's been plenty of highs and a series of lows, but was Shane O'Mac a terrible character?
Early in Shane McMahon's WWE run, he was always seen as Vince's son. While a former WWE European and Hardcore Champion, Shane O'Mac was never treated seriously as an in-ring competitor, though he could easily hang with the big boys. Shane McMahon's devil may care style resulted in some fun matches and feuds. His King of the Ring match against Kurt Angle will go down as an all-time classic. And his feud with Kane was a fun diversion. Here, Shane wasn't trying to be a wrestler, he was a man fighting a series of battles that showcased his heart and courage, but he was never presented as better than any of the actual talents inside of the ring.
Following a brief feud with Randy Orton, Shane McMahon left the company on his own terms in 2010. Not only did Shane McMahon leave the company that year, but the heart of his character did as well. Six years later, Shane O'Mac made a big return and his first match was against the future Hall of Famer, The Undertaker. Shane was never good at professional wrestling; however, the company never presented him as one in his first stint. He was a scrappy dog looking for a fight. Unfortunately, Shane could suddenly hang with former world champions like The Undertaker. This wasn't presented as a scrappy dog who can get his licks in during a fight, this was showcased as Shane being on the same level as The Undertaker wrestling wise. It was an incredibly boring match that couldn't even be saved by the wild stunt at the end; however, this would be the beginning of a bad direction for Shane O'Mac. It got worse when the company gave him the tournament win for best wrestler in the world at Crown Jewel 2019.
In a tournament that featured Seth Rollins, Rey Mysterio, Randy Orton, and Kurt Angle, some how a non-wrestler ended up winning the entire event. The whole set of circumstances didn't make sense as Shane wasn't originally in the tournament, replacing an injured Miz. Yes, this was the beginning of a Shane McMahon heel turn, but this highlighted one of the crucial problems with the company. Vince chose to push a 40 plus year old who was more so a stunt monkey. This tournament could've been used to elevate new talent. In fact, Shane's pushes should've been used to elevate new talent. But it wasn't. The story rarely made sense and the ultimate pay-off of Shane vs. The Miz just wasn't worth it. Shane McMahon even beat Roman Reigns! Sure, it was because of interference, but the level of push that Shane got was ridiculous. Creative positioned the former WWE Hardcore Champion as a big star on the level of Brock Lesnar, not realizing that Shane McMahon is best used as a special attraction, nothing more. In honesty, Shane McMahon was given a solid set of characters, but the problem was that he didn't deserve the upper-level card push. There's nothing wrong with Shane having matches here and there, but he's not a wrestler, nor should be positioned as a man on the same level as them. Had Vince McMahon put this much focus and energy into developing a younger talent then creative wouldn't be struggling with the lack of stars that they have to deal with now. Shane McMahon wasn't necessarily a terrible character. His first run was pretty good and he produced several unforgettable matches, but as previously mentioned, Vince McMahon tried to make Shane a big fish in a lake, which backfired in the end.
Tell us what's wrong with this post? How could we improve it? :)
Let us improve this post!